This article is more than 1 year old
Playmobil crosses the final frontier with enormous, metre-long Enterprise playset
$500, 136-piece, tribble-laden Star Trek tribute is immense, but clearly illogical
Playmobil is set to boldly go where no three-inch man has gone before with the release of a metre-long replica of the NCC-1701 USS Enterprise from the original Star Trek series.
The enormous model of the Federation Constitution-class vessel will come with standard-scale figures representing the main original series characters – Captain Kirk, Mr Spock, Dr McCoy, Chief Engineer Scott, Lieutenant Uhura, Lieutenant Sulu and Ensign Chekov – and features a removable panel on the disc section revealing "a full 1966-style bridge play environment" to allow children of all ages to recreate their favourite first-contact scenes.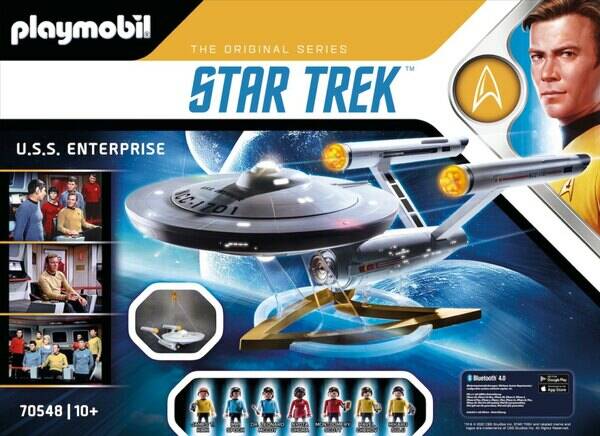 Click to enlarge
Mr Scott also gets his own engineering section in the secondary hull, just in case he needs to do something fancy with the dilithium crystals, or even if he just fancies a quick dram and a bit of peace and quiet.
The huge set contains 136 pieces, including a stand in the shape of the Enterprise's emblem, a cradle to allow the model to be hung from a ceiling, various bridge furniture, phasers, tricorders, and communicators for the crew and even a few tribbles.
Even more excitingly, the model features working lights and sound effects controlled from a dedicated smartphone app. The effects are powered by a USB port mounted on the starboard side of the engineering section, a feature which Scotty would doubtless have found incredibly helpful if he'd known about it.
The Star Trek set sees Playmobil again creating a tribute to a popular and lucrative franchise after releasing larger-scale representations of Doctor Who favourites Tom Baker and Matt Smith – aka the 4th and 11th doctors – in 2017.
The official Playmoverse also currently includes standard three-inch figure versions of Back To The Future, Scooby-Doo and DreamWorks' Dragons, as well as a YouTube animated series called Novelmore, which in a reversal of the normal scheme of things is based around the Playmobil range of the same name.
The set is available for pre-order, with an expected release in September.
The set is said to be suitable for "ages 10 and up", but with an asking price of $499.99, the emphasis is clearly very much on the "up". ®