This article is more than 1 year old
Spacey McSpaceface: Artemis takes shape ahead of '2021' launch – but first you need to name the crash-test dummy
Next up, the rocket stage to send mannequin to the Moon
The stacking of NASA's monster Moon rocket is continuing in Florida with the launch vehicle stage adapter placed atop the newly vertical core stage.
The component was winched up to around 76 metres by one of the cranes inside NASA's Vehicle Assembly Building (VAB) before being slowly lowered onto the core stage of the Space Launch System (SLS).
The component has been sitting around for a while, having arrived at Kennedy Space Center from NASA's Marshall Space Flight Center almost a year ago. Its purpose is to connect the core stage to the Interim Cryogenic Propulsion Stage (ICPS) that will send the Orion capsule and its European Service Module off on a jaunt to the Moon.
It will also protect the RL10 engine of the ICPS, familiar to fans of the rockets of the United Launch Alliance (ULA). The ICPS is based on the Delta Cryogenic Second Stage, used on ULA's Delta IV launch vehicles.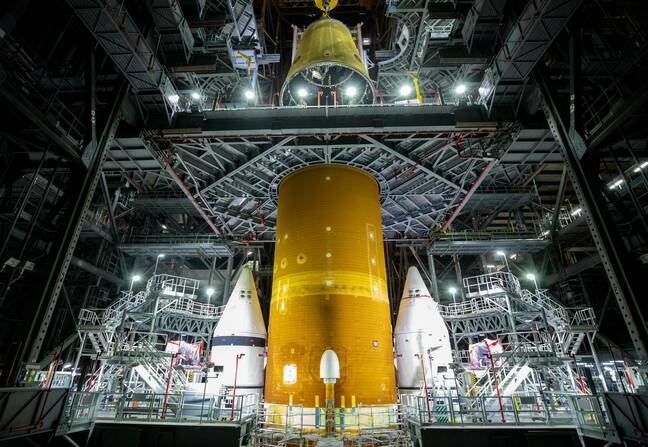 Artemis I adapter stacking (pic: NASA/Frank Michaux)
While initially only planned for the first Artemis mission, the ICPS is likely to see action on the first three missions, according to an April status report (PDF) from NASA's Office of Inspector General (OIG). It will then be replaced by the Exploration Upper Stage (EUS), with bigger fuel tanks and four RL10 engines.
For now, however, the ICPS will be the next component hoisted from the floor of the VAB and fitted to the SLS now the adapter is in place.
NASA is hoping to get the first, uncrewed SLS off the pad this year. Considerably later than originally planned, but in time to keep the faint hope of a 2024 Moon landing alive (at least from an SLS perspective).
Despite no humans being present on the first Artemis mission, NASA does intend to pack its own version of SpaceX's Starman or Blue Origin's Mannequin Skywalker into the capsule to gather data for astronauts. Currently called "Moonikin", NASA is currently seeking suggestions for names for the hope-it-doesn't-crash-test dummy.
Sadly, the selection appears to be via bracket challenges (and the names of two torso mock-ups accompanying it have already been picked – Zohar and Helga). A shame, since the current leaders ACE (Artemis Crew Explorer), Campos and Delos lack a certain something when compared to the inevitable Moony McMoonface. ®