This article is more than 1 year old
Facebook granted patent for 'artificial reality' baseball cap. Repeat, an 'artificial reality' baseball cap
Yeah, y'know, Google Glass wasn't nearly obnoxious enough
Facebook has been awarded a US patent titled "Artificial reality hat," which consists of a display screen that hangs from the brim of a cap, as if it were a havelock worn backward.
And the social ad biz applied for this patent fully aware of the failure of Google Glass, augmented reality eyewear that Google announced rather spectacularly in 2012, only to abandon in 2015 after recognizing its costly, conspicuous specs served no unique useful function in the consumer market, looked foolish, and often alienated people thanks to the behavior of glassholes - a term the Chocolate factory hated but eventually adopted.
As Facebook sees it – with the benefit of hindsight and making no mention of its $2bn Oculus VR headset acquisition or related investments – eyewear has obvious problems not found in headwear.
"Manufacturers of artificial-reality systems have traditionally focused on various eyewear-based form factors, such as glasses and goggles," Facebook's patent explains. "Conventional artificial reality glasses and goggles, however, are sometimes thick, heavy, and unbalanced and/or may generate excessive heat that is uncomfortable against a user's skin."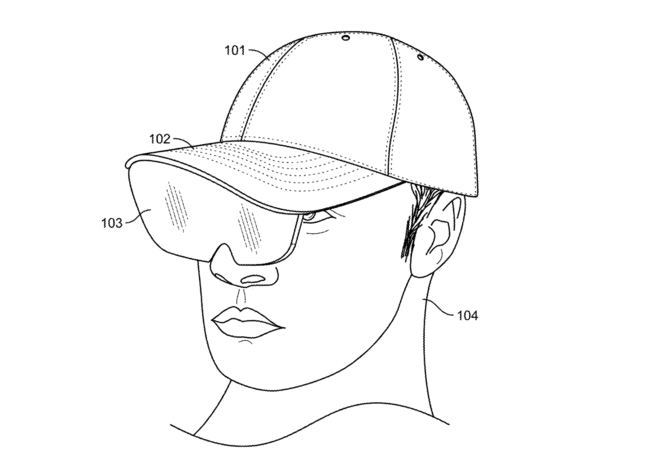 Millinery for the new millennium ... the patented AR hat. Source: Facebook. Click to enlarge
Not only that, but Facebook contends it's difficult to integrate advanced computing components, like sophisticated processors and eye-tracking systems, into glasses or goggles because they're worn on the bridge of the nose where the weight of additional electronics may be disagreeable.
It's almost as if two years ago, when Facebook filed its "Artificial reality hat" patent application, someone foresaw scenarios like the Australian Competition & Consumer Commission recalling Facebook's Oculus Quest 2 virtual reality headsets for irritating wearers' skin.
The Facebook "Artificial reality hat" – FAR Hat for short – is depicted in illustrations as a baseball cap with a ski goggles-style lens dangling from its brim. But it could be any hat – the patent claim extends to "different hat-based form factors, such as baseball caps, visors, cowboy hats, fedoras," and so on.
While it's tempting to muse about the possibility of artificial reality top hats, sombreros, and deerstalkers, the type of hat isn't really the point. For Facebook, hats solve the problem presented by AR glasses. They provide more surface area to affix electronics and better weight distribution opportunities. Better still, these expansive skull scaffolds can keep heat-generating components away from the head, resulting in more efficient heat dissipation and less thermal discomfort.
Also, the hat's brim serves as a short selfie stick for devices that need a bit of distance to scan the wearer. It allows for the incorporation of components "that are less practical or feasible in eyewear-based form factors, such as face-tracking cameras, body-tracking cameras, and/or in-field eye-tracking cameras."
Imagine one of those drones designed to follow you around and document your awesomeness, but perched atop your head, dangling a display screen before your eyes to inject images or ads into your field of view.
You can thank Facebook for that vision of the future, if it ever arrives – we asked the company whether there's any plan to produce a FAR Hat but we've not heard back. ®