This article is more than 1 year old
Price of Microsoft's Surface Duo plummets to better represent middling hardware ... but only if you're in the US
The Special Relationship in the form of Android foldables
Microsoft's latest foray into the world of mobile phones is going so well that its US store has lopped an eye-watering $800 off the price of the fancy Surface Duo.
On the eve of the company's big Windows conference, the foldable Android device can be had for $649 for the 128GB version or $699 for 256GB. If we were in the market for such a thing, we'd have to recommend handing over an extra $50 for the full-fat Duo.
The discount, which more than halves the previous prices of $1,399.99 and $1,499.99 respectively, comes less than a year after the folding phone first launched and, enthusiasts will hope, represents a clearing of inventory ahead of the launch of a second generation.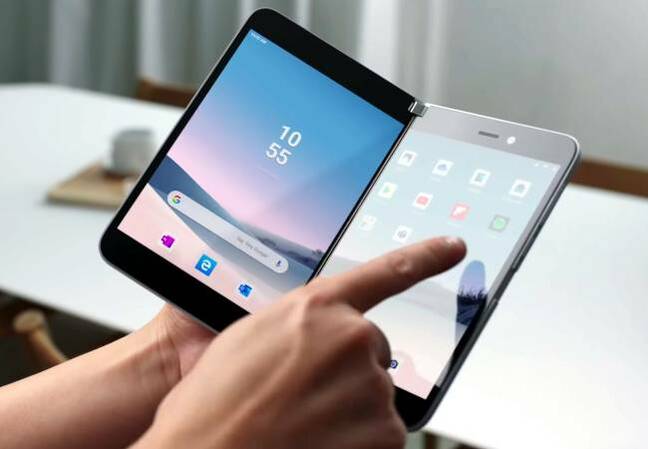 Microsoft's Surface Duo
Certainly, those prices are a little more in line with hardware that was, at best, middling for 2020. The Snapdragon 855 powering the dual-screen gizmo is looking even more long in the tooth nowadays. We'll skim over the below-par camera because, let's face it, taking award-winning photos is not what the Duo is all about.
The kit was instead pitched squarely at businesses with Microsoft 365 subscriptions, and the camera is more than adequate for the odd Teams call or snapping whiteboards and receipts. The dual-screen approach is handy for apps that support it and users with workflows that benefit from it.
Microsoft has continued updating the Duo software since launch, although Android 11 remains notably absent, despite widespread availability of the hardware. And that availability might have caused a few ground teeth from those hoping to buy: UK customers, for example, are exempt from Microsoft's price cutting.
While the US version of Microsoft's store will sell you a Duo for a more reasonable price, British punters buying direct from the company's online shop must pay £1,149 for the 128GB version and £1,199 for the 256GB unit. Sure, that's up to £250 off the original price, but taxation alone can't explain all the difference and we're pretty sure a humble UK pound is worth a bit more than that, even in soar-away Brexit Britain.
We asked Microsoft for an explanation. The company, a recent member of the two-trillion-dollar club, has yet to respond. ®