This article is more than 1 year old
Bug at payments processor WorldPay swipes £2k+ per ride ticket from Brighton Pier revellers
yy/mm/dd. Yep that's £2,104.18 a ride for April beachgoers
Hundreds of visitors to Brighton Pier have been left thousands of pounds out of pocket after a Worldpay payment snafu left them less than amused.
Frolickers at the famous pier looking for some traditional bucket-and-spade seaside fun were charged more than £2,000 a pop for ride tickets after vendor WorldPay systems mistakenly used the transaction date to debit payments.
The issue came to light when visitors on 18 April 2021 began complaining they had been charged £2,104.18. Usually tickets are £25 for adults and £13 for kids for unlimited rides for the day.
First opened to the British public in 1899, the pier on England's southeast coast is a Grade II listed building with over 4 million visitors a year.
In a statement, Anne Ackord, chief executive of The Brighton Pier Group PLC "apologised profusely" for those who had been "overcharged by considerable sums for ride tickets."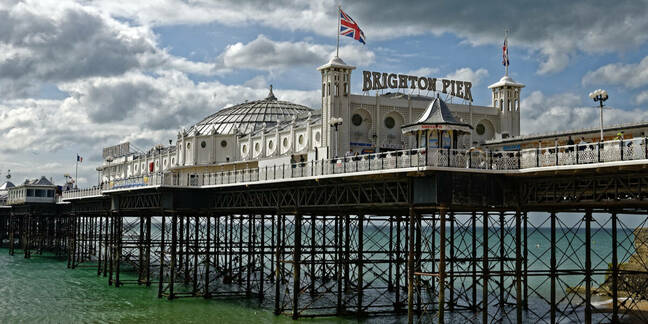 Click to enlarge
"We understand from Worldpay that the error meant that one batch of payments used the figures of the date of the transaction as the amount spent, resulting in serious over-charging."
To make matters worse, it appears that when punters tried to contact WorldPay they were given the brush off "on the grounds of data protection".
"As soon as we discovered that this serious error had occurred we entered into discussions with WorldPay - who have accepted full responsibility - to ensure that refunds are processed without delay.
Although WorldPay has given assurances that the money will be refunded as soon as possible, some punters are not happy.
One of those hit has tweeted: "Another day passes and I'm still over £4,000 out of pocket. Shameful passing of the buck with no assistance whatsoever and no offer of compensation. The stress this is causing is unbelievable. The amount of people [this has affected] is enormous. This is not a little bit of money!"
No one from WorldPay was available for comment at the time of writing, but it told Brighton Pier in a letter: "We'd like to offer our personal apologies for this issue... Worldpay will correct these errors by processing a credit on the affected customers' accounts today to remove the debited amounts that were applied in error and any bank charges that may have been incurred... We can offer no excuse for the fact that your customers were debited incorrectly."
Reg sources in the fintech game have speculated the bug could have been caused by several things, ranging from a misplaced field to a processing fee cock-up. We note that ISO 8583, the international standard for financial transaction card-originated interchange messaging, specifies "Action date" as YYMMDD. And you thought you had a bad week.
If you know more, The Register is all ears: here is how to contact us. ®