This article is more than 1 year old
Wish you could play tabletop Dungeons & Dragons but have no friends? Solasta: Crown of the Magister offers a solution
Plus: A tale of tech woe and E3 best bits
The RPG Greetings, traveller, and welcome back to The Register Plays Games, our monthly gaming column. Before we get into it, quick story: I wasn't sure if I'd make this deadline because I came back from holiday to find my PC had acquired a fondness for crashing then rebooting anywhere from 10 minutes to an hour into playing something.
I was, as you can probably imagine with a rig that cost more than my monthly salary, utterly horrified. Event Viewer was throwing volmgr 161 (inability to create dump files) then Kernel-Power 41 (Windows hasn't the foggiest why it rebooted), no BSOD. The errors didn't point to a precise problem so I spent every second I wasn't editing Register copy experimenting, trying to exhaust all avenues to prevent hauling the computer off to someone much better at this stuff than me.
Faulty power supply? It's brand new. All the games I've tried are installed on the second SSD, could it be a corrupt disk? Also brand new but not inconceivable. As a last resort, and holding out hope for a software-based solution, I stripped out every display driver and let Windows sort itself out. Problem solved. However, this wasn't before I reseated the GPU and RAM – because… I don't even know. I was getting desperate. As I gently, and I really do mean gently, placed the stupid glass panel from the side of my tower onto the tiled kitchen floor, it exploded into hundreds of thousands of tiny shards. Shitsnacks.
So we're flying with our undercrackers exposed to the dust and detritus typical of a home with two young boys until I can find time to take the beast to a glass merchant, conveniently closed on weekends. On the other hand, I have been able to cram a satisfactory amount of hours into this month's subject, Solasta: Crown of the Magister, and hope things remain stable enough to see it through to the end because it's pretty decent.
Key learnings: 1) Open-air computing does wonders for cooling but it's not worth the occasional microscopic shard of glass in your foot. 2) Don't buy a case with any glass in it. 3) Not everything is Windows' fault. Anyway, on with the show.
***
This is a nerd publication so we're sure more than a few of you losers spent youthful evenings huddled around a table while your mate did his best "lusty elven tavern wench" impression.
No? Just us then. Cool. We're talking, of course, about Dungeons & Dragons and related pen-and-paper tabletop roleplaying games (RPGs). No doubt a result of lockdown-induced cabin fever, I found myself recently pining for those halcyon days of ability checks, attack rolls, and saving throws but faced one insurmountable obstacle – I have no friends, and even if I did, I wouldn't be able to see them to organise a new campaign because of the will-they-won't-they coronavirus restrictions.
Sure, people manage to do it online these days through services like Roll20, but then you're introducing a host of issues that we're already familiar with from the workplace – Zoom fatigue, anyone? Fortunately, a small Parisian studio, Tactical Adventures, has been busily working away on a solution to all these problems since 2019 and on 27 May self-released 1.0 of Solasta: Crown of the Magister, "created and written," they say, "by lifelong fans of pen-and-paper RPGs."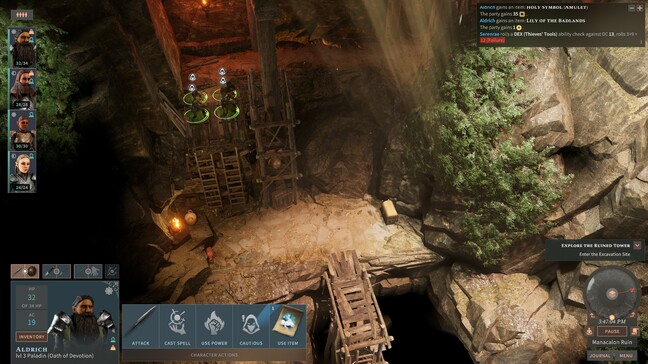 Exploration and combat take place from an isometric view, with the ability to zoom and rotate the camera
Solasta is one of those rare projects that goes cap in hand to Kickstarter, collects 135 per cent of its funding goal (€243,855/€180,000), then actually releases a fully realised product that surpasses the expectations of its patrons. I was not among them, but a new turn-based, classically inspired, tactical RPG built on the Dungeons & Dragons 5.1 ruleset under the Open-Gaming License (open source works for things other than software!) was all the encouragement I needed.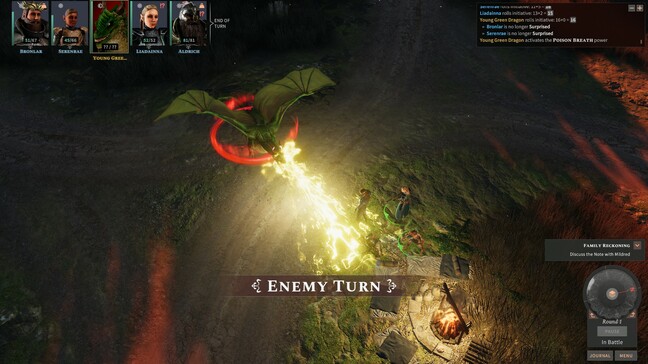 Ambushed by a dragon on the road
Dungeons & Dragons video games are nothing new, but Bioware and Black Isle's entries (Baldur's Gate, Icewind Dale, Neverwinter Nights) took place in the proprietary Forgotten Realms campaign setting (Faerûn) and, though built on the rulesets of the time, dice rolls were simulated in the background. Tactical Adventures, however, have created a setting of their own that explicitly tries to capture the feel of a tabletop RPG with graphical dice and grid-based battlegrounds.
Now, there isn't much about Solasta's lore to write home about. It's extremely generic, though in a deeply nostalgic and comforting way. Tactical Adventures aren't trying to revolutionise high fantasy, nor should they, but here's a quick summary: Thousands of years ago a wealthy elven empire, Manacalon, dominated – right up until a mysterious rift opened and humans poured through from the planet Tirmar (as far as I can tell), pursued by the reptilian Sorr-Akkath. But the rift's appearance sparked the Cataclysm, which wiped Manacalon off the face of Solasta. What's left is a blasted, monster-infested waste referred to as the Badlands. The New Empire capital of Masgarth now hires adventurers to bring back valuable treasures and knowledge from the ruins of old Manacalon, and the player-controlled party of four are the latest heroes to be deputised.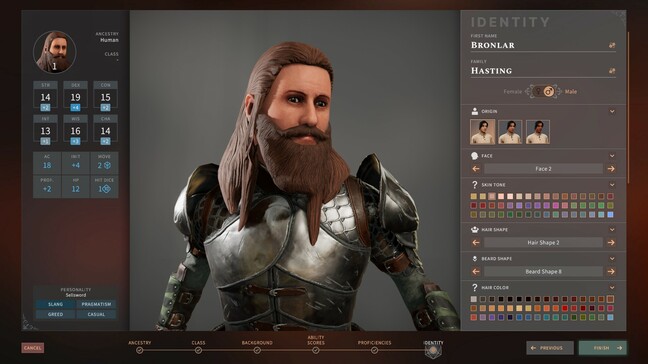 Character creation with selected stats and personality down left
During the adventure, you will come across the titular Crown of the Magister, a magical relic of great power which, once put on, is terribly hard to take off (my preciousssss). From there it's a case of finding the gems that once adorned the crown, discovering the truth of the Cataclysm, and preventing another threat to the world.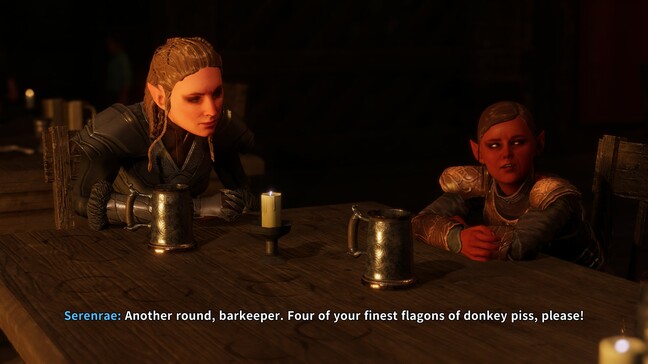 Your party first meets in a tavern while looking for work
You start by assembling your party. There are pre-made characters to choose from, but the game suggests you create them all from scratch, so I did. There are no surprises here. You choose from a variety of races, pick a class for each then roll D20s for stats, taking whatever you think will suit their skills best. I went for a dwarf paladin, an elf cleric, a human ranger, and a halfling rogue. You then choose alignments (good, neutral, chaotic, and all the shades in between), faiths, attitude or backstory – lowlife or sellsword, casual or formal – and even the languages the character can speak or understand.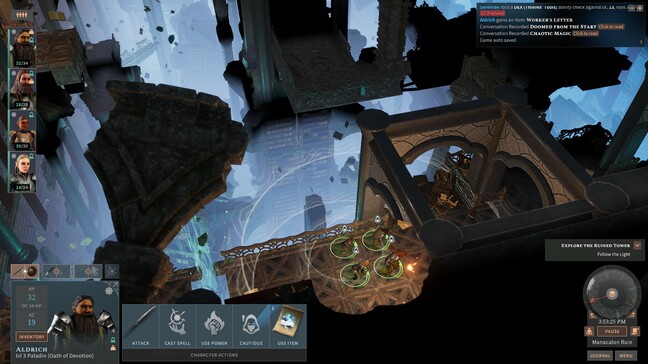 The environments can be wonderful
Since there are no beloved characters to reprise (think Minsk and Boo from Baldur's Gate), the script is overlaid onto the class and attitudes of the characters you create, meaning the story is linear and there aren't many meaningful choices to be made with regard to how events unfold, though extra information can be uncovered during dialogue through various skill checks and certain character traits unlock specific quests. Since we're in 2021, you don't have to read reams of text. Characters are fully voiced and conversations take place in brief cutscenes during which you choose what to say.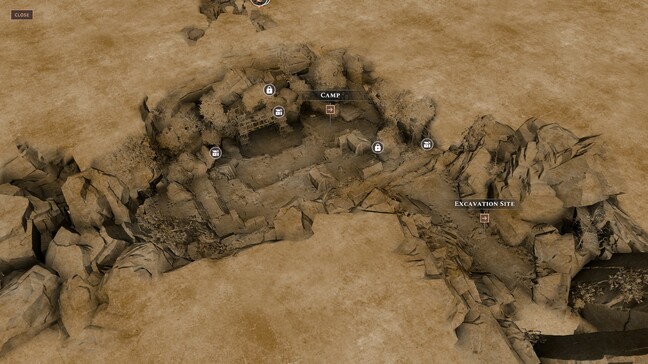 The area map has a cool 3D ink-on-parchment effect
But the gem in Solasta's crown is the gameplay, the dungeon crawling, the nitty-gritty D&D combat mechanics. Exploring the deep and dark places of Solasta is hopelessly addictive. Some characters are better at perceiving traps, others are better at disabling them. You can sneak around to spring ambushes on unsuspecting enemies and roll skill checks to determine whether your whereabouts remain unknown. Combat can become rather tactical, and it's at this point that the similarities between D&D and XCOM dawned on me – Solasta borrows from both in equal measure.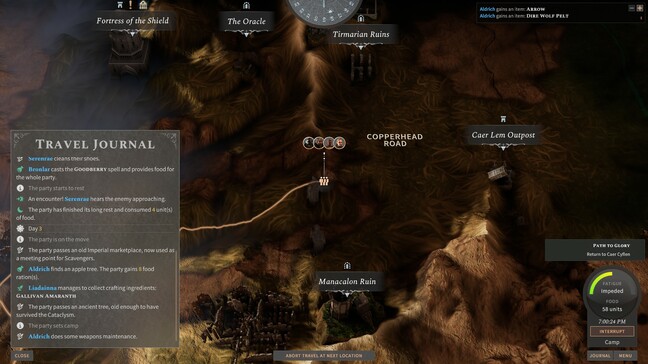 Travelling with events running down the left
The map appears huge, but like classic RPGs before it, really Solasta is made of a number of smaller, separate locations rather than an open world. As your party crosses the realm to its next destination, your location is shown and various events like hunting and resting are described down the left-hand side. When attacked on the road, the scene switches to the battleground and combat is carried out as normal. As well as the main story, you can take on a number of side quests which often require you to return to a location, recover an artefact, and fight off stronger enemies than on your last visit. There's plenty of adventuring work to be picked up from non-player characters too.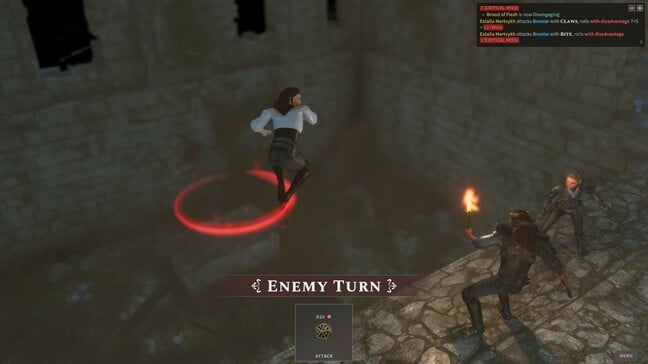 Occasionally, the camera will zoom in on the action during fights
Playing on authentic difficulty, however, means that you are truly at the mercy of RNG. Characters, both player-controlled and otherwise, will miss – a lot. So the pace of combat cannot be described as "fast" by any rate. At times this can be frustrating, along the lines of having 98 per cent chance to hit an enemy in XCOM from point-blank range but still missing anyway, and battles sometimes drag out to be longer than 20 minutes.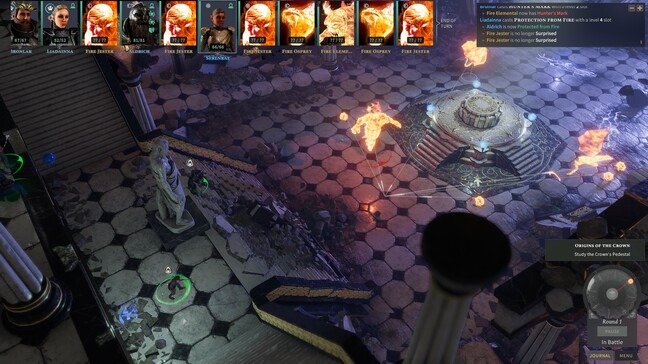 A long, difficult battle against elementals
But there's just something about it. Solasta is CRPG/D&D worship done so, so right that I can't stop playing. You have to hand it to the 15-strong development team: character models might be dated, but the environments are pretty and functional; the writing is nothing mind-blowing and the voice acting amateurish, but they're still able to raise a smile; the UI is crisp, clear, and easy to understand.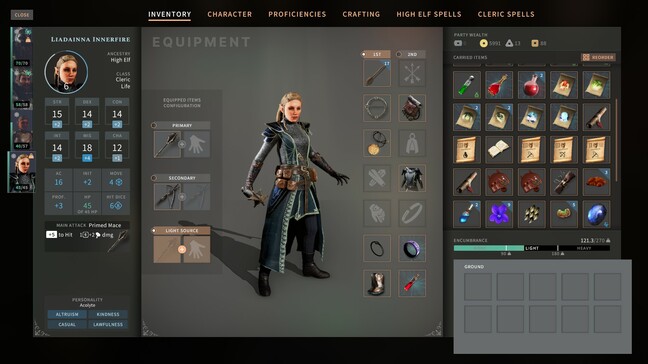 The inventory screen – be careful not to carry too much or you will be penalised
Solasta does not quite reach the heights of Larian's genre masterpiece, Divinity: Original Sin 2, but it's a perfect place to rest a weary head while we wait for the Belgian studio's take on the Forgotten Realms with Baldur's Gate 3. It is, however, a heck of a lot more fun than the arty, po-faced Disco Elysium. So if you're hankering for tabletop action with dice rolls in the excess, gather your party and venture forth. ®
Bonus round!
June is E3 month so here is a slice of what I personally found most exciting. Fans finally got to see From Software's collaboration with A Song of Ice and Fire author George R R Martin, Elden Ring, which looks pretty par for the course for the Japanese studio. "Soulslike," basically.
GSC Game World showed off some impressive visuals from its sequel to one of the best-loved open-world shooters, S.T.A.L.K.E.R. 2, which now has the subtitle Heart of Chernobyl. Bethesda's debut E3 as a Microsoft-owned company was defined by teasers for its new IP, Starfield, which looks like a space-based RPG in the vein of Elite: Dangerous and No Man's Sky.
Speaking of Microsoft, Halo Infinite looks set for a "Holiday 2021" release. Racing sim Forza Horizon 5 is also coming to PC and Xbox in November, and Reg favourite Sea of Thieves spilled the beans on a Pirates of the Caribbean tie-in that was released this week after two years in development. Obsidian Entertainment announced that based on the success of The Outer Worlds, it too was making a sequel. Tim Shafer of Monkey Island fame gave us a release date of 25 August for Psychonauts 2, which was fully funded by crowdsourcing back in 2016. In Nintendo land, Metroid Dread and The Legend of Zelda: Breath of the Wild 2 were the most-hyped titles.
Bootnote
Rich played a bit of Solasta on Twitch as ExcellentSword. Chuck him a follow for more video game impressions as they happen! Every Monday, Wednesday, Friday, and Saturday from around 8:30-9pm UK time.