This article is more than 1 year old
London Greenwich station: A reminder of former glories. Like Windows XP
Borkage haunts one of the oldest station buildings in the world
Bork!Bork!Bork! Take a break from Microsoft's relentless plugging of the new with a glimpse of one of its operating systems of yesteryear doing what it does best: falling over into a heap.
Spotted by Register reader Stuart at London's stately Greenwich station, the board, which is more accustomed to showing train schedules, was instead flashing the nether regions of Windows XP in its death throes.
"Windows is increasing the size of your virtual memory paging file": words to strike fear into the heart of many a user as a favourite app or process tumbles while Windows XP attempts to deal with whatever nasty has befallen its memory management.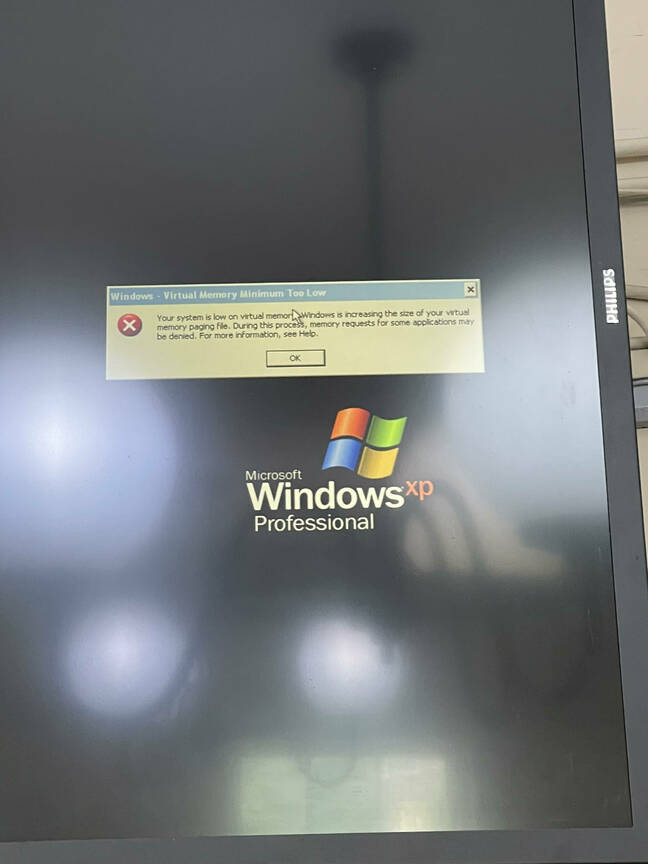 Click to enlarge
Maybe there was a hardware fault behind the scenes or perhaps a disk reaching its capacity? Or was an app leaking memory like a sieve as Windows demonstrated its rock-solid resilience with a terse message about virtual memory?
"Apparently there are no staff at the station and none of the passengers seem to notice," said Stuart. "I feel almost sorry for it."
Not us. Having had to deal with Windows XP's various peccadilloes in a previous life, the operating system deserves no sympathy. Particularly when Microsoft spent the last few years trying to kill the thing once and for all. Even the veteran embedded and POS versions breathed their last in 2019.
That said, we do have a certain fondness for Greenwich station itself. One can see the attractive light fittings in the reflection of Windows' borkage and the station building is one of the oldest in the world.
Tourists might, however, be better hopping off at the neighbouring Cutty Sark for Maritime Greenwich station on the Docklands Light Railway for some of the more famous attractions.
The station is also not to be confused with the altogether more modern North Greenwich station, which is notable for being next to the O2 but, er, not really being in Greenwich.
While the thrusting concrete architecture of North Greenwich is to be admired, it is comforting to know that the elderly Greenwich station lives on.
It is therefore somehow appropriate that at least one screen is blessed with one of Microsoft's also-elderly operating systems, demonstrating that it can fall over with the all the grace of its more modern cousins. ®