This article is more than 1 year old
We hope this hotel has a nice spa because Windows sure looks like it needs some R&R
If you'd like to restart and try ag-
Bork!Bork!Bork! Microsoft Windows is notable for its ability to fall over pretty much anywhere, but this is, we think, the first time it has disgraced itself over the side of a hotel.
"The 4 star hotel is using a 2 star OS for its signage, it seems," said our reader, who spotted the borkage over the weekend, smeared up against the wall of the Mercure Bridgwater in Somerset, England.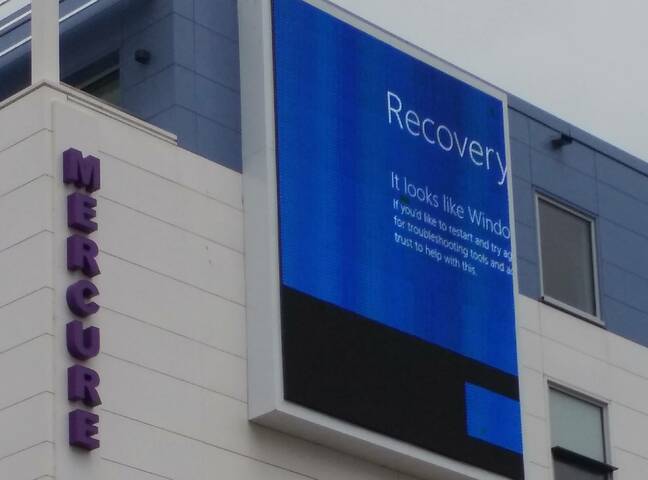 Click to enlarge
We'd contend that at least the operating system version appears relatively up to date, although goodness knows if the hardware behind the sign will be capable of running Windows 11. A relatively new CPU and some up-to-date TPM chippery is, after all, wholly appropriate for digital signage.
The screen on show is usually displayed when a recent edition of Microsoft's OS notes a failure to load and gives the user some helpful options for dealing with the issue.
As well as the Groundhog Day of "Restart my PC", a user can also delve into the exciting world of "Advanced repair options", although sadly neither option is visible on the side of the hotel. Hopefully somebody pulled the video feed before commencing the weary trudge through a reinstall, which is normally how things tend to end when Windows gets its knickers in a twist.
As ever, we'd have to wonder if something as hefty as Windows belongs bolted high up on a wall, showing little more than a glorified slideshow.
The sign looks out over an Aldi car park, normally tempting shoppers and Eastover drivers with the delights that await them within the walls of the Mercure. While it might once have been showing the accommodation on offer or the dining pleasures awaiting customers, Windows has perhaps, for once, judged the mood of the nation correctly.
Afternoon tea is all well and good but, like the stricken OS itself, a simple "Recovery" after the last year or so is all we really want. ®