This article is more than 1 year old
The M in M1 is for moans: How do you turn a new MacBook Pro into a desktop workhorse?
You'll need two hubs and about £300
The M1 MacBook Pro is like that brilliant colleague who insists on microwaving fish in the office kitchenette. Good at its job, certainly, but also deeply annoying.
On one hand, this machine is a veritable beast. It's fast, quiet, and has the best battery life of any machine this reviewer has used. Yet it suffers from two distinct flaws. First, it is reliant on just two USB-C (in this case, Thunderbolt 4) ports for external expandability. Secondly, for whatever reason, it natively supports just one external display.
Fortunately, these are fairly straightforward to circumvent, provided you've got some deep pockets. A few weeks ago, Anker sent us its PowerExpand 5-in-1 Thunderbolt 4 dock to review. Priced at £200, it's not cheap.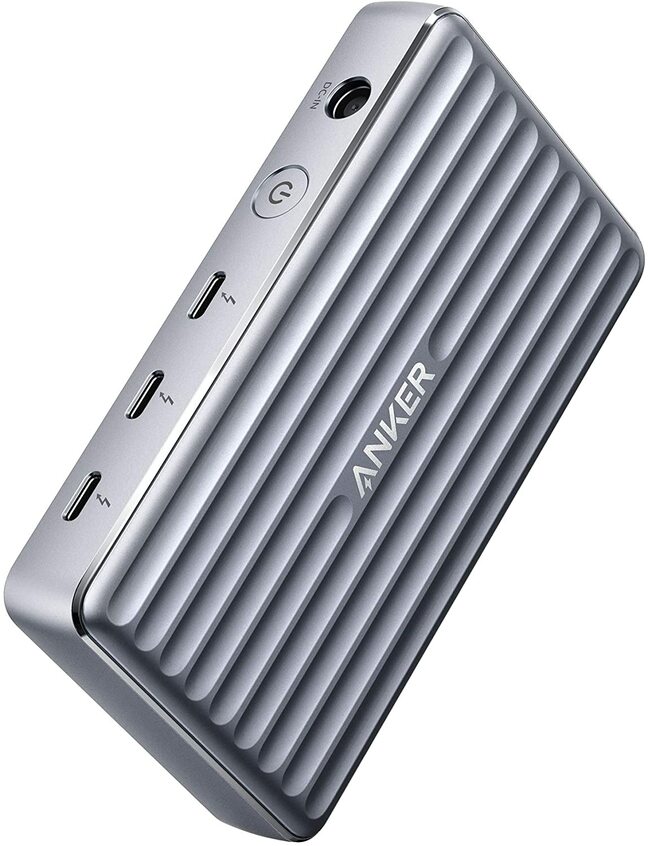 But there is a lot to like about it. For starters, it's small, roughly the size of a pack of cigarettes. This was presumably accomplished by having its 100W power supply in a separate brick, which is amusingly larger than the actual device itself, although straightforward to stow underneath your desk.
We also note that although it can pass up to 85W through its upstream port, the dock remains fairly cool to the touch. Other charging accessories we've used in the past have occasionally been dogged by thermal issues.
On one side, you'll spot three USB-C Thunderbolt 4 ports, which can be used to connect other accessories. These give you the option to attach a single 8K monitor with a 30Hz refresh rate, or two 4K displays at 60Hz, assuming you're using the device on an older Intel-based Mac or another compatible Windows PC. These can also output up to 15W of power, which is handy for rapidly charging your phone.
The dock boasts theoretical peak file transfer speeds of 40Gbps when using one of the Thunderbolt 4 downstream ports, although this is largely determined by the type of storage device you end up using, and we didn't get anywhere close to that when transferring HD video across to a basic Pioneer external SSD drive. Still, it'll likely come in handy if Apple opts to introduce eGPU support for Apple Silicon later down the line.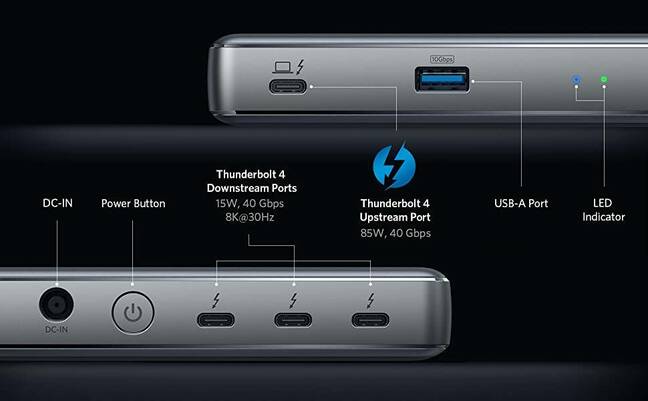 On the other side of the dock, you'll find a single lonely USB-A 3.0 port, as well as the Thunderbolt 4 upstream port you'll use to connect to your machine. On one hand, we would have liked to see a greater amount of legacy ports, given its high price. Anker could have thrown in a couple more USB-A ports, and maybe HDMI and SD Card support.
Still, in 2021, this reviewer is less dependent on USB-A than I once was. My mouse and trackpad both connect over Bluetooth. I have a USB-C cable for my iPhone and display. The Achilles' heel with the M1 MacBook Pro isn't necessarily the type of ports available, but rather the quantity of them.
Ultimately, the Anker PowerExpand 5-in-1 sacrifices quantity for quality. If you've got endless devices to connect, you're best advised to look elsewhere (and the company has a 13-in-1 Thunderbolt 3 dock that's similarly excellent). But if you're looking for something small, rugged, and well built, it's a great (if not pricey) choice.
Getting around Apple Silicon's display limits
Although the Anker PowerExpand 5-in-1 is a fine dock, it won't allow you to circumvent the limit on external displays on the current generation of Apple Silicon. If you want to connect more than one monitor, you'll need to find yourself a compatible DisplayLink adapter.
I settled on the Pluggable Dual Monitor Adapter, which cost me a princely £110. This looks like an ordinary external display hub, packing two HDMI and DisplayPort slots apiece, as well as Ethernet.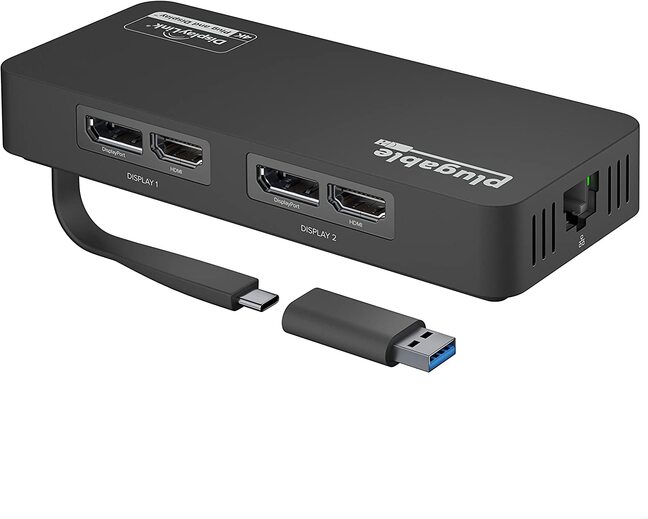 How does it justify its high price? In a word, DisplayLink. This is the best (and, at the moment, only) way to add additional displays to the M1 MacBook Pro or MacBook Air.
In basic terms, the technology consists of two parts: an application that acts like a separate display on the host machine, and some custom silicon on the hub that transfers images to your monitor.
I held off on buying this because I was sceptical whether a software-based solution would be good enough. Although many of the reports I read were positive, some complained about a perceptible sluggishness on the visualised display.
Fortunately, that wasn't the case in my situation. The Pluggable hub I selected handled 2K 60Hz video-out like a champ. Although the DisplayLink software adds a bit of CPU overhead, you'd struggle to notice it during ordinary operations, and it springs into life immediately upon being connected to the computer.
That said, there are a couple of downsides. Firstly, the software doesn't allow for portrait orientations, which is a bit of a shame. Secondly, it adds yet another bulky hub to your workspace, which isn't great if you're trying to avoid clutter.
Sadly, the Pluggable hub I opted for is no longer available on Amazon, although can be found elsewhere. Other vendors, including Kensington and StarTech, have their own similarly expensive DisplayLink options.
M1 moans
I have managed to find a solution that works for me. Nonetheless, it illustrates the biggest weakness of the M1 Mac. Building an ecosystem for serious daily use requires you to spend at least £300.
Sure, you could cheap out and get a simple USB-C hub, although you would still be limited by the current Apple Silicon generation, and wouldn't benefit from the nice-to-haves like fast charging and Thunderbolt 4.
Overall, both of these products have elevated the usefulness of my M1 MacBook Pro. But I do begrudge the fact that they were necessary. Steve Jobs' motto of "it just works" feels like a distant memory at this point. ®