This article is more than 1 year old
A real go-GETTR: Former Trump aide tries to batter Twitter by ripping off its UI
Critic points out that restrictive T&Cs just make it 'Twitter without the porn'
Former Trump campaign communications strategist and expert DNA communicator Jason Miller has launched a new social media platform he hopes will be the long-awaited free-speech utopia to rival Big Tech's supposedly crushing grip on public discourse.
The app – known as GETTR, not to be confused with Turkey-based groceries app Getir – has actually been available on the Google and Apple app stores since mid-June, but had only been downloaded a thousand or so times on each until it was soft-launched yesterday (1 July).
The app's official launch day will be 4 July, which will undoubtedly lead to hugely positive coverage from any tech journalists who have to cover it, instead of being at home celebrating Independence Day with their families.
In a pre-launch interview on the US right-wing news network Newsmax, Miller claimed that GETTR was going to "blow away anything on social media right now."
"Here is a thing I think that has really stymied a lot of conservatives in our efforts previously: we haven't had a lot of good products," he said, seemingly oblivious to the fact that conservatives have had access to exactly the same products as liberals, libertarians, greens, communists and everybody else up until this point. They just never paid enough attention to the terms and conditions.
The main selling point for Miller's new venture seems to be that GETTR will have fewer pesky rules to catch out well-meaning and under-represented right-wing voices, an aspiration it shares with Parler, Gab, Frank, Minds, and seemingly dozens of others. However, GETTR's terms are actually as restrictive as Twitter's, if not more so: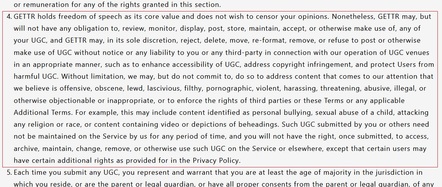 Click to enlarge
As YouTuber JustALazyGamer has pointed out, this effectively just makes it Twitter without the porn.
If Twitter is its main rival and the internet is lacking "good product," you would expect the new site to be radically different. But instead GETTR shares a great deal in common with the more established microblogging site, effectively cloning Twitter's UI and layout while missing out some of the features. This makes Miller's suggestion that conservative voices were just lacking a certain special product to really allow them to shine all the more odd.
GETTR users can also import all of their Twitter tweets and contacts. Early on, this fact led to some of the bigger accounts having more followers than there were registered users on the site, a bug which has since been fixed.
The platform has a number of other odd quirks when compared with its obvious main rival. To begin with, the maximum length of posts is 777 characters rather than 280. This seemingly completely arbitrary number is probably intended to allow posters – overly verbose former presidents, perhaps – to express themselves more fully than they might have been able to on Twitter.
Unfortunately, the number 777 also happens to be the symbol of the Afrikaner-Weerstandsbeweging or Afrikaner Resistance Movement, a South African white supremacist neo-Nazi organisation. This may be a simple coincidence, of course, but it does seem like a bit of a red flag that nobody noticed it.
Users can also post videos of up to three minutes in length, compared to 140 seconds on Twitter.
As yet, the former rambler-in-chief has not set up an account on the platform, which seems a little unkind given that it appears to have been set up mostly with him in mind. Donald Trump has made no secret that he has been looking for another place to deign with his bombastic presence since he was booted off of Twitter, Facebook and Instagram, parts of Reddit, and most of social media following the Capitol Riots in January 2021.
"I will tell you that 'Real Donald Trump' is reserved for the 45th president, my favorite president, so if he does decide to join the platform then we'd love to have him," Miller said in another Newsmax interview on Thursday night (1 July), possibly more in hope than expectation.
Trump has struggled to find a suitable home for his online primal scream therapy, having started a blog in May, only to close it down weeks later due to an absence of traffic. His organisation is reputedly looking to either start or buy into a new social media home for the former president, preferably on terms that would make his involvement profitable, rather than just helpful to his public profile in the run-up to a possible tilt at the 2024 presidential election.
That said, there is no guarantee that Trump will even have the means or the personal liberty to conduct such a campaign following the tax charges levelled yesterday against the Trump Organisation and its CFO Allen Weisselberg by the Manhattan District Attorney.
Given that the allegations include suggestions that the Trump Organisation kept the details of its tax violations on a secret "internal spreadsheet," it might be better for the former president and everybody around him if he steers clear of technology altogether in future. ®