This article is more than 1 year old
Black screens in Windows 11? Bork has seen it all before
Welcome to Madeira, autonomous region of Borkugal
Bork!Bork!Bork! As the latest twist in the Windows 11 saga appears to have turned the blue in "Blue Screen of Death" to black, a glimpse into the international world of bork shows that a black background has always been the harbinger of a poorly computer.
A case in point is the sad screen in the doorway of the Salsa clothing store and snapped by an eagled-eyed Register reader. The fashion outlet can be found in the Fórum Madeira Shopping Centre on the island of Madeira.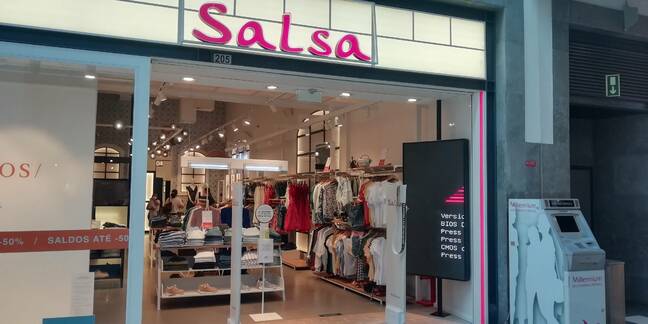 Click to enlarge
We think what has done for this bit of digital signage is an unhappy CMOS checksum. The tell-tale corner of what looks like an American Megatrends logo indicates that whatever is running behind the scenes has yet to trouble Windows (or whatever operating system is running on the inevitable PC).
It also looks as though the sign is exhorting passersby to press a key in order to enter the BIOS to rectify the problem. Or perhaps it is a thinly veiled reference to the 2019 Cardi B song "Press". Certainly, Ms B has some notable connections to the tech world, not least through her touching 2020 tribute to the mobile data connectivity technology of yesteryear, "WAP".
As for Salsa, it seems the technology of yesteryear is also doing a sterling job here, even if the screen "has been borked for more than a week," according to our reader. A simple 50 per cent sale banner is likely more than capable of luring in the punters and has considerably less in terms of power needs and bork potential.
I see a BSOD and I want to paint it black
And what does The Reg think about the alleged replacement of the Blue in the BSOD with darkest black? Well, let's just say that Windows 11 remains some way from final release. While a black screen (like the failed CMOS check of today's bork) might be all the rage right now, there may be many a shade to be checked by the Microsoft engineers between now and shipping.
Us? We still have (not so) fond memories of the alarming red on black of an Amiga Guru Meditation Error. Perhaps a soothing blue is not so bad after all. ®