This article is more than 1 year old
The black screen of BIOS borkage haunts Space Shuttle Discovery's new home
They can put a man on the Moon, but can't change the battery in this Dell?
Bork!Bork!Bork! Bork takes to the skies, kind of, with a Dell Optiplex disgracing itself at one of America's hallowed halls of aerospace.
Today's display of unhelpfulness was captured by Register reader Will at the otherwise excellent Steven F. Udvar-Hazy Center in Virginia, part of the Smithsonian National Air and Space Museum.
Sadly, however, all is not well with one of the computers lurking behind the scenes.
The Optiplex 755 was one of Dell's Mini Tower computers (now out of favour since punters prefer portables) and featured drive bays aplenty – a pair of 5.25-inch slots, as well as one size for 3.5-inch drives, were accessible on the case.
The case is nowhere to be seen here, unless it is out of shot in a bulky stand. There is every chance that its guts might have been liberated for interactive signage purposes. Either way, the Dell is not happy.
We'd hazard a guess the battery responsible for holding the hardware configuration is on the way out, and the requirement for date and time entry indicates a certain level of forgetfulness. On the other hand, the "system management hardware needs a reset" message sounds a bit alarming.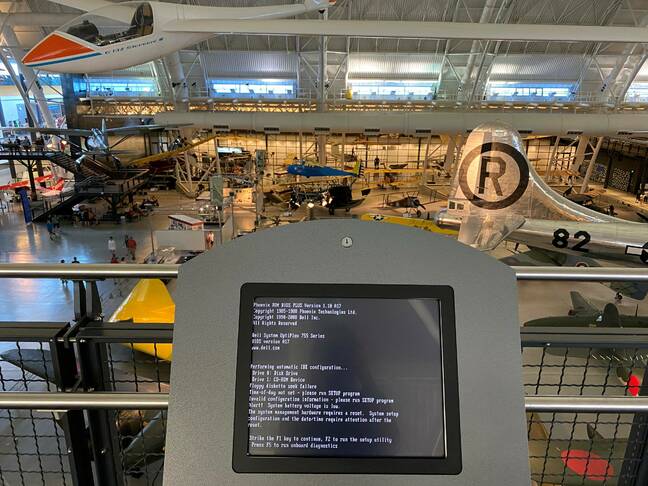 Click to enlarge
Still, it's likely an elderly thing in computing terms. The Dell Optiplex 755 dates from around 2007, a good four years before the star exhibit at Udvar-Hazy, Space Shuttle Discovery, took its final flight to space.
The Shuttle is now preserved at the Smithsonian. The Dell... somewhat less so.
While one might be the most advanced flying machine ever made and the other is, well, a Dell, both do have one thing in common: neither are likely to be candidates for Windows 11 any time soon.
Interested parties pondering a visit to the museum will be relieved to learn that this bit of borkage is very much the exception to the rule. Our reader noted the institution was festooned with screens and webcams, permitting chats with experts.
"Overall," he said, "it felt more dynamic than the pre-COVID days where a tour guide gets in your face and demands your attention."
"It's an excellent museum," he continued, "with a one-of-a-kind collection and I would highly recommend a sojourn to anyone visiting the Washington DC area or laying over for an extended time at the nearby Dulles International Airport!"
We'd have to agree. Once we're allowed to travel again. ®