This article is more than 1 year old
2021: A Bork Odyssey. Is it remake of Disney's The Black Hole or explorer.exe being shown the door?
Welcome to Cineworld in the leafy UK town of Harlow Essex
Bork!Bork!Bork! The UK's cinemas may be reopening, but it looks to us like The Terminator is still showing. Or perhaps that perennial Microsoft favourite – Bork: The Movie.
The Harlow branch of flick-flinger Cineworld is the scene of today's unfortunate events, as a screen which would normally show what treats are in store for customers is instead displaying the End of Days for an unfortunate Windows application.
What we're actually seeing is a Windows command prompt showing the results of the taskkill command to a fearful public.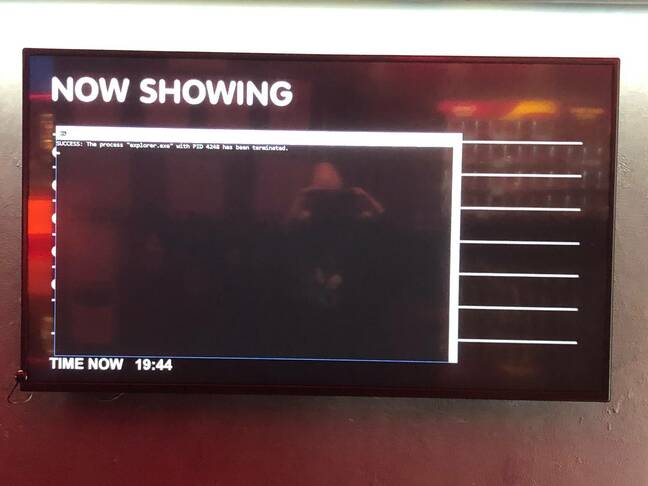 Click to enlarge
Taskkill replaced the kill tool of old and can end processes by their process ID or image name. Brave administrators can apply filters to wreak extra havoc upon the Windows operation system, although users are probably more accustomed to the cuddlier world of the Task Manager which absolutely does not mention the word Kill anywhere at all, no sir.
Admins are made of sterner stuff, it seems.
A cynic might suggest that the cinema chain has had plenty of time to deal with its problematic IT in the months since the screens were shuttered with the clang of near-finality in the face of UK government restrictions.
We, however, are delighted to see punters once more tottering off to the pictures. The lucky dip of not knowing what is actually showing all adds to the fun, even if the cost of popcorn and soda wipes the smile from one's face.
As for the working title for Bork: The Movie, may we suggest: Kiss Kiss Bork Bork as an alternative? Or Blue Is The Warmest Colour (but coldest screen)? Maybe Into The Blue (screen of death)?
The possibilities are endless. Even if the uptime of explorer.exe clearly is not. ®