This article is more than 1 year old
Suck on this: El Reg forces dog hair, biscuit crumbs, and disconcertingly sticky stains down two mini vacuums
The Eufy RoboVac G30 Hybrid and Roidmi X20s – the latter is sadly not a steroid dispenser
Review A few weeks ago, Chinese smart home (and batteries, cables, and headphones) manufacturer Anker asked us if we would be interested in reviewing its latest robot vacuum cleaner.
As a busy person with two dogs that, on a weekly basis, shed enough fur to make a winter coat for every needy child in Britain, this reviewer said yes. I was genuinely excited.
This is who I am now, with my thirtieth birthday approaching and in the second year of lockdown. I actually found myself eagerly counting down the days until a courier brought the Eufy RoboVac G30 Hybrid. The pandemic, eh?
The hybrid in the name doesn't refer to the method of propulsion. Unlike my Dacia Sandero, it doesn't require regular glugs of unleaded to get around. Rather, it describes the device's functionality, as it can both mop and vacuum.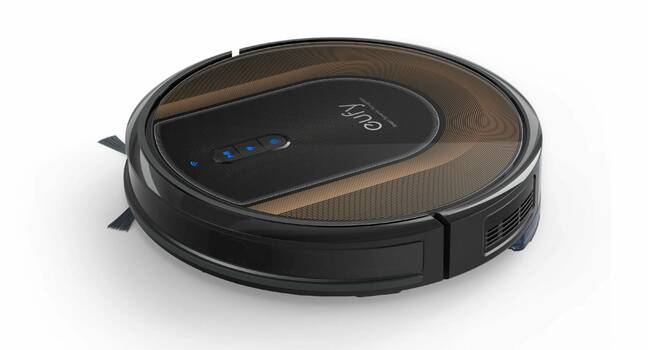 Eufy RoboVac G30 Hybrid
Let's talk about the vacuum part. It offers 2,000 pascals of suction – which is about right for a robot vacuum, but far less than a conventional vacuum cleaner, where ratings of 20kPA (or 20,000 pascals) aren't uncommon. In practice, it will handily suck up stray crumbs and flecks of dislodged dog hair, even when tackling tricky stretches of carpet, but may struggle with larger bits of debris.
The mop bit is fairly self-explanatory. Once you've tractor-beamed all the stray bits of Hobnob from your floor, you can tell the vacuum to begin a mop cycle. In practice, this isn't much of a replacement for a trusty real mop. This is a fairly small bit of kit, and when you factor in the electronics and the 0.45L dustbin, there just isn't all that much room to pour in water and Zoflora.
In short, it's OK for periodic washdowns, but probably isn't practical for larger floorspaces, or for repeat series of cleanings. Most hybrid robot vacuum cleaners this reviewer has tried in the past were the same, and this isn't an indictment of Eufy, but rather just the compromises you have to inevitably make for the form factor.
It excels in other areas. With a height of just 2.85 inches (7.24cm), it can get squeeze into plenty of areas, and the RoboVac G30 Hybrid doesn't make much noise as it goes about its way. Still, it managed to infuriate my Cavalier King Charles Spaniel, who was outraged by this strange new intrusion into our home.
This is the same dog who, as a puppy, destroyed another robot vacuum cleaner by soaking it in a vast stream of his own urine. This was a pricey £700 affair, and we were forced to explain to the manufacturer why they wouldn't be getting their review unit back in a functional state. We're still blacklisted. A few irate barks are thus somewhat of a breakthrough.
Control is done via a mobile app, and you can start cleaning cycles by barking commands at Amazon Alexa or Google Home. The kit also comes with a boundary strip, allowing you to block off certain parts of your home. If you're tempted, you can find it on Amazon for the princely sum of £369.99, although at the time of writing it comes with a £90 voucher, which brings the cost to £279.99.
Roidmi? Roid you, sir
Roughly the same time Anker contacted us, a rep from Xiaomi's cleaning brand Roidmi asked if we'd be interested in reviewing its self-cleaning cordless vacuum and mop.
A week or so later, DHL delivered a massive box containing the Roidmi X20s mop-and-vacuum hybrid, as well as a self-cleaning box that allows you to sanitise the brushes without getting your hands dirty.
Currently being sold on Indiegogo, where early-bird pricing starts at £290 and goes up from there, the Roidmi X20s seems competent at both vacuuming and mopping.
Suction is good, and Roidmi claims the X20s can produce up to 25kPa of pressure. In practice, this means it can handle anything you throw at it, from crumbs to larger bits of debris. Vacuuming carpets isn't a problem, and it was able to pull stuff up from the recesses between floor tiles.
It is similarly strong at mopping, and while it does not come with the largest water reservoir, it is good enough for blasting through my small kitchen, and was able to buff up dried-on stains and stubborn sticky patches.
Battery life is good, and it does not make much noise, although admittedly it did manage to disturb the pooches. Hauling it around isn't particularly taxing, the X20s weighs 2.5kg with the attachments affixed, or less than my normal Shark IF200UK cordless vacuum. Still, you will need to factor in the floorspace taken by its corresponding self-cleaning kit. This does a very good job of cleaning the mop heads between use.
And, of course, there is a corresponding app to go with it. It's 2021 after all. This shows you battery level, and reminds you to change the filter from time to time. Still, our security-conscious readership may balk at the idea of adding external connectivity to something as routine as a cordless mop.
The usual caveats apply, but if you're tempted, you can order one here. ®