This article is more than 1 year old
OK, you're paying data charges in the EU, but you can still roam free in, er, Iceland
Sandwiched between cheese and prawns in UK post-Brexit trade deal
In good news for Brits concerned about hitting roaming caps the next time they visit the EU, the UK has sorted out that particular issue in a post-Brexit trade deal with Norway, Iceland, and, er, Liechtenstein.
The deal, which was announced in June, is good news for exporters of Scotch whisky and cheesy favourites such as Cheddar, Caerphilly, and Wensleydale.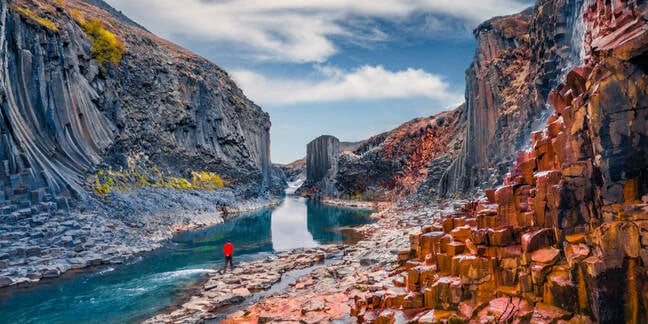 We doubt the mobile reception is great, but it's very beautiful
In return, lower import tariffs on shrimps, prawns, and white fish could see prices for posh sandwiches and canapés reduced while fish-and-chip shops now have a more predictable supply. According to fishing trade mag Intrafish, the UK is "by far Norway's largest market for frozen haddock fillets, which the British use in their fish and chips."
"We have given on cheese, but we got a little more on fish," Norwegian Prime Minister Erna Solberg told Reuters last month.
UK.gov, meanwhile, was back to its favourite pastime of chopping "red tape".
"The deal's cutting-edge digital provisions mean we're slashing red tape [and] making it easier than ever for our businesses to export across borders. Electronic documents, contracts and signatures will result in less paperwork, saving British firms time and money," chirped a government statement.
What's more: "Under the deal it will be possible to cap the charges mobile operators are allowed to charge each other for international mobile roaming, a world-first in an FTA, keeping costs low for holiday makers and business travellers in Norway and Iceland."
Liechtenstein, one of Europe's smallest countries with an area of just 160km2 (62 square miles), has for some reason been omitted from the list. We suspect it is because the Liechtenstein mobile phone system is attached to Switzerland, with many contracts subject to the Swiss legislation.
While we wait to hear back from the Department for International Trade to see what they have to say, travellers are already looking to book their getaways.
According to a study last year, when Liechtenstein isn't getting mistakenly invaded by Switzerland it topped global broadband league tables with mean download speeds of 229.98Mbps – light years ahead of the 37.82Mbps registered in the UK. You can also walk its length in six hours.
For whale watchers, what could be more exhilarating than a trip to Norway to see the gentle giants in their element. And if you're really lucky, you could spot a Russian-trained Beluga whale sporting a St Petersburg-made camera harness begging for food as it carries out covert missions.
And if getting all hot and steamy is your thing, then a trip to the Mount Fagradalsfjall volcano – which has been dormant for some 6,000 years before it burped into life earlier this year – could make a lovely romantic weekend break. ®