This article is more than 1 year old
SteelSeries Apex Pro plays both sides of the mechanical keyboard fence – and wins
Feedback determined by software, making this ideal for work and play
Review Personal taste plays a huge role in one's mechanical keyboard of choice. While some drool over tactile feedback and samba-like clacking, others prefer silent, linear switches.
Until recently, the only way to pick a keyboard that pandered to your preferences was to select one with the appropriate key switches. Cherry MX Blues are adored by programmers and writers, whereas the quieter Red switches are suited for gamers craving immediacy and lightning-fast response times.
Released earlier this year, the SteelSeries Apex Pro tries to play both sides of the field, giving punters the ability to adjust the sensitivity of each key.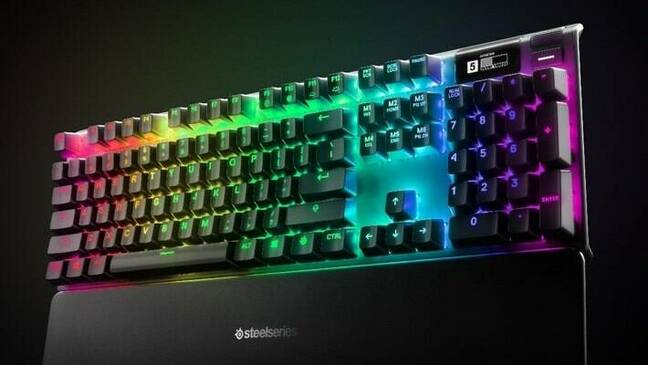 You might, for example, want to register a press the moment a key actuates when playing a competitive FPS, where response times are measured in milliseconds. The speed in which you can react to the action on screen can very well determine where are you land on the leader board.
But that may be anathema for programmers or writers who demand accuracy, and only want to register a press when the key bottoms out.
In short, it aims to make a compromise. This isn't necessarily new in itself. Last month, we reviewed the Vissles V84 keyboard, which came with hot-swappable switches. You could use Red switches for the WASD keys, while using Blues everywhere else, getting the best of both worlds, albeit at the expense of consistency.
The SteelSeries Apex Pro is different, using its same Omnipoint switches across the board, with customisation delivered by software. This makes it far less fiddly, and the management package – the SteelSeries Engine – is available for both Windows and macOS. Sadly, Linux users aren't catered for, but since configurations are stored on the internal memory, you could always use someone else's machine.
The Omnipoint switches used are of the linear flavour, which means there is little to no noise generated during ordinary use, and there's hardly any "bump" registered when a key bottoms out. Again, your own taste will determine whether this is bad or good, but the ability to adjust the points in which a key registers mitigated against many of my personal grumbles with linear key switches.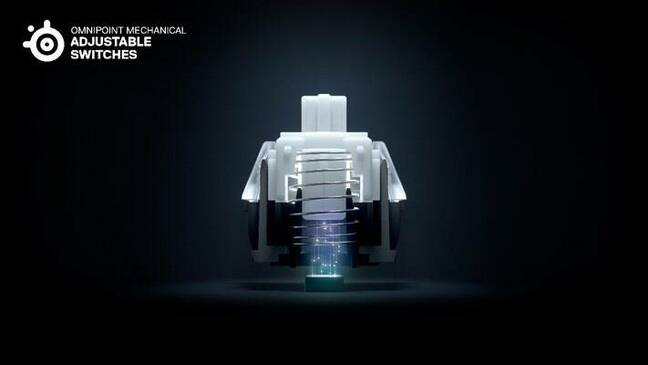 Less subjective is the attention to detail throughout the product. It's hard to identify a point where and if SteelSeries cheaped out. The keycaps have a transparent aperture, which makes the backlighting feel more premium, not least thanks to the individual illumination under each key.
As you would expect from a keyboard with crossover credentials, these are RGB lit, and you can control the colour scheme through the companion app. There is also a bundled wrist rest, which connects through a series of magnets with a satisfying snap, although it accumulates grime at pace.
In the top right corner, you will spot a tiny OLED display, which shows the actuation settings of each key, as well as game specific data. This is programmable, and you can use it to show a variety of info or content. Think of it as a poor man's TouchBar. We know you, er, liked that feature. You will also find a variety of media controls, including a scroll wheel for controlling volume. We saw this on some gaming-oriented Logitech keyboards, and we liked it.
There is no wireless connectivity, although we were fans of the thick braided USB cable, which is split at one end, allowing for USB passthrough. You can also coil the cable underneath the keyboard, allowing for a tidier desktop.
In conclusion, SteelSeries tries to play both sides of the field, and wins. This may be the first linear keyboard I've genuinely enthused over. It is a good choice for both gamers and those looking for a work tool.
That said, at £200, it doesn't come cheap, putting it within the higher end of the mechanical keyboard market.®