Samsung Galaxy A52 5G: Sub-$600 midranger makes premium phones feel frivolous
Biometrics could be better but workhorse otherwise does the job
Review Samsung's Galaxy A series is the company's midrange workhorse, and although it doesn't generate the same buzz as the Galaxy S series or China's wave of astoundingly well-priced kit, it quietly sells over 100 million units a year – accounting for a decent chunk of all smartphones sold on the planet.
The A Series is pitched by Sammy as being sophisticated yet affordable in the developed world, but in other nations they're just-about-flagship material because the likes of the Galaxy S series is too pricey for local buyers.
#Samsung took five spots in the world's top 10 shipping smartphones in Q3 2020, driven by its Galaxy A series portfolio. The vendor regained the No.1 position globally with shipments increased by 2% y-o-y. Read our Q3 2020 smartphone market report at https://t.co/3dQ7dSiY1a pic.twitter.com/86XPCZC7uJ

— Canalys (@Canalys) November 9, 2020
Wherever you live, The Register's time with the new A52 5G suggests this device will satisfy – and possibly delight – almost anyone, anywhere.
The device is priced at $599, packs a 4500MaH battery, an eight-core Qualcomm CPU with two cores capable of 2.3GHz and the rest reaching 1.8GHz. Also under the hood: 8GB of RAM and 128GB of onboard storage.
On the face of it, you'll find a 6.5-inch 1080 x 2400 display boasting a 120Hz refresh rate.
The rear-facing cameras are a 12MP ultra-wide affair, twin 5MP lenses tuned to macro and depth shots respectively, plus a 64MP monster. The front-facing cam can capture 32MP each time you snap off a shot.
A USB-C port is joined by a 3.5mm headphone jack, yet the device still has IP67 rating and can survive half an hour in a metre of water.
That lot fits into a 159.9mm x 75.1mm x 8.4mm package that weighs 189 grams but feels a little chunky compared to a premium handset.
The phone also feels a little unrefined due to its lack of wireless charging, and because its facial and fingerprint biometrics can be frustratingly inaccurate and slow to respond.
But those are the only times the phone disappoints. The presence of 5G isn't a major plus, partly because coverage remains scant around my home and office. Web pages load with pleasing snappiness when I do have 5G coverage, but that's a nice-to-have rather than a game changer and makes the 4G version of the phone an option, albeit one with a screen that refreshes at only 90Hz, and a slightly less capable CPU and GPU.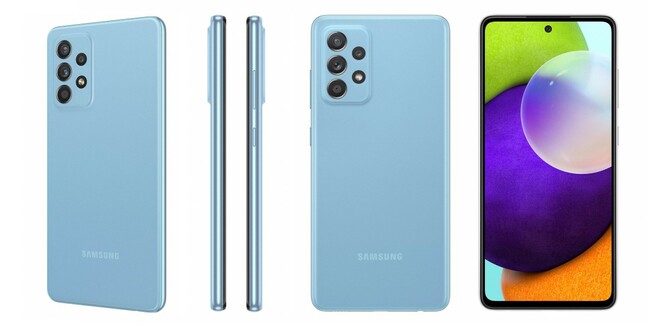 The A52 5G from all angles. Click to enlarge
The phone didn't miss a beat when I subjected it to my customary torture test – time in a bicycle jersey's rear pocket as I haul myself across Sydney on a chilly Saturday morning.
Running a GPS-enabled exercise-tracking app didn't strain the battery, with depletion running at less than 10 per cent per hour. Bluetooth headphones don't appreciably degrade battery either. An hour-long Zoom meeting chewed through 8 per cent of battery capacity – but did so after I'd slowed the screen refresh rate from 120Hz to 60Hz, which improved battery life during all tasks. Indeed, I found that my 25-minute morning routine of reading email, news, and sports scores often left battery capacity at 100 per cent, and never less than 97 percent.
In the month I used the device, I never managed to deplete its battery completely in a normal day of use.
The device handled real-time speech-to-text processing admirably and never struggled to stream or capture video. The limited gaming I indulge in never stuttered.
NFC payments initially presented a problem until I realised that the phone is at its best when hovering about five centimetres from a payment terminal. I only allow NFC transactions when the phone's screen is on so have little fear of random swipes draining my bank account, but "hover to pay" feels a little odd compared to "tap to pay".
I'm not an aficionado of camera settings, preferring to just point, shoot, and trust software.
But folks who know the difference between F-Stop and a bus stop tell me they're impressed by the default camera settings' ability to capture fine detail.
The office building wherein Vulture East dwells
Above is a shot of the corridor of Vulture East's offices, and below another from its neighbourhood. In the office shot, independent observers were impressed by the detail on the timber floor and consistency of perspective, but a little disappointed by oversaturation of the brightest light sources. In the neighbourhood shot, colours are faithful.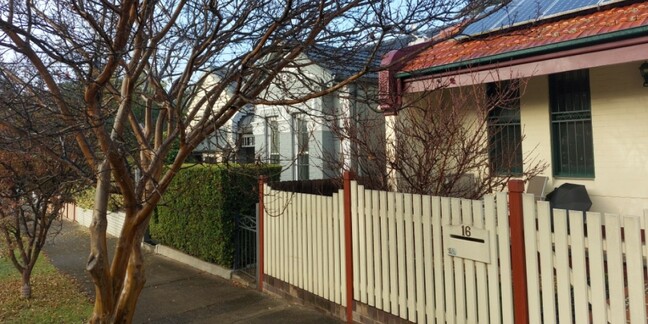 An established Sydney suburb on a damp morning
(To see the un-cropped pics at full size, click here for the office shot and here for my look at the bucolic 'burbs.)
Samsung's phone migration experience is now very slick and adopting the A52 was not problematic in the slightest. Many apps brought their passwords across with them from my previous Android, leaving the move less annoying than replacing a credit card in terms of the amount of grunt work required to restore one's everyday chores.
The 3.5mm jack is a blessing. I prefer wired headphones at work and do not miss using a USB-C to 3.5mm adapter when the time comes for a call or chat. It's also comforting not to feel herded towards buying a Bluetooth audio device. The phone's speakers are adequate for podcasts, but a bit nasty for music.
Samsung doesn't ship earbuds with the A52, but does include a 15W charger that does the job. A 25W device is an optional upgrade, but feels superfluous given the device's good battery performance.
I found a good range of other accessories for the device, with mainstream e-tailers offering all manner of cases and screen protectors in its size.
For years, I've been impressed by midrange kit from the likes of OPPO and am particularly fond of the Galaxy Note because its pen comes in handy once or twice a week.
The A52 has me thinking I can put an end to that run without impinging on productivity or usability.
But the device does lack a certain sleekness that premium phones afford and other midrange products match, at least in looks. I found the A52 just a little chunky when compared to other mid-price stunners, and the poor biometric performance rubbed my face in its worst features multiple times a day and gave me occasions to ponder alternatives.
These are petty concerns, though, because the A52 is supremely functional. It has reminded me that premium smartphones are lovely, but also extravagances now that their functionality is replicated at lower prices by devices that do all that is required of them save serve as a status symbol. ®