This article is more than 1 year old
ZTE Axon 30 Ultra: Strong effort from an entity-lister, but your tiny child hands may struggle
What a whopper
Review Most phones are compromised in some way, which makes it all too easy to overlook the good bits. An example of this would be the Huawei Mate 40 Pro, which was near perfect, except for the lack of apps.
For the ZTE Axon 30 Ultra, the downside is a real ache in the first dorsal interosseous muscle between the thumb and index finger, at least for those with paws smaller than a bear's. That's a big but for a phone that ticks lots of boxes. It looks good, it's fast, it's well polished, and it comes with a set of decent cameras. Too big to hold and that whole proposition falls apart.
Those with large mitts, however, are well-catered for. It's a flagship, but it's not priced as such. The base model starts at £649, which puts it alongside the Samsung Galaxy S20FE, but cheaper than most Android flagships like the Galaxy S21 or the OnePlus 9 Pro.
Let's start at the screen, which is often the deciding component that makes or breaks a device. This measures 6.7 inches from corner to corner, making it one of the largest devices on the market. This – as well as the backplate – is coated in Corning's Gorilla Glass 5.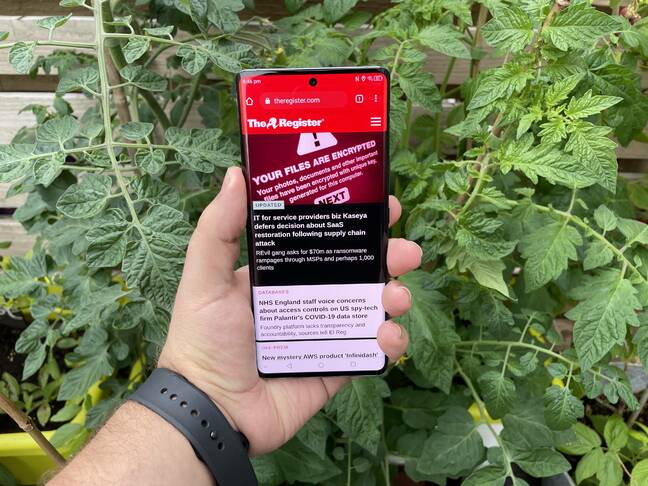 The panel has a standard 1080p resolution, and runs at refresh rates as high as 144Hz. The system can automatically scale this depending on the situation, with competitive games running at the higher rate, static content at 60Hz, and browsing plonked somewhere in the middle. In practice, though, you will want to crank this down to a more reasonable 90Hz, which gives you the benefit of buttery animations, but without the battery pulverisation that comes with running your device at 144Hz (or even 120Hz).
The panel itself is an OLED affair, which delivered satisfactory levels of colour fidelity and contrast. It also packs a remarkably responsive under-screen fingerprint reader. I tend to prefer physical fingerprint readers simply because they are often better, but I found it hard to fault this.
Performance
ZTE provided The Register with the base model, which comes with 8GB RAM and 128GB storage. For an extra £90, you can bump this to 12GB and 256GB respectively. While the additional 4GB of RAM is unlikely to make much of a performance difference, the added storage may prove welcome to those who hoard media and apps, and take photos with pixel-binning disabled.
It has no 3.5mm jack.
Under the hood, you will find a potent Qualcomm Snapdragon 888 platform, with bundled 5G connectivity (although band support in the US is fairly lacking). As you would expect, this handled virtually everything I threw at it without breaking a sweat. Multitasking felt fluid, and webpages rendered with little to no delay.
The battery is big, although at this point standard, rated for 4,600mAh. With the refresh rate at 90Hz, I was able to get a full day of usage. Another nice touch is the inclusion of 65W wired charging. ZTE provides a compatible charging brick, although in the case of this review unit, ours came with a European plug.
Wireless charging is sadly absent. This is something we see on the low-to-mid side of the phone market, with wired speeds prioritised at the expense of the mere existence of wireless charging. Is it much of a problem, though? Not really. Wireless speeds are slower, and it is a comparatively energy inefficient way to charge your phone. When you can fully replenish a battery in less than 40 minutes, this is something that's easy enough to overlook.
The ZTE Axon 30 Ultra comes with Android 11 pre-installed, with the company committing to an upgrade to Android 12 later down the line (it is one of the devices that can enrol in the Android 12 beta). The exact cadence and lifespan of security updates remains an unknown, however.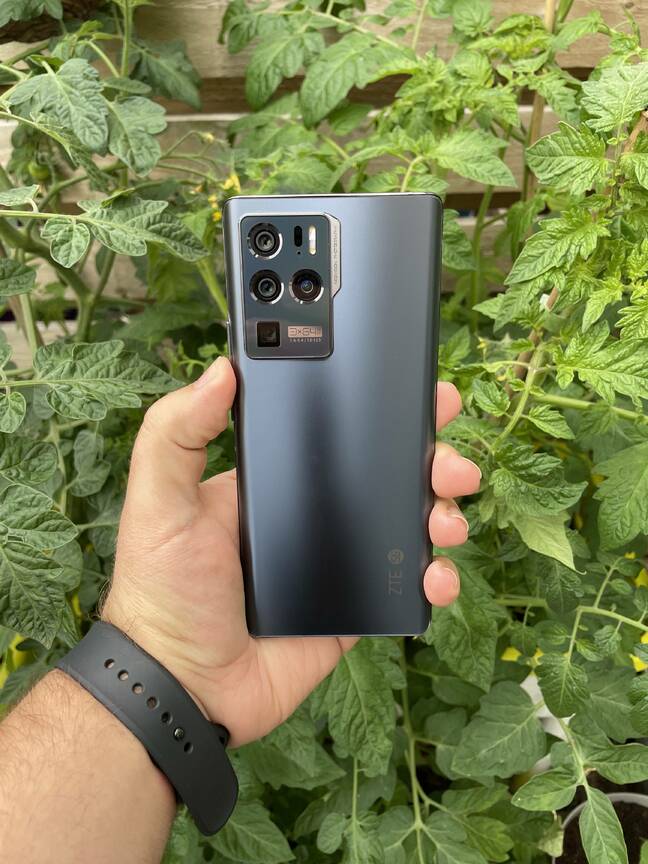 The company used its MyOS UI here and doesn't make many diversions from the stock Android experience. The few tweaks to be found – which mostly hinge around quick-access to routine settings – improved the experience, rather than complicated it, but there have been grumblings about response times.
Cameras
Within its sizeable bulge, you will find no less than four cameras. You may be pleased to hear that ZTE avoided the cardinal sin of including just one functional primary camera, and an assortment of superfluous, low-resolution nonentities.
The primary camera uses a 64MP lens, which takes detailed and vibrant shots in good lighting conditions, and thanks to its accompanying optical image stabilisation (OIS) is able to cope with inevitable hand jitters. There's also an ultra-wide and portrait lens, both with 64MP sensors, although sadly without OIS.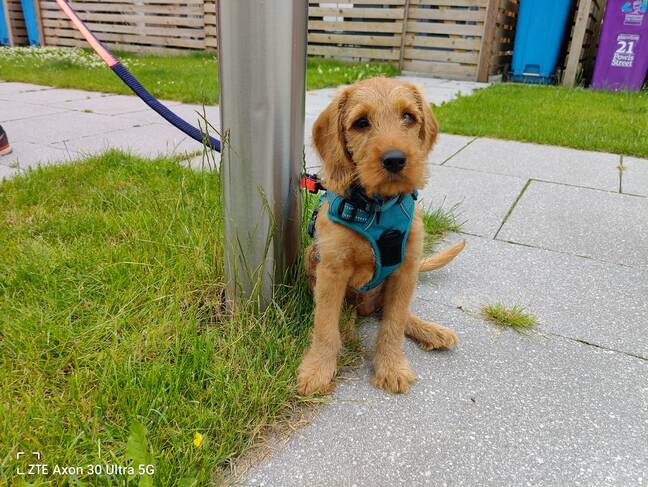 Finally, ZTE also threw in an 8MP telephoto lens, which can optical zoom by as much as five times. This is a nice touch, and isn't necessarily guaranteed, even on phones within this particular price bracket. Although it doesn't capture quite as much detail, the results are good, even when touching the limits of its zoom range.
The implementation of the camera is good. Although quality isn't quite what Huawei had accomplished with its RYYB sensors in the most recent flagships, it's more than serviceable, producing decent shots for social media and the web. It watermarks all images by default – although it's easy enough to turn this off.
Conclusion
The ZTE Axon 30 Ultra isn't perfect, but its a good mid-ranger. The display and chassis are both genuinely nice to look at, although I doubt they are particularly conducive to repairs. As we saw with Samsung's latest premium phones, when you encase a phone in glass, it makes routine fixes that much harder.
Similarly, the lack of wireless charging is a bit annoying, although it is relatively easy to live with, given the fast wired charging on offer. Some may also be deterred by ZTE itself, which has found itself ensnared in the same telecoms supply chain melodrama as Huawei, albeit to a lesser extent.
Finally, there is the size. This is a big phone. Personally, I like that as it lends well to Netflix binges and a rich browsing experience. Those with smaller hands, or simply a preference to use a phone with one hand, will likely want to look elsewhere. ®