This article is more than 1 year old
All hands on Steam Deck: Fancy a handheld Linux PC that runs Windows apps, sports a custom AMD Zen APU and a touch screen?
Steam just announced one for gamers on the go, but it can also behave like any other PC
Gaming house Steam has just revealed a rather intriguing portable PC.
The "Steam Deck" boasts an AMD "accelerated processing unit" (APU) that incorporates four Zen cores that run at between 2.4GHz and 3.5GHz, plus an AMD RDNA 2 GPU and a substantial 16GB of RAM.
An RJ45 Ethernet socket, single USB-C and USB-A connectors, DisplayPort, and HDMI sockets connect the machine to the wired world, through a dock that connects to the device's sole USB-C port. WiFi and Bluetooth handle the wireless side of things.
The seven-inch touch screen offers 1280x800px resolution at 400 nits brightness. The included battery can hold 40 watt-hours of energy.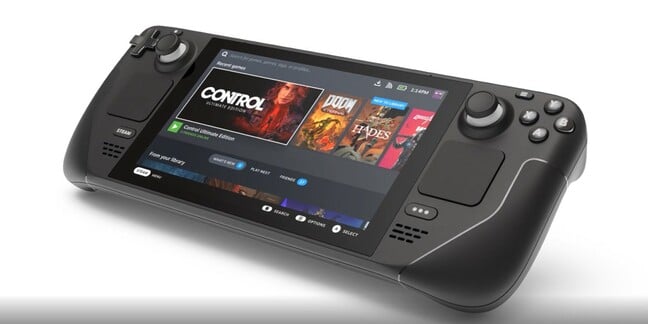 The Steam Deck. Click to enlarge
The device runs SteamOS 3.0, based on Arch, plus the KDE desktop. Steam assures developers that their PC games won't need to be ported, because the Steam Deck uses the Proton Windows compatibility layer for Linux.
The device ships with either 64GB of EMMC storage, or NVMe SSDs with 256GB and 512GB options.
It bristles with input options: D-pads, trackpads, thumb sticks, and buttons galore are all present because the purpose of the device is running PC games wherever you feel like playing them.
Steam boasts that the device is a PC, so will also allow its users to "Browse the web, watch streaming video, do your normal productivity stuff, install some other game stores, whatever".
The device will emerge in time for Christmas, priced at US$399 for the 64GB model, $529 for 256GB and $649 for the 512GB machine. A microSD card offers a cheaper way to increase storage, albeit with the kind of performance that won't generally impress gamers.
Steam suggests the device will deliver "several hours of play time for most games" and stretch to seven or eight hours of use with "lighter use cases like game streaming, smaller 2D games, or web browsing". As power flows in over USB-C, batteries offer an obvious path to energy augmentation.
Steam will start taking advance orders for the device on July 18th, but only for buyers in the USA, Canada, European Union, and the United Kingdom. Customers will be required to pay a reservation fee.
+Comment
Steam's reason for being is gaming. But The Register can't help but admire this device's potential for other applications – what a drone controller it could make with the output of an on-board camera streaming to its screen. The presence of wired Ethernet also suggests uses well beyond entertainment.
It's also just nice to see a portable PC concept that escapes the clamshell form factor.
The device's specs won't challenge many gaming-suitable laptops, but on screen size alone the Steam Deck has most smartphones beat. That it can apparently run full PC games is another advantage over smartphones.®