This article is more than 1 year old
Paid antivirus? On ads? Think of all the beer you could buy without that subscription
These are a few of our favourite things
Bork!Bork!Bork! Beer and bork: two of our favourite things here at Vulture Central. And also, it seems, at the Co-Op.
In this instance, digital signage that would normally be advertising delicious beer brewed in the Cotswolds (a charming part of the UK) is revealing that the retailer – or, more likely, whoever is responsible for the screens in its stores – has failed to renew the antivirus software.
Where once simple posters might have hung, smart signs are so smart these days that they require antivirus software to stop miscreants doing dastardly deeds. And for this sign, the fight seems to be over.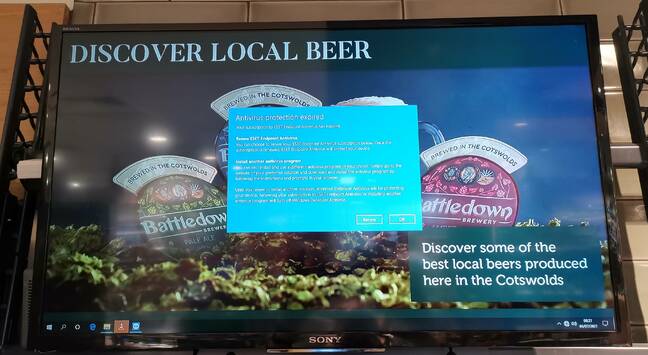 Click to enlarge
While it appears that the installed ESET's Endpoint Antivirus is bleating about expiration, it is worth noting that the UK's Competition and Markets Authority (CMA) recently took some of the big boys, McAfee and Norton, to task for automatic renewals and some sharp pricing tactics.
However auto-renewal has not happened here. In the era of pandemic panic, the disconnected system attempting to flog ale to punters is instead unhappy about the potential for virus infection. Aren't we all.
Lucky that Windows Defender is there to save the day.
Our reader, a member of the Campaign for Real Ale (CAMRA), snapped the screen at the store in Winchcombe and found the stricken screen gazing balefully down from above the all-important beer section.
The version of Windows, at least, looks relatively up to date, although the presence of the icon for Microsoft's pre-Chromium attempt at a browser suggests that things are not entirely tiptop in the update department. Still, it's good to see what looks like VLC keeping the showreel on the road, even if the ESET Endpoint wheels have come off.
Quite why such a complicated bit of kit is required to encourage the bottles of the amber nectar to fly off the shelf is anyone's guess. ®