This article is more than 1 year old
Impromptu game of Robot Wars sparks fire in warehouse at UK e-tailer Ocado
Three-way crash harms no humans but shutters fulfilment centre and sees orders galore cancelled
The Ocado Group, an operator and purveyor of automated warehouse tech for e-tailers, has admitted that three of its robots collided and caused a fire last Friday at its Customer Fulfilment Centre (CFC) in Erith, south-east London.
The company took to Twitter on Saturday with news of cancelled orders and a "major incident".
We're really sorry. Due to a major incident at our Erith warehouse some of our orders have been cancelled. Please be patient with us while we manage this. If this impacts your order, we will be in touch. Thank you.

— ocado (@Ocado) July 16, 2021
The firm has since posted a statement that explained the fire "appears to have been caused by the collision of three bots on the grid resulting in a fire."
"The grid" is the piste on which Ocado's grocery-moving robots roll around as they shuttle products between the shelves and the vehicles that bring goods from the warehouse.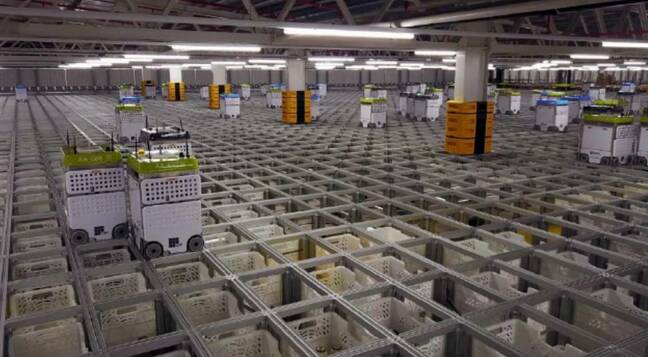 The Ocado "Grid". Click to enlarge
"The correct protocols were successfully implemented including the evacuation of the building, the activation of the sprinkler system and the presence of the London Fire Brigade," the statement added, also offering news that no humans were injured and that "damage is limited to a small section of less than 1% of the grid having been contained by planned fire attenuation measures."
The Register understands that thousands of orders have been impacted. The Erith facility can process around 120,000 orders a week, so the disruption caused by the incident is significant.
Ocado's statement reveals that its facility retains "some residual smoke smell" but "the vast majority of the CFC is in good condition".
"While we expect some disruption to operations, we are working to restore normal service as soon as possible. We expect the facility to begin operating within the coming week and thank customers whose orders are affected for their patience."
The incident is an embarrassment to Ocado, because it touts its e-tail automation technology as just the thing to make fulfilment astoundingly efficient.
Impromptu games of Robot Wars that shut down buildings are not a feature of the firm's products. But they are now its problem. ®