This article is more than 1 year old
IBM's 3% sales growth may not seem like much but it's the biggest it's had in three years
Maybe keep the email systems down a little longer if it helps this much?
IBM on Monday reported better than anticipated revenue for Q2 2021, sending its shares up in after-hours trading.
Big Blue, evidently unfazed by a multi-week email disruption that's still not entirely resolved, delivered sales totaling $18.7bn for the quarter, an increase of three per cent year over year. It's the strongest revenue growth for the biz in three years. Net income, however, fell by three per cent to $1.3bn for the quarter.
That translates to non-GAAP adjusted earnings of $2.33 per share, seven per cent more than the $2.18 reported during the same period in 2020. Analysts on average expected something more like $18.3bn and diluted EPS of $2.29.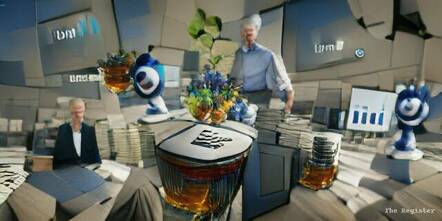 VQGAN+CLIP AI-generated image for the phrase 'IBM reports strongest revenue growth in three years' that we thought we'd just toss into this piece
"In the second quarter client adoption of our hybrid cloud platform contributed to strong performance in Global Business Services and software and drove improved overall revenue growth," said Arvind Krishna, IBM chairman and chief executive officer, in a statement. "At the same time, we continued to help clients infuse our AI-based technology offerings into their core business workflows."
Business unit results from the quarter were as follows:
Cloud & Cognitive Software: $6.1bn, up 6.1 per cent
Global Business Services: $4.3bn, up 11.6 per cent
Global Technology Services: $6.3bn, up 0.4 per cent
Systems: $1.7bn, down 7.3 percent
Global Financing: $242m, down 8.6 per cent
Other: $5m, down from $50m year-on-year
IBM's Cloud & Cognitive Software group includes results for Red Hat, which was up 20 per cent. Big Blue reported a GAAP gross profit margin of 48.0 per cent and a debt reduction of $6.4bn since the end of 2020.
On the company's earnings call for investors, Krishna discussed how companies are using IBM technology to redesign their business processes and are pursuing digital transformations enabled by hybrid cloud environments.
He cited an AI-powered customer service assistant IBM built in a few weeks for CVS Health to help handle customer COVID-19 inquiries as an example of the sort of deals that will drive future revenue.
IBM reported spending $1.7bn on acquisitions during the quarter. The company previously announced plans to acquire business process data mining firm myInvenio, app management biz Turbonomic, and Salesforce consultancy Waeg.
Meanwhile, the IT titan expects to complete the spinoff of its Global Technology Services unit under the name Kyndryl by the end of the year.
On the home front, IBM has managed to mostly restore its email servers, though a few problems have yet to be ironed out.
"Users on certain clusters may be seeing a slight delay with delivery of external mail, and we will be working this week to decrease delivery times to normal levels," the company said in a recent status update provided by an internal source.
"We will continue providing daily updates here as we continue work to monitor and improve the health and stability of the mail environment and improve the overall experience."
The company communique said IBM is continuing to work with email service provider HCL to improve the Verse webmail experience. ®