This article is more than 1 year old
We clock what you're trying to do here: El Reg strokes a claw across the OnePlus 9 Pro
Some like it hot and some sweat when the heat is on
Review OnePlus has been under fire in recent weeks over benchmark tests that appeared to throttle real-world performance of the OnePlus 9 series, dividing fans who think a fullbore Snapdragon 888 might be overegging the pudding for most use cases and others who like to run a hotter handset.
Throughout its lifetime, OnePlus has tried to figure out where it stands within the increasingly crowded mobile market. The company first targeted the burgeoning enthusiast segment, which was otherwise ignored amid a sea of mass-market blowers. Since then, it would be fair to say that it has swung between aspirational and affordable mid-rangers.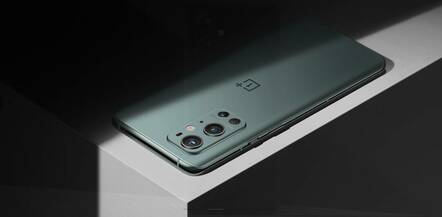 The OnePlus 9 Pro is an example of the former. It doesn't exactly push any boundaries, and sacrifices novelty on the altar of sophistication, but it's not damaged by it. Benchmark disputes notwithstanding, it's a well-rounded phone, delivering on performance, screen quality, and imaging.
Hands on
The display measures 6.7 inches and uses an AMOLED panel, with a QHD (1,440x3,216) resolution. Colour fidelity was top-notch, and the OnePlus 9 Pro delivered a welcome degree of realism, particularly when it comes to the darker hues that can appear washed out on cheaper panels. Brightness was above par, with the company claiming the device can hit 1,300 nits at its peak. In practice, this means content is easily readable, even in the sunniest of outdoor conditions.
Speaking of running hot, while the display can run at up to 120Hz, in practice you may want to crank that down to a more reasonable 90Hz to conserve battery, while also getting the benefit of judder-free animations and scrolling.
Underneath the hardy Gorilla Glass 5 lurks a highly responsive fingerprint reader, and although The Reg typically prefers a physical rear-mounted one, this works OK.
On the RAM front, the OnePlus 9 Pro is offered in both 8GB and 12GB variations. Storage comes in two flavours: 128GB or 256GB of UFS 3.1. OnePlus provided The Register with the 12GB/256GB model, which retails at a cool £929. The base 8GB/128GB model is £100 cheaper, but those with a tendency to hoard apps and content should probably pay the difference as there's no MicroSD slot to be found.
The phone is powered by a Qualcomm Snapdragon 888 platform, with support for 5G baked in. This gives a fluid experience, with zero lag to be found when opening apps, and webpages rendering almost immediately. More challenging tasks, like a few sessions of PUBG Mobile, were similarly smooth.
Curb your enthusiasm
Moving on to the battery, you get a 4,500mAh cell, which delivers a full day's worth of life with moderate use. In practice, that means cranking the refresh rate to 90Hz, using Wi-Fi over 5G, and limiting your consumption of games and video.
There is support for 65W wired USB-C charging, and 50W wireless charging. OnePlus claims this can fully replenish the battery from empty in just 29 minutes and 43 minutes respectively, and its estimates were not far from the mark.
As you'd expect, the OnePlus 9 Pro comes with the latest (for now) Android 11, which comes skinned in the company's own OxygenOS. This reviewer generally has a bit of trepidation when it comes to custom experiences, but OxygenOS was conservative and intuitive, building on the best bits of stock Android.
Snap-happy
Photography has been OnePlus's weakness, allowing rival manufacturers, notably Samsung and Huawei, to overtake it.
This time around, the company has partnered with optics outfit Hasselblad. While partnerships of this flavour aren't a guarantee of quality (as is the case with Nokia's long-standing engagement with Zeiss), it's hard to fault the snaps produced on the OnePlus 9 Pro.
It comes with four cameras. The primary one uses a 48MP sensor, attached to a wide-angle lens. This delivered great shots, with faithful colour reproduction and oodles of detail. The inclusion of optical image stabilisation (OIS) minimises blur when capturing photos in environments where you are liable to be jolted and nudged, such as when on a busy street, and its autofocus was extremely fast.
Another nice touch – although expected given the price – is the inclusion of a telephoto lens. Although this doesn't have the longest range we've ever seen (3.3x) and is attached to an 8MP sensor, it nonetheless produces sharp and vibrant images.
There's also a 50MP ultra-wide and a 2MP monochrome lurking within the bulbous camera module. Meanwhile, on the front of the device, you'll spot a 16MP wide-angle selfie camera, which lends itself to video calling with multiple participants in the frame.
Conclusion
The first OnePlus phone was introduced in 2013. Since then, the Android market has changed dramatically, with those fighting in the middle tiers increasingly squeezed. By contrast, the higher end of the market feels comparatively sparse, with the only real competitor Samsung (particularly given the decline of Huawei).
In recent years, OnePlus has reoriented itself to this tier, culminating in the OnePlus 9 Pro.
As for this model, the camera is exceptional. Performance is solid, although that 12GB of RAM is overkill. While it may be a touch too big for some people, the display is gorgeous. This reviewer falls in the camp that likes the revamped OxygenOS - although some have criticised recent iterations for bloatware - and we're reassured by OnePlus's recent commitment to provide three OS updates and four years of security updates.
It's probably not the best value when compared to other mid-rangers we've seen recently, like the ZTE Axon 30 Ultra. And it is attached to a steep asking price: it retails for €899.00 or £829 for the 8GB version (€999and £929 for 12GB) and across the pond, $1,069.
For a touch over £800, it does feel like a genuine flagship. But while it has many of the finer touches and is a worthy successor to the OnePlus 8T, which we reviewed last year, you can't help but wonder if it can muster a flagship target market with deep pockets where the buyers of cut-price Android on steroids once were.
Did we mention the benchmarks? ®