This article is more than 1 year old
Former ad exec sticks Steve Jobs' 1973 job application in a scanner for physical-versus-digital NFT auction
Olly Joshi talks environmental issues, fundraising, and whether he'd hire '70s Jobs himself
A former ad exec is trying to make some cash history by pitting two copies of a job application penned by Apple co-founder Steve Jobs in 1973 against each other at auction – one the original physical copy, and the other a cryptocurrency-backed non-fungible token (NFT).
"The Steve Jobs hand-written 1973 job application auction aims to highlight the modern shift in perceived value – the physical or the digital," self-styled "digital entrepreneur" Olly Joshi wrote in the auction's announcement. "Testing this with a piece of history from arguably the most influential tech entrepreneur of our time, is very special."
To quantify that claimed shift, a race of sorts between the auction of a physical item and the auction of its digital twin in the form of an NFT. The physical job application was acquired by Joshi at auction just a few months ago for a whopping $224,750 – a major payout for the previous owner who had stumped up $174,757 in 2018, itself an impressive return on investment for the buyer who picked it up in 2017 for a mere $18,750.
"The only problem was I had 20 hours before the end of the auction," Joshi recalled in an interview with The Register ahead of the auction's opening. "And I knew it was going to sell for a lot of money.
"So I basically got to work and I started just networking with everyone I know – friends, family, friends of friends – and said, 'This is what I want to do. I think there's a big opportunity here, would you be interested in putting some money in?' So I managed to get together 36 people in the space of 20 hours, and we raised just over £200,000.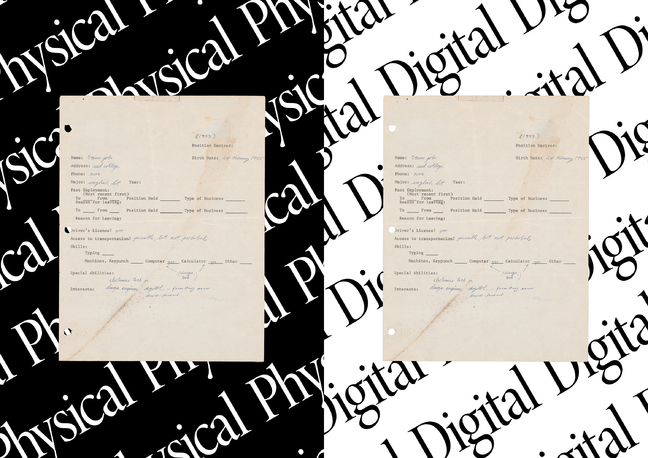 Spot the difference ... Both versions of the application
"I kind of knew about [NFTs] when things like CryptoKitties were around last time, but I didn't fully grasp it," said Joshi, who prior to plunging both feet into the NFT market had worked in digital advertising and founded a social football betting startup. "Then, obviously, with this latest wave, we've seen all these huge pieces, by [artist and NFT enthusiast] Beeples etc. go for crazy money.
"It, for me, became very obvious that this is a very new area that hasn't been explored yet, because it's so new. And I felt that there was an opportunity there to do something a little bit different."
Return on investment 'a bonus'
Joshi denied the project was little more than an unregulated investment opportunity. "It wasn't necessarily pitched as that," he told us. "I mean, don't get me wrong, when people put money in, they expect to either get more money back, or at least what they put in back.
"If it did sell for more money, then yeah, that's a bonus for them – but to be part of this journey has been what everyone has said, who's in the collective, has been amazing to date, and it's only the beginning of this journey. It's not every day you get to be part of something that is potentially a market-changer."
By way of proving it's not necessarily all about the money, Joshi and his fellow collective members have agreed to donate a percentage of profits from the initial auction and secondary sales of the NFT to the One Laptop Per Child and Cancer Research Institute charities. "The charities mentioned for us have a link towards Steve Jobs himself," Joshi explained. "And we felt, given it's about Steve Jobs, that it would be nice to donate to those charities."
Joshi refused, however, to disclose exactly what percentage was to be donated.
Another issue which may rear its head during the auction is scarcity: while there is only one physical original, whoever buys it is free to make as many digital copies, NFT or otherwise, as they like – potentially devaluing the NFT. Joshi, though, claimed to be unconcerned. "Value is transferred once. So we would be first to do it, therefore that [NFT] is the first one," he said. "And it will retain its value for that reason.
"If you put [an NFT of the job application] up afterwards, it already exists. So yours wouldn't have that much value moving forwards because its digital counterpart already exists. There can only be one of them – that's the whole notion behind 'non-fungible token.' So it would essentially be an imitation of the original," he added, quietly sidestepping the issue of his NFT being an imitation of the original physical copy too.
'Reputable partner' prioritised over environmental protection
There are also concerns about the sky-high energy demand of minting an NFT, which could put the more environmentally conscious bidder off the application's digital twin. "There are already quite a few NFT platforms that have launched different [block]chains that are much more efficient," Joshi said, before admitting that his auction was not launching on any such environmentally friendly platform.
"We want to be with a reputable partner, who has been around slightly longer and has a large community," Joshi explained of his decision to launch the NFT on the Ethereum blockchain, which is currently an energy-hungry proof-of-work system, via NFT specialist Rarible. "And Rarible have that. They are also working, I believe, on ways that they can be more sustainable, but like you say they're on the Ethereum blockchain, so they're kind of underpinned by what Ethereum are doing, which hopefully won't be too long before theirs is more sustainable as well."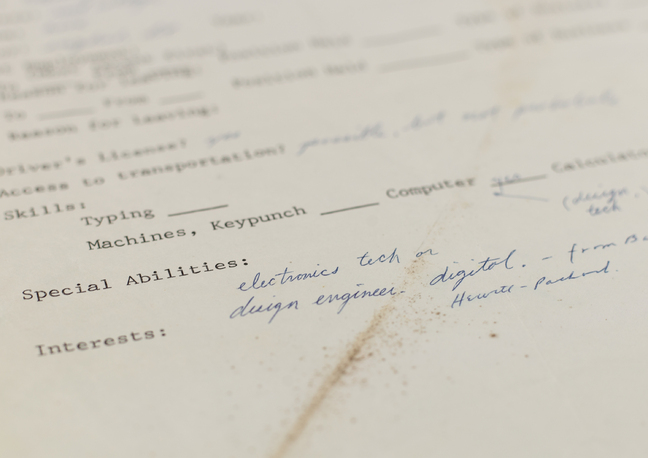 Physical or digital ... Where does the value lie?
"This unique auction format will truly test where value lies," said Rarible co-founder Alexander Salnikov in a canned statement, with the company having failed to respond to a request for further comment in time for publication. "Coming from a tech background, obviously I'm fighting on the NFT side. May the best Jobs application win!"
"The [physical] letter's value is protected with a reserve, which in keeping with traditional auctioneering is not disclosed to the bidders," Sarah Buchanan, director of auction software house Snoofa, told The Register, "but of course, we hope it is first reached and then surpassed by bidding activity thanks to the interest in this unique auction.
"My gut says the NFT will attract the highest bid but let's see. Ultimately the last bid will answer this question."
"The possibilities for the use of NFTs are almost infinite in areas such as sports, music, any digital content, but also tangible content or objects to which an NFT can be 'attached'," art collector, NFT proponent, and self-styled technology entrepreneur John Dodelande told The Register. "There is of course an economic interest in duplicating a physical object in NFT, as long as there is an actual demand for it!"
As to the item itself, Joshi felt confident it would have landed Jobs at least a meet-and-greet at any of his former companies. "Don't judge a book by its cover. Don't judge your CV by the grammatical errors," he told us. "I don't have the best grammar myself. I'm mildly dyslexic. And, you know, I reckon if I looked back at some of my old CVs they wouldn't have aged too well. So I probably would have got him in for an interview, and then I would have seen the person behind it before I made the decision."
The auction, which is being hosted by Snoofa on the physical side and Rarible on the digital side, will run for the next seven days. ®