NASA warns Mars: We're about to laser your rocks and start stealing them
Perseverance prepares to snaffle first sample for eventual retrieval
NASA's Perseverance Mars rover has started the process of acquiring its first sample of Martian rock.
The space agency on Thursday gave Martian authorities fair warning of the imminent heist, which will see the rover move to a spot named "Cratered Floor Fractured Rough" that offers geology of sufficient interest that it's worth bringing bits of it home.
NASA's plan is to find two patches of similar rock and subject one to the tender embrace of an "abrading bit to scrape off the top layers of rock and dust to expose fresh, unweathered surfaces". Next, NASA will "blow it clean with our Gas Dust Removal Tool".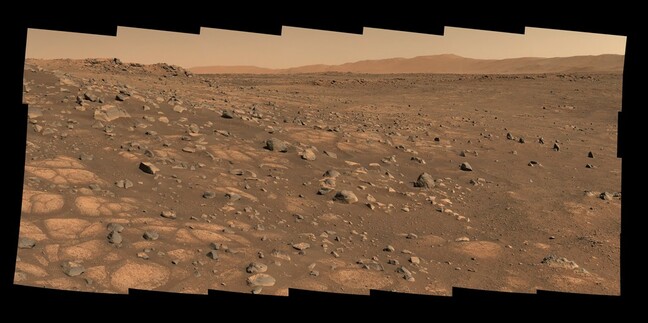 An area of Mars similar to that NASA expects to sample. Image: NASA/JPL-Caltech/ASU/MSSS. Click to enlarge
Three instruments – named Scanning Habitable Environments with Raman & Luminescence for Organics & Chemicals, Wide Angle Topographic Sensor for Operations and eNgineering, and Planetary Instrument for X-ray Lithochemistry (SHERLOC, WATSON and PIXL) – will then analyse the abraded sample.
Another instrument – the mast-mounted SuperCam, which lacks a clever acronym – will fire a laser at the rock and analyse the resulting plume of heated Mars stuff that it will photograph and analyse.
Once the laser-packing space tank has got all that business done, it'll wheel out a rotary-percussive drill, connect it to a robotic arm, and drill the untouched geologic 'twin' of the rock that was previously subjected to abrading and lasering.
The rover will fill a tube with "a core sample roughly the size of a piece of chalk".
Perseverance carries 43 sample tubes, and the rover is expected to collect at least 20 samples during its working life.
NASA currently has no firm plan to retrieve the samples. Indeed its mission description page mentions only a "potential return to Earth". A concept for the return mission does exist, and suggests a mission leaving in 2026 could do the job and bring samples back to Earth in 2031. The Register has previously spoken to the designer of the "fetch rover" to be used on that mission.
If that's too long to wait, or even contemplate, NASA says acquisition of the first sample "is expected to begin within the next two weeks". ®