This article is more than 1 year old
Customers warn Gartner of AWS's high-pressure sales tactics in latest verdict on public cloud providers
Top three no surprise but users offer some sharp comments
Gartner has published its latest Magic Quadrant report on public cloud providers, reporting that customers are facing "unexpected pressure from AWS Sales" and that Microsoft still has reliability challenges.
The Magic Quadrant for Cloud Infrastructure and Platform Services covers IaaS (Infrastructure-as-a-Service) as well as PaaS (Platform-as-a-Service) – but not SaaS (Software-as-a-Service), so it excludes Microsoft 365 and Google Workspace. It is based not only on analyst views, but also on customer panels, and these appear to be the source of some sharp observations within the report.
The MQ rated AWS as ahead of the pack, beating number two Microsoft a little in "completeness of vision" and substantially in "ability to execute." Google came in at number three, and these were the only occupants of the top right quadrant, the one place a vendor likes to be situated.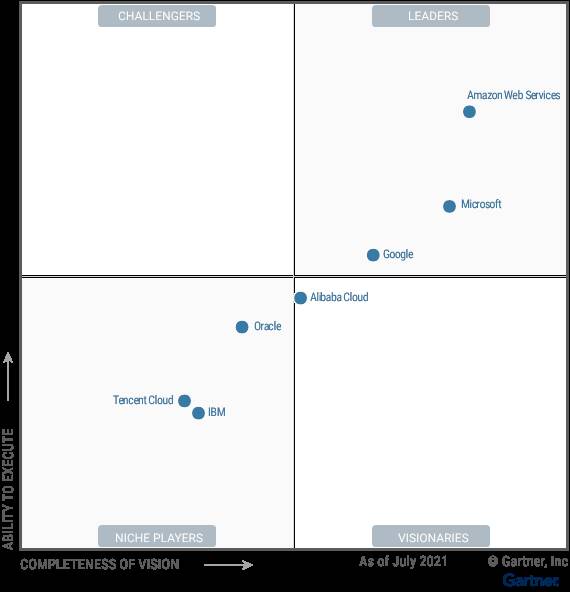 Gartner Magic Quadrant for public cloud (Source: Gartner July 2021)
Just four other vendors qualified for inclusion – Alibaba Cloud, which just crept into the bottom right "Visionary" quadrant, as well as Oracle, Tencent, and IBM all in the "niche player" segment. Alibaba was praised for its "leadership position in China" but, according to Gartner, lacks transparency in both discounting and technical details of its service.
Tencent, Gartner said, is also "mainly focused on China" and is the only hyperscale provider with a region in Russia, but has a "narrow ecosystem". IBM was singled out for strength in regulated industries and edge computing, but Gartner noted its small market share and that it is often not shortlisted by customers, thanks to its perception as "a provider of legacy technologies."
Oracle has been energetically improving its capabilities, Gartner said, and has a unique "private cloud region on-premises" product thanks to full parity with its public cloud and no internet dependencies. Yet Big Red suffers from negative sentiment from developers and many "new and immature" services, the report found.
What about the big three, though? AWS was placed as the frontrunner in engineering, customer adoption and innovation, and "guides the roadmap" for other cloud providers. But AWS was dinged for the complexity of its many solutions, introduction of bare-bones services that are initially not ready for enterprise use, and, according to the report:
"Dozens of Gartner clients across multiple geographies have reported unexpected pressure from AWS sales, which has sharply accelerated over the past year, to increase annual spend commitments by 20 per cent to renew existing contracts." This went down badly with customers who have "significant dependence on the platform," Gartner said, but these pitches are "not AWS's policy and will be eliminated if the customer escalates."
AWS cost consultant Corey Quinn said on Twitter that this sales pressure "isn't particularly new to us."
Microsoft has the broadest set of capabilities, Gartner said, strong enterprise relationships, and is doing well with database services like Cosmos DB. That said, despite efforts to improve resiliency, Gartner customers "remain concerned about real-world impacts" when services like Azure Active Directory fail. Azure Kubernetes Service also suffers from outages, and some Azure regions, according to Gartner, are insufficiently resilient and will remain so. Microsoft's notoriously complex licensing was highlighted by Gartner, and (to nobody's surprise) its sales team seem more interested in growing account revenue than in bringing down a customer's costs.
As for Google, Gartner was positive about its progress in capabilities, size, and reach, and the analysts consider it to have the "most fully featured Kubernetes service of any provider in this market." On the negative side, they expressed concern about low post-sales satisfaction when dealing with Google Cloud Platform (GCP), aggressive pricing that may not be maintained, and that GCP is the only hyperscale provider reporting a financial loss for this part of its business ($591m).
Separate from this report, Gartner stated yesterday that it expects global cloud spending to continue growing rapidly.
"Gartner forecasts end-user spending on public cloud services to reach $396 billion in 2021 and grow 21.7 per cent to reach $482 billion in 2022. Additionally, by 2026, Gartner predicts public cloud spending will exceed 45 per cent of all enterprise IT spending, up from less than 17 per cent in 2021," the analyst company said.
We have asked AWS to comment on its apparently overzealous sales folk. ®