This article is more than 1 year old
Tesla battery fire finally flamed out after four-day conflagration
Only one Megapack went up, adjacent containers mostly kept their cool
The fire in a large battery using Tesla kit in Australia is out – four days after it started.
The Country Fire Authority (CFA) in the state of Victoria wrote that the fire was declared under control at 1505 AEST on Monday, August 2. The blaze fired up on Friday, July 30.
The fire burned all weekend, and at 0930 AEST on the Monday, the CFA said the blaze "has subsided significantly but is not yet under control."
Crews struggled to contain the blaze because water reacts with lithium-ion batteries to produce fire.
The CFA has confirmed that the blaze took root in a Megapack – Tesla's shipping-container-sized batteries that can store 3 MWh of power. The project using the Megapack - 210 of them, to be precise, is called "The Big Battery" and will have capacity of 300 MegaWatt hours once repaired.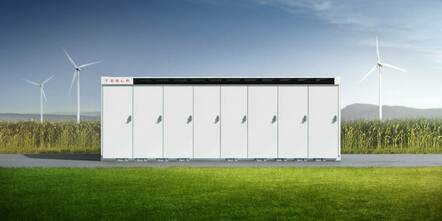 A Megapack that isn't on fire. Source: Tesla. Click to enlarge
The cause of the fire remains unknown, but investigations have commenced. CFA officials said the fire is the first known such incident to afflict a Megapack.
The site is still being monitored, as two adjacent Megapacks were damaged by heat. ®