This article is more than 1 year old
Microsoft suspends free trials for Windows 365 after a day due to 'significant demand'
Potential customers or freeloaders to blame? Also: Everything coming up Dutch for one UK user
A free two-month trial for Windows 365, a virtual PC running Windows 10 on Microsoft's Azure cloud, has been withdrawn after only a day having "reached capacity."
A note on the Windows 365 product page states: "Following significant demand, we have reached capacity for Windows 365 trials," and offers a signup to be notified when trials resume.
There is still capacity for actual customers, though, with Windows 365 available as specifications from $20 per user/month for 1 vCPU, 2GB RAM and 64GB storage, to $158.00 per user/month for 8 vCPU, 32GB RAM and 512GB storage. These are the prices with "Hybrid benefit," which means users with an existing Windows 10 Pro licence, in effect get a $4.00 discount.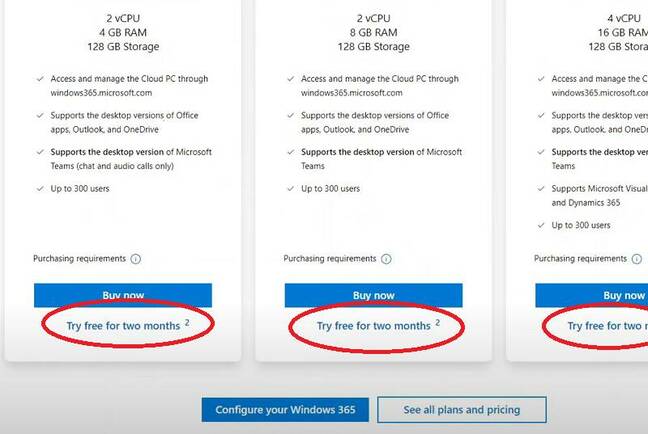 The Windows 365 trial, now withdrawn: two months free
The trial is still described in the FAQ on Microsoft's site, which states that "trials are available for the three signature Windows 365 configurations: Basic, Standard, and Premium. A trial includes one user license and is available for two months. Customers who qualify should select the trial offer that includes Windows Hybrid Benefit." A note on this also states: "Customers may acquire a promotional license for Windows 365 Business, Windows 365 Enterprise, or both editions to access and use either the Basic, Standard or Premium version (each, a 'Version') at the promotional pricing of $0 for up to 60 days ('Trial Period')."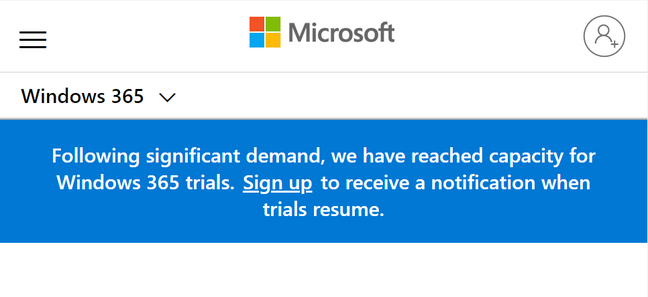 Microsoft notified users that its Windows 365 trials have 'reached capacity'
Microsoft has many trial offers for its cloud services. For example, users can get a month of Dynamics 365 Sales for 25 users, or a month of Azure Active Directory Premium for 100 users, or 250 licences for Enterprise Mobility and Security E5 for three months. The trial offer for Windows 365 was therefore business as usual – but we have a hunch that users interested in two months free use of a virtual PC with 4 virtual CPUs, 16GB RAM, and 128GB storage might not have been confined to businesses contemplating purchase.
A common problem, for example, is usage of free compute for cryptocurrency mining. Take DevOps company GitLab, which says: "There has been a massive uptick in abuse of free pipeline minutes available on GitLab.com to mine cryptocurrencies – which creates intermittent performance issues for GitLab.com users."
Regardless of intent, a free virtual PC for two months was a generous offer and the "significant demand" Microsoft experienced might not necessarily indicate a highly successful launch. That said, there does appear to be significant interest, with businesses able to make a more complete cloud transition than with Microsoft 365 alone.
Discussion on Microsoft's Tech Community does reveal a few early issues, though. One customer complained that their Cloud PC is in the wrong language. "We are a UK Business and MS Partner and purchased a Business Cloud PC yesterday to test," the user reported. "Our Cloud PC location is set as the Netherlands, talking to an Agent right now they say this is how it is, you will be assigned a location randomly. All web and searches are in Dutch, even down to the News and Interests in the Tasks." Microsoft support is investigating.
Another common complaint is that the Business editions, which are limited to 300 users, are managed by Azure AD, but the unlimited Enterprise editions require Active Directory on-premises and AD Connect, which synchronises Active Directory to the cloud directory.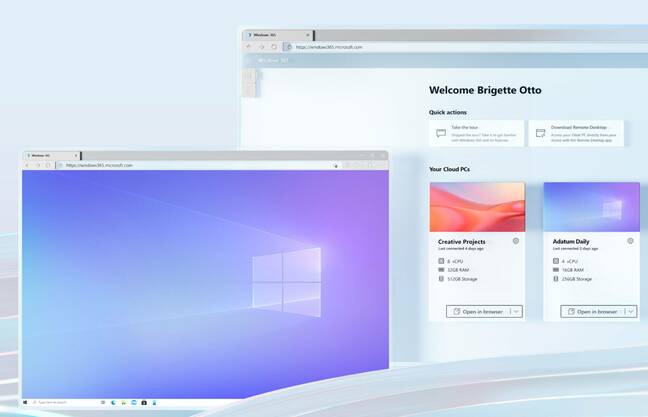 Windows 365: a PC in the cloud (image: Microsoft)
"Microsoft is pushing cloud strategy, but still deploying new services that are dependent on old school technologies like AD. Any idea why?" said one potential user. Microsoft says that "Azure AD Support for Windows 365 Enterprise is coming soon."
Audio and video streaming also seems to be an issue for some. "My video is super laggy and low quality, don't know how to fix it," said one user. According to the troubleshooting guide, Teams is optimised for this but not on first install. "After the installation, the optimizations to redirect audio and video to your local Windows endpoint don't work. The user must close Teams and sign off from or restart the Cloud PC to activate the Optimized status," it says. ®