This article is more than 1 year old
Full Stream ahead: Microsoft will end 'classic' method of recording Teams meetings despite transcription concerns
'All meeting recordings will be saved to OneDrive and SharePoint' from 16 August
Microsoft's technology for recording Teams meetings, Stream, will fully transition to a new version from 16 August, though some users have concerns over transcription features still under development.
Stream is a service for uploading, viewing, and sharing videos. Among its most common uses is for recording Teams meetings. Stream had its own storage and user interface, but in September last year, at its Ignite event, the company introduced "a new journey for Microsoft Stream."
In essence, the change integrates Stream into Microsoft 365. "The web app will be part of office.com – like Word, PowerPoint and Excel web apps – and will enable users to discover, share, and manage videos like any Office document." Microsoft started to call the old service Classic Stream, while referring to the new service as Stream.
As part of this change, Teams recordings began to be saved by default in OneDrive or SharePoint "like any Office file." Integration solves some problems but it is a different service and some features that were in Classic Stream are not in the new version: a full list can be found here.
This includes trimming the beginning and end of a video, and commenting on videos, but the biggest issue for many customers is that it is no longer possible to edit the automatic transcription. While this may seem a minor point, for some it is not, since having accurate captions is an accessibility feature that is required for compliance, as well as being of great practical benefit to those unable to hear the audio. Educational institutions, many of which use Office 365, are a primary example.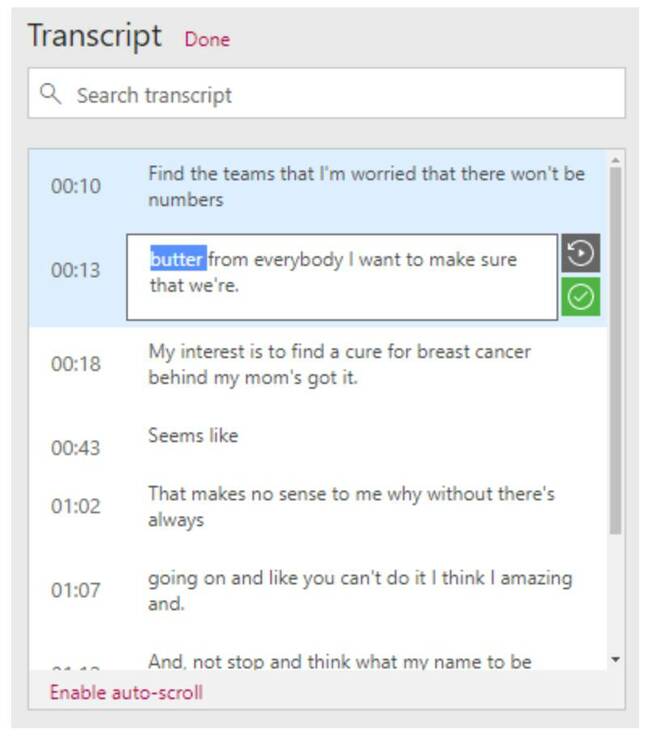 Classic Stream includes a transcript editor so that inaccuracies can be manually corrected. This is not available in the new Stream.
Microsoft automatic transcription can work well but factors influencing the accuracy of speech to text include audio quality, language, regional accents, and the characteristics of an individual's voice. Automatic transcription technology is greatly improved from what it was a few years back, but remains far short of what a human can easily understand.
"Can I seek some clarification on whether the 'auto captioning' functionality will still be available in the new version of Stream and along with this will the functionality to 'Edit Auto captions' still be available through the Stream interface? With accessibility regulations this is a feature we rely on heavily," said a user back in March, while another added that "the transcript and captioning functions are critical to organisations like mine who must meet the Web Content Accessibility Guidelines 2.1 criteria to provide both captions and transcripts for users."
Microsoft product manager Nibal Aridi has now posted about the next phase for Teams. "Rolling out incrementally beginning August 16, 2021: All meeting recordings will be saved to OneDrive and SharePoint. We recommend that customers roll out the feature via their Teams policy in PowerShell before this date to control the timing of the release," he said.
The documentation confirms that from this date, "no new meeting recordings can be saved to Microsoft Stream (Classic)," even if administrators have set a policy directing recordings to Classic Stream (controlled by the PowerShell command Set-CsTeamsMeetingPolicy).
Aridi offered some workarounds. "Users can download the transcript file from the Teams meeting," he said, "where users can edit and share the file manually with others." Under development is the ability to upload a changed file to the video player, a feature which still falls short of the old feature for editing transcripts. Classic Stream will still exist, so the other workaround is to "download recordings from OneDrive/SharePoint and upload to Classic Stream, where a transcript will be generated on-demand and users can edit the transcript within the video itself," he said.
There is another new feature that may catch some out: auto-expiration. "We're introducing a default 60-day expiration setting for all newly created Teams meeting recordings (TMRs). This means that by default, all TMRs created after we enable this feature will be deleted 60 days after their creation date," say the docs. Note this feature has not yet been launched; Microsoft says it is "providing information… so that you will be able to plan for this change." It is slated to be implemented in September.
The company says that the size of a one-hour recording is 400MB and that "99 per cent... are never rewatched after 60 days." There is potential for a lot of wasted storage then, but equally, a recording entrusted to the cloud that deletes itself unexpectedly could be bad news in some circumstances. Admins will be able to change the expiration date to a maximum of 273 years.
Another potential pitfall is that sometimes saving the recording to OneDrive or SharePoint does not work; at least, we assume that is the case, since the docs state that "if a meeting recording isn't able to be uploaded to OneDrive for Business and SharePoint Online, it will temporarily be available for download from Teams for 21 days before it is deleted. This is not something at this point that an admin can control or manage."
Aridi said: "Get ready to do more with Teams meetings recordings in Microsoft 365." The advice to administrators using this service, though, is to pay careful attention to the changes, which are not all positive ones. Users with specific concerns are invited to contact support. ®