NASA comes up empty on Perseverance rover's first Mars sample drilling attempt
Suspects rocks are the problem, not probe
---
NASA's first attempt at having the Perseverance rover retrieve a sample of Martian rocks for later return to Earth has not gone as planned.
As detailed in a Saturday post, Perseverance's robot arm stretched out to its intended target and engaged its hollow coring bit and a percussive drill.
The latter two instruments performed as intended, as did the sample tube.
But NASA stated that subsequent analyses "indicate that no rock was collected during the initial sampling activity".
"The initial thinking is that the empty tube is more likely a result of the rock target not reacting the way we expected during coring, and less likely a hardware issue with the Sampling and Caching System," said Jennifer Trosper, project manager for Perseverance at the Jet Propulsion Laboratory.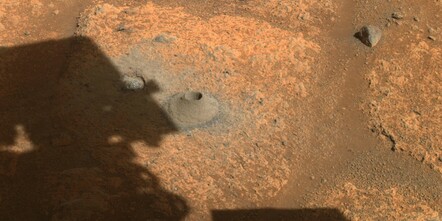 Click to enlarge
Mission boffins plan to use Perseverance's cameras to peer into the borehole in the hope they spot something that explains the failure to collect a sample.
NASA's post points out that past Mars missions have also had trouble scooping up samples, with the red planet's rocks, sand, and regolith proving too hard, frustratingly sticky, and even more brittle than expected.
"I have been on every Mars rover mission since the beginning, and this planet is always teaching us what we don't know about it," said Trosper. "One thing I've found is, it's not unusual to have complications during complex, first-time activities."
Perseverance carries 43 sample tubes and NASA plans call for them to be retrieved in a multi-year mission planned to launch in 2026. For now, NASA and JPL are focussed on filling eight tubes – a milestone that will mark the end of the first phase of the Perseverance science program. ®