This article is more than 1 year old
Starliner takes off ... back to the factory and not space
This isn't Boeing very well, is it?
Boeing's troubled CST-100 Starliner capsule, once expected to ferry astronauts to and from space, is heading back to the workshop after suffering mechanical failures.
The spacecraft's second unmanned flight test was supposed to take place this month though that launch was delayed, and now scrapped, after 13 of the valves controlling the propulsion system used for maneuvering failed a pre-flight check. Although attempts were made to fix the issue on-site, in a press conference on Friday Boeing said it was decoupling the capsule from its Atlas V booster and will be going back to the shop for a rethink.
"Mission success in human spaceflight depends on thousands of factors coming together at the right time," said John Vollmer, vice president and program manager of Boeing's Commercial Crew Program. "We'll continue to work the issue from the Starliner factory and have decided to stand down for this launch window to make way for other national priority missions."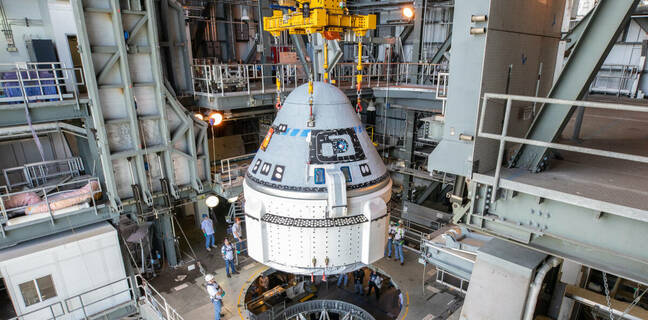 Boeing's CST-100 Starliner at Florida's Cape Canaveral Air Force Station in 2019 ... Credit: NASA/Cory Huston. Click to enlarge, or here for even larger
This is highly embarrassing for an aerospace giant that has worked with NASA since the agency's inception in 1958. Starliner was supposed to visit the International Station Space in December 2019 in its first test flight but a software problem 31 minutes after liftoff caused its thrusters to fire incorrectly, leaving the crewless cargo-carrying calamity capsule without enough fuel to reach its destination.
The spacecraft then spent two days orbiting our planet before reentering the atmosphere and landing in one piece. The Starliner was supposed to transport Christmas presents to the space station crew from their families. Good job, Boeing.
Today's announcement will put more pressure on Boeing to shape up and ship some hardware that actually works. After that earlier flight to the International Space Station failed, Kathy Lueders, associate administrator of NASA's Human Exploration and Operations Mission Directorate, said the American agency had trusted Boeing to get things right and focused much of its scrutiny on newcomer SpaceX, and wrongly assumed Boeing was on top of things with its Starliner project.
Boeing and SpaceX were supposed to be competing for contracts to deliver crew and supplies to the ISS. Elon Musk's super-geeks have now transported ten astronauts safely to the orbiting science lab while Boeing continues to be, well, Boeing. ®