Please do not touch the exhibits – or this tabletop Windows Boot Manager
Microsoft's OS once again where it shouldn't be
Bork!Bork!Bork! There are some things in life that are not meant to be touched – museum exhibits, the biscuit tin that you're not supposed to know about, Microsoft Windows...
People have shoved the operating system into all sorts of places over the years. Even Microsoft itself has crowbarred the poor thing into jumped-up whiteboards and eye-wateringly expensive tables in recent times.
Then there are the signage manufacturers who have taken matters into their own hands, with occasionally less than successful results.
One example of Windows being somewhere it doesn't belong lurks within the hallowed walls of the UK's National Motor Museum at Beaulieu.
The location, among the flora and fauna of Hampshire's New Forest, is notable for an impressive collection of vehicles of both the four and two-wheel variety and a gloriously wobbly fibre-glass carriaged monorail (nearing the 50th anniversary of its arrival) that will take passengers on a tour of the estate and over the heads of museum visitors.
We were delighted to find the monorail still in action during our last visit, and just as green as our schoolboy selves saw it all those years ago. Sadly, a picture submitted by Rich Skuse hints that all might not be well from an IT perspective.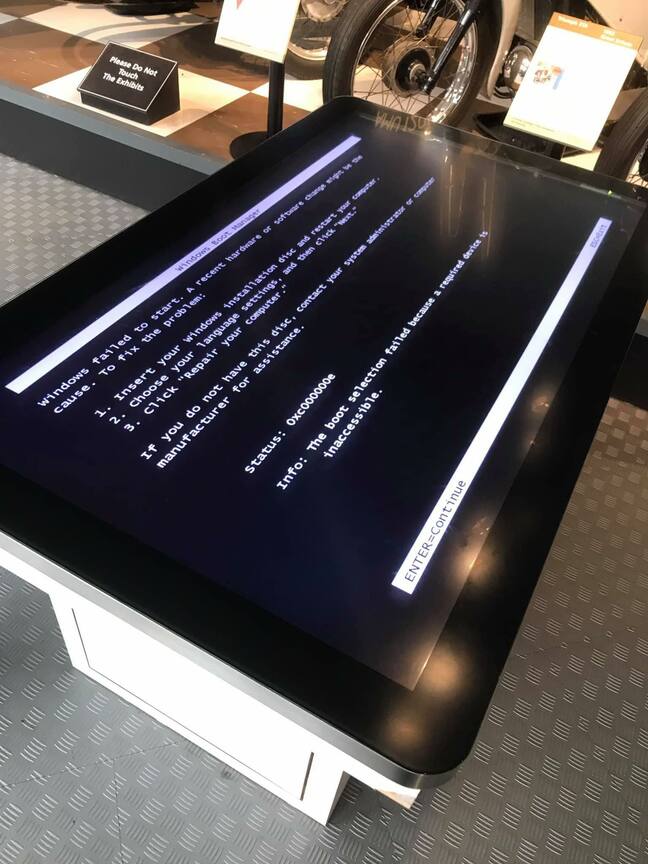 Click to enlarge
The dread Windows boot manager is occupying the space normally reserved for some sort of interactive display. The exhibits might have signs warning against touching, but not that table. No need, really. Windows is, after all, having a bad time of things.
As for what has caused the error, it looks like a reboot and a duff hard drive. Sadly, a lack of keyboard and mouse meant any further fun and games weren't on the cards. It is also possible that the machine has been reactivated after a lengthy pandemic-induced rest – computer hardware does not always respond well to a prolonged period without power.
Still, we're delighted to note that the Motor Museum is open to visitors. Even if Windows remains resolutely closed for business. ®