This article is more than 1 year old
A Whopper of a bork for seekers of pre-flight nosh
BSODs should be scary, not soothing
Bork!Bork!Bork! A reminder today that the beloved Blue Screen of Death is sadly not forever as the irritating emoticon of Windows 10 puts in an appearance.
The Blue Screen of Death (BSOD) has been a good friend over the years, alarming users by its appearance but occasionally dropping a hint with regard to what upset Windows so and what a user might do about it.
No more, however. Today's example of the breed – spotted by Register reader Stephen Kurtianyk at Manchester Airport before boarding a flight to London – is a clear example of the dumbing down of the bewildering white text of old. No more frightening text. Just a sad face emoticon.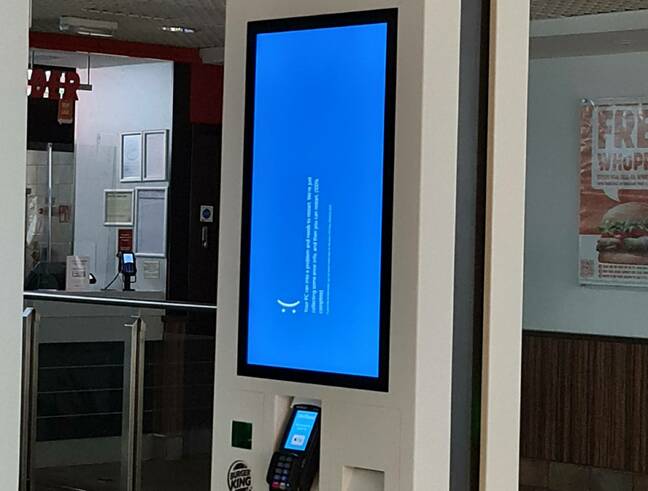 Click to enlarge
Kurtianyk was travelling with British Airways and fancied a Whopper (rather than the distressing pastries flung at passengers sitting in the front of the aircraft). Sadly, Burger King was closed and its screen borked. He later made the journey once again, and discovered the BSOD gone, only to be replaced by a BIOS setup screen. And still no Whoppers.
Thankfully, Microsoft has yet to inflict emojis upon the final wheezing of Windows before the operating system throws in the towel. It has, however, made the blue somehow more soothing, and the text almost apologetic for hosing a few hours' work down the drain because something upset the OS and it responded with the stability of a favourite Uncle at a wedding.
"Your PC ran into a problem," the apologetic text says, "and needs to restart." But not before a substantial dump (of the memory) has been completed. The small print gives more of a clue, but the days of equal billing between error message and technical nuggets are now gone.
It's almost as if Microsoft expects users to see this screen a tad more than the designers of its predecessor did. After all, the frequency of a modern OS soiling itself should be few and far between. Windows – perhaps more so.
But at least there is that sad face now. Just like that of the user staring down the barrel of a lost afternoon's work. ®