This article is more than 1 year old
Tesla promises to build robot you could beat up – or beat in a race
May have unbeatable powers of distraction as automaker talks up its coming-soon-now AI supercomputer and glosses over product delays
During what felt like an hours-long job ad, Tesla on Thursday pledged to build a humaniform robot prototype.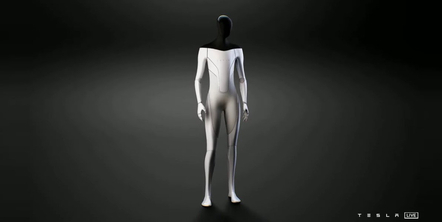 Behold, the Teslabot ... Click to enlarge
CEO Elon Musk announced the project at the automaker's AI day, saying Tesla already does most of the things a robot needs – sensing, AI, and actuators – and claimed without a hint of irony that the company's cars are already "semi-sentient" robots thanks to their self-driving capabilities.
That'll be the capabilities being probed and challenged in America right now after several auto-autos were involved in nasty crashes.
With all that expertise in hand, Musk suggested Tesla might as well therefore build a robot.
Details were scant. Musk suggested the bot will stand 5'8" (172cm) tall, weigh 125 pounds (56.7kg), and be capable of carrying 45 pounds (20kg) or deadlifting 150 pounds (68kg). The bot has a brief to eliminate "dangerous, repetitive, boring tasks."
"It's intended to be friendly, of course, and navigate a world built for humans," Musk said, adding that flesh-and-blood humans could "most likely overpower it" and definitely outrun it – which is reassuring to anyone who has watched Westworld.
A prototype will arrive some time in 2022, Musk promised.
Tesla has also promised to ramp production of its cars, and deliver a Cybertruck and a semi-truck — and has blown deadlines for all.
In 2019, Musk promised a million robot taxis would hit the road in 2020. None made it out of the factory, never mind out of a garage. But some have made it onto the streets of Beijing using tech from China's Baidu.
So yeah, let's all look forward to Tesla selling humaniform robots – despite conventional thinking suggesting that the human body is far from the best shape to take on dangerous tasks, and that replicating complicated parts of the human body like fingers creates complexity.
Never mind power supplies, and that Boston Dynamics has been working on this for years and had limited success.
Musk's robotic announcement was just one part of Tesla's AI Day, at which the manufacturer lifted the lid off its efforts to develop all of this much-promised autonomous hardware. This included diagrams and descriptions of machine-learning systems the automaker's engineers are working on.
Execs also detailed – in some technical detail, to be fair – how Tesla is building its own processors and training computer to construct the immense AI models the carmaker requires.
We were shown Tesla's own D1 silicon, said to be a custom, homegrown CPU-accelerator combo built on a 7nm manufacturing process and possessing 362 TFLOPS of processing power (BF16 or CFP8) apiece. The D1 appears to be made up of an interconnected grid of compute elements, which each feature a four-way multi-threaded CPU block with a custom instruction set for running AI programs; matrix multiplication and SIMD floating-point and integer math units; some cache and RAM; and other logic.
Tesla uses this silicon to form a distributed, number-crunching computer, said Ganesh Venkataraman, senior director of Autopilot hardware. We're told Tesla will place a grid of these 400W D1 dies onto a training tile, and insert these tiles into a supercomputer called Dojo, which is focused on training machine-learning models. Each tile is said to have 9 PFLOPS of performance, 36TB/s of IO bandwidth, and runs at 2GHz in the lab.
Execs promised Dojo will go live next year and will be the fastest AI training computer anywhere. Tesla intends to use it to run PyTorch, and has a plan for faster hardware still.
Musk suggested that Dojo could be used to work on applications beyond Tesla's own needs for autonomous driving, but again offered no details.
He did, however, repeatedly say that in his opinion Tesla is probably the world's biggest user of AI.
And he then turned the presentation into a full-blown recruitment drive for Tesla.
"We basically want to encourage anyone who is interested in solving real-world AI problems at either the hardware or the software level to join Tesla, or consider joining Tesla," said Musk.
Or maybe consider joining Baidu, which also has AI-centric silicon and is already working on applications beyond robo-cars. Or perhaps another Chinese AI automaker – Geely – takes your fancy, seeing as last week it inked a pact with Renault to take its tech to the world. ®