This article is more than 1 year old
Oh the humanity: McDonald's out of milkshakes across Great Britain
Will this nightmare ever cease?
Sugar fiends headed to the Golden Arches for a sweet treat were to be disappointed today as McDonald's admitted its restaurants in Great Britain had run out of milkshakes.
The fast-food behemoth said in a statement: "Like most retailers, we are currently experiencing some supply chain issues, impacting the availability of a small number of products. Bottled drinks and milkshakes are temporarily unavailable in restaurants across England, Scotland and Wales.
"We apologise for any inconvenience, and thank our customers for their continued patience."
The "supply chain issues" are widely understood to reference a chronic shortage of HGV drivers needed to move goods up and down the country to where they need to be.
Confirming, McDonald's told the BBC: "As reported, a number of issues are impacting retailers in the UK at the moment, one of which is the nationwide shortage of HGV drivers."
A number of things have been blamed for the stuttering supply chain, from the pandemic to Brexit and even the IT contractor's bête noire – IR35.
The outbreak of coronavirus sparked an exodus of expats across multiple industries – and European truck drivers were no different, with many choosing to head home. Haulage companies say few have returned.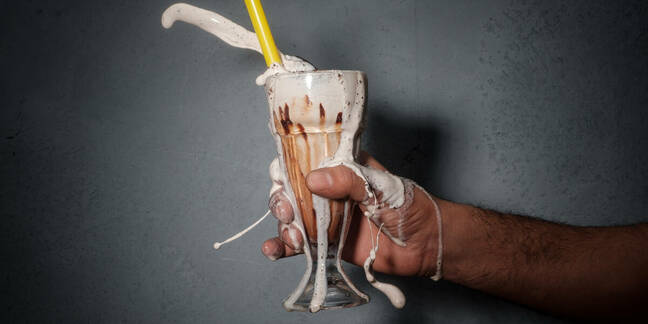 Who has the time for the complex recipe of sitting and waiting around until icecream reaches room temperature and then adding some syrup and swishing it around...
Brexit has made it more expensive for drivers from the continent to work in Britain. Hauliers tend to be paid by distance rather than hours worked so additional border bureaucracy and delays hit their salary.
This has been compounded by IR35 rules, which are designed to make sure contractors pay the same National Insurance contributions and tax as on-payroll workers. But in this case, the regulations have simply made it less attractive to take jobs in the UK as self-employed drivers won't make as much.
IR35 applies to any industry which might employ contractors – notably IT – and recently even Her Majesty's Courts & Tribunal Service said it had to pay £12.5m to the UK taxman due to incorrect assessments regarding the employment status of contractors.
The Road Haulage Association reckons there is now a shortage of more than 100,000 drivers in the UK. COVID-19 has ensured there is a massive backlog of tests for new workers, and 30 per cent of the time it can take eight or more weeks to fill a vacancy.
Government has responded by lifting caps on daily driving limits from nine hours to 11. Haulage companies shot back demanding it be made easier for foreign drivers to get a work visa. But, y'know, Brexit.
Meanwhile, supermarket giant Tesco has tried to sweeten the deal with a £1,000 bonus for new sign-ups to solve its own supply chain crisis.
So before you head out for an afternoon pick-me-up, don't bother. A number of sound decisions, inflamed by a pandemic, mean no milkshake for you today. On the other hand, if you were thinking about moving on from IT, we might have a brilliant opportunity... ®