This article is more than 1 year old
Lost in IKEA? So, it seems, is Windows
Microsoft would like to know your location. Bedroom furniture or homewares?
Bork!Bork!Bork! Microsoft Windows flaunts itself upon the screens of IKEA as the not-at-all creepy setup screens pose an unanswerable question – can we use your location?
The problem, as any visitor to the retail giant will attest, is actually knowing where one is in the temple of flatpacked furniture. We've certainly spent many an hour toiling around the Croydon branch in search of an exit and instead come away with several sacks of tea lights that remain unopened to this day.
So if we're not too sure of our in-store location, we're also not sure what Microsoft plans to do with the information. "It looks like you're about to have a relationship-ending row. Would you like some help with that?" is just the sort of perky advice we could do without.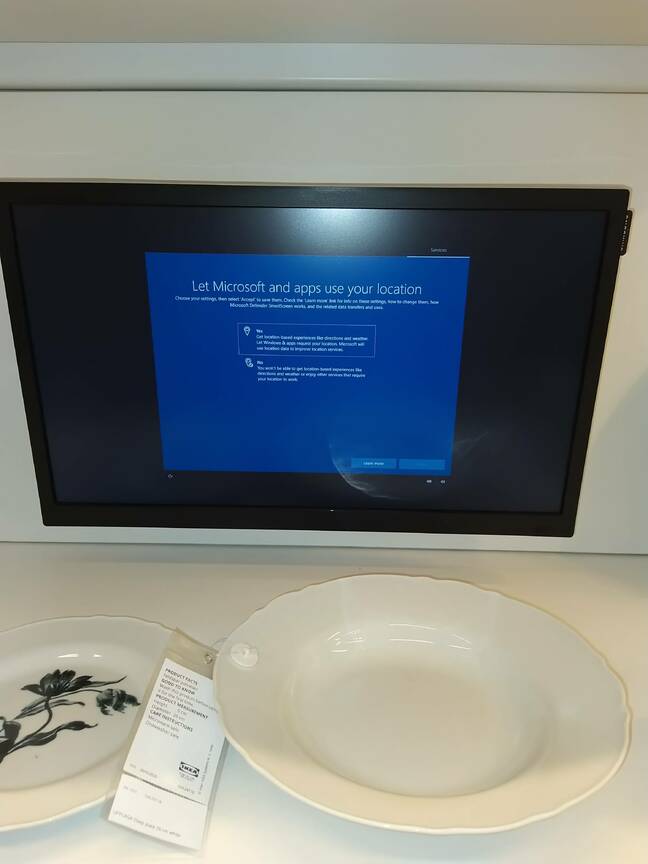 Click to enlarge
Chris, the eagle-eyed Register reader responsible for today's submission, spotted Windows in the throes of installation upon a screen in the Exeter branch of the retailer. There's no indication of whether the doomed Cortana was barking out instructions, and the screen looks stuck until some kind person answers the Windows giant's request to do a bit of stalking location tracking.
It is all in the best interests of the user, right? Not letting Microsoft know where the device is means no weather data (for those unable to open the window), directions (just follow the arrows on the floor like we didn't) or those mysterious "other services."
Exactly what other services are required on a screen in IKEA is open to question. The latest meatball prices? An animation showing customers delighted with their furniture and homewares, hinting at the happy future that awaits those that make it past the queue at payment kiosks?
Still, it is good to see IKEA updating its systems, even if it might have been better not to do it in front of customers. However, an updated Windows PC is, after all, a happy Windows PC.
Right up until the point it needs to print something out. ®