This article is more than 1 year old
Machine learning data pipeline outfit Splice Machine files for insolvency
That went well
California-based ML data pipeline company Splice Machine has begun insolvency proceedings, according to a statement on its website.
The startup – which counted bank Wells Fargo, retailer Kroger, and optical networking company Infinera among its customers – specialised in building a database for feature engineering which it hoped would ease machine learning data pipelines.
Based around Jupyter Notebooks, the product suite featured a native Spark data source, an "enhanced" version of MLflow, and its own relational database. It said its technology would improve the efficiency of machine learning lifecycles.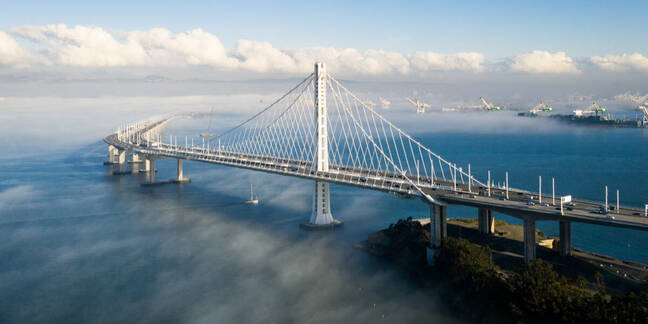 The outfit's HQ is a few blocks away from San Francisco's Oakland Bay Bridge
But a notice on its website dated 28 July said that Splice Machine had entered insolvency proceedings under California state law. "Splice is not currently operating the technology and services platform. Meanwhile, [Limited liability company] is in the process of selling the Splice related assets," it says.
More documents are available here.
As recently as May, the company was releasing new products. It said Livewire Pulsar, an open-source operational AI platform for IoT had been upgraded to a Kubernetes architecture, to reduce costs, as well as adding new AI features for increased productivity.
The new edition enables Apache Spark to scale up or down as needed with new min/max parameters for executors in both online analytical processing (OLAP) database operations and notebooks for ML, it said.
In January, it launched the Splice Machine Feature Store to "help more companies operationalize machine learning by reducing the complexity of feature engineering."
According to Crunchbase the firm has raised a total of $47.5M in funding over five rounds, including a $9m round in 2016. Its latest funding was raised in early 2019 in a series B round.
The company has been contacted for further comment. ®