This article is more than 1 year old
Windows 11 will roll out from October 5 as Microsoft hypes new hardware
Staged updates mean potential wait till 2022 – particularly for those looking forward to Android app support
Microsoft has named October 5 as rollout day for Windows 11, though the IT giant's determination to support only relatively recent hardware will limit adoption.
General manager Aaron Woodman posted the new date, and said that it is "the first version of a new era of Windows," highlighting its refreshed design, new Microsoft Store, and integration with Teams and Microsoft 365.
The rollout will be gradual, with the free upgrade coming first to "new eligible devices," then to existing compatible models based on "hardware eligibility, reliability metrics, age of device and other factors that impact the upgrade experience."
All supported devices should be offered the upgrade by mid-2022, he said. Separate from Woodman's announcement, Microsoft said support for Android apps won't arrive until next year, either.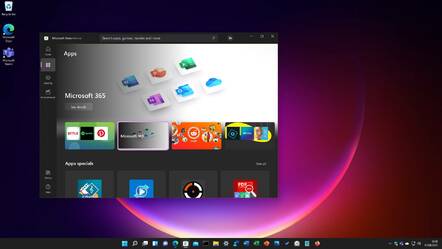 Windows 11 ... Desktop OS will be available from October 5
Most of Woodman's post is dedicated to hyping new PCs from Microsoft and its OEM partners, including models from Acer, Asus, Dell, Lenovo, and the company's own Surface Pro 7 and Surface Laptop 4.
Dell said in a press release that "starting October 5th, most PCs for sale on Dell.com will come with Windows 11 pre-installed. Business PC users may purchase Windows 10 Pro preinstall with Windows 11 Pro license included, allowing you to upgrade to Windows 11 Pro when ready."
Last week Microsoft released Windows build 22000.168 to its Insiders community, with new features including a Microsoft 365 widget, which brings "relevant documents, news and meeting recordings to enterprise users." This widget will appear only for PCs where the user has signed in with an Azure Active Directory account.
Freshen up... or else...
The sting in the tail of Woodman's post, though, is the warning that "certain features require specific hardware; see our Windows 11 specifications page for more information."
In this case, "certain features" includes not being supported at all on PCs which lack a TPM (Trusted Platform Module) 2.0 chipset or which do not have a supported processor, with most 7th-generation Intel Core processors excluded. Intel introduced these in early 2017 and discontinued them in April 2020.
"For customers who are using a PC that won't upgrade, and who aren't ready to transition to a new device, Windows 10 is the right choice. We will support Windows 10 through October 14, 2025 and we recently announced that the next feature update to Windows 10 is coming later this year," said Woodman.
Many users will want to be on the latest version, though, and the insistence on recent devices sits uncomfortably at a time of both component shortages, and increased awareness of the ecological benefits of extending the lifetime of hardware.
Microsoft also caused confusion with its mixed messaging on whether enthusiasts can in fact install Windows 11 on unsupported PCs by using the Media Creation Tool or downloading an ISO image. It seems that this will work, but possibly at the expense of not receiving security patches, a dealbreaker for many.
Windows Insiders have observed that the preview versions work fine on many older PCs, making the Redmond titan's refusal to bend its hardware requirements puzzling. In a recent missive on the subject, Microsoft focused on security, but unless users do in fact bin their existing PCs, those who cannot run Windows 11 will simply run Windows 10 instead and perhaps be even less secure.
Unrealistic system requirements, along with doubts about capabilities missing in the new Start menu and taskbar, are the most persistent complaints from those previewing Windows 11, though it has also won praise for its fresh appearance and cleaner design. ®