This article is more than 1 year old
NASA tests flying taxis made by biz dreaming of being the Uber of the sky
Joby hopes to push its ambitious service live in 2024
NASA is testing electric flying cars for a business that wants to launch a commercial air taxi service in 2024.
Joby Aviation, founded in 2009, builds all-electric vertical takeoff and landing (eVTOL) aircraft that it hopes will eventually each shuttle up to four passengers and a pilot at a time from A to B in the sky.
Joby last year acquired Uber Elevate from Uber that, as the name suggests, specializes in "aerial ridesharing." Joby's goal is to not only make the aircraft but also build an app that can be used to arrange eVTOL flights perhaps as easy as requesting a driver for the road.
How that'll actually work out in practice with pilots, landing areas, charging points... well, we'll have to see.
Before this ambitious service can go live, Joby has to meet technical and safety requirements set by the FAA. The biz said it aims to be certified by 2023 having completed "more than 1,000 flight tests" and having had "full-scale prototypes in the air since 2017."
Here's where NASA now comes in: the US space agency will test and collect data on these flying cars as part of its Advanced Air Mobility (AAM) national campaign, designed to promote advanced travel technology. Staff will be tasked at looking at "how the vehicle moves, how the vehicle sounds, and how the vehicle communicates with controllers," NASA announced. Joby is the first company to be tested as part of the AAM project.
"The National Campaign Developmental Testing is an important strategic step in NASA's goals to accelerate the AAM industry timeline," said Davis Hackenberg, a NASA integration manager working on the AAM campaign. "These testing scenarios will help inform gaps in current standards to benefit the industry's progress of integrating AAM vehicles into the airspace."
NASA engineers will rig up more than 50 microphones to measure how loud Joby's eVTOL aircraft sounds overhead and compare it to other vehicles, such as helicopters and drones. The data will be used to inform officials at the FAA as it mulls over how to regulate the newfangled eVTOL machines. The first set of test flights will be conducted in Big Sur, California, over the next two weeks or so.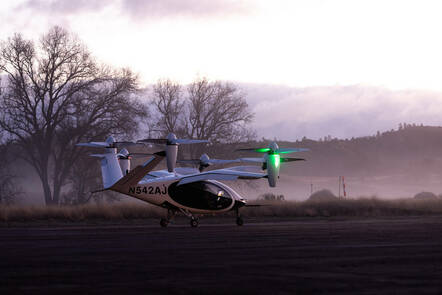 Flight of the future? ... Joby's all-electric vertical takeoff and landing (eVTOL) aircraft. Credit: Joby Aviation. Click to enlarge
According to the startup, which is funded in part by Toyota, its flying taxi is expected to be capable of traveling 150 miles and has a top speed of 200 miles per hour using six propellers powered by lithium batteries.
The testing service also benefits NASA. The agency is interested in potentially using the electric craft for "aerial work missions, such as infrastructure inspection or search and rescue operations."
The Register asked Joby and NASA for further comment. ®