This article is more than 1 year old
VMware shreds planned support for 'cheese grater' Mac Pro
Sorry, vAdmins, you probably don't have an excuse to buy Apple's $699 wheels
VMware has announced something a little odd: it won't ever support ESXi running on Apple's 2019 Mac Pro.
"While VMware does not comment on future hardware enablement for our ESXi platform, we felt an update was warranted for our customers who have been inquiring about support for the Apple 2019 Mac Pro 7,1," states a post on the matter.
That update is: "VMware will no longer pursue hardware certification for the Apple 2019 Mac Pro 7,1 for ESXi."
The Mac in question earned the nickname "cheese grater" because … well … look at it:
The machine is quite a beast: it can run Intel Xeons with at least a dozen and up to 28 cores, handle up to a dozen DIMMS and 1.5TB of RAM, eight terabytes of disk, run four GPUs, and drive half a dozen 4K displays. Eight PCI slots deliver plenty of extensibility.
We could go on, but you get the idea – this is a serious workstation with enough power to handle its stated purpose of helping video production types to breeze through their days. It also has enough muscle to handle the job of hosting macOS virtual machines. That may not be the most in-demand workload in the world, but virtual workstations are increasingly in demand as it's hard to build efficient media production pipelines that include remote workers.
A reminder: Apple only allows macOS VMs to run on its own hardware, even in the cloud. So decently powerful Mac hosts are needed. Apple seemed to give a nod to this by offering the 2019 Mac Pro as both a desktop workstation and a rack-mountable machine.
Why, VMware? Why cut users off from a very fine potential host machine?
VMware's post attributes its decision to "various challenges of COVID-19 and the recent announcement from Apple on their transition away from x86 to Apple Silicon".
COVID challenges? Perhaps VMware is finding it hard to get the hands-on time it needs with hardware to get the job done. Or perhaps its people have better things to do with their time. The Register's virtualization desk has also heard VMware developers speak of an internal process that requires them to bid for funding to advance projects. With Apple transitioning to home-brew silicon, and VMware dropping hints it is closer to running ESXi and its Fusion desktop hypervisor on that platform, enthusiasm to allocate resources to certification of the orphaned Intel Mac Pro could be hard to find.
Happily, vAdmins have other options: Virtzilla still supports ESXi on the 2018 Mac Mini and the 2013 Mac Pro. Neither has the grunt of the 2019 Mac Pro, which means Amazon Web Services' bare metal Mac-as-a-service might be a better idea.
Sadly, the decision means vAdmins will likely miss out on the chance to send Apple $699 for some very shiny wheels, depicted below, that Cupertino designed just for the Mac Pro.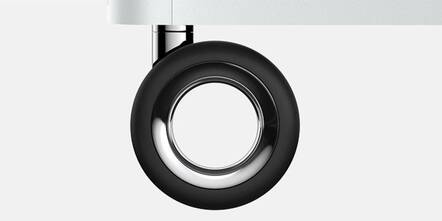 Click to enlarge
One more thing: the 2019 Mac Pro drew criticism for reaching prices well in excess of $50,000 when equipped with maximal CPU, GPU, RAM, and storage options. Then as now, RAM and GPUs added most to the machine's cost, and do so on other manufacturers' workstations too. The Register just whipped up a config for a Dell Precision 7920 Tower Workstation with a price tag that topped $127,000, thanks to the inclusion of twin Xeon Platinum processors, 3TB of RAM, and three Nvidia Quatro RTX6000 GPUs. Which is not a shabby spec, or price, compared to some of the VMware-certified servers Dell offers. ®