This article is more than 1 year old
With a Lidl bit of luck, this Windows installation will make it through the night
Microsoft's finest just needs a nudge
Bork!Bork!Bork! Our overseas adventures in bork continue today with Microsoft's finest supplanting one of The Netherlands' funnymen in the entrance of retailer Lidl.
Awaiting the supermarket's Dutch clientele is a fresh installation of Windows pleading with passers-by for a nudge in the right direction.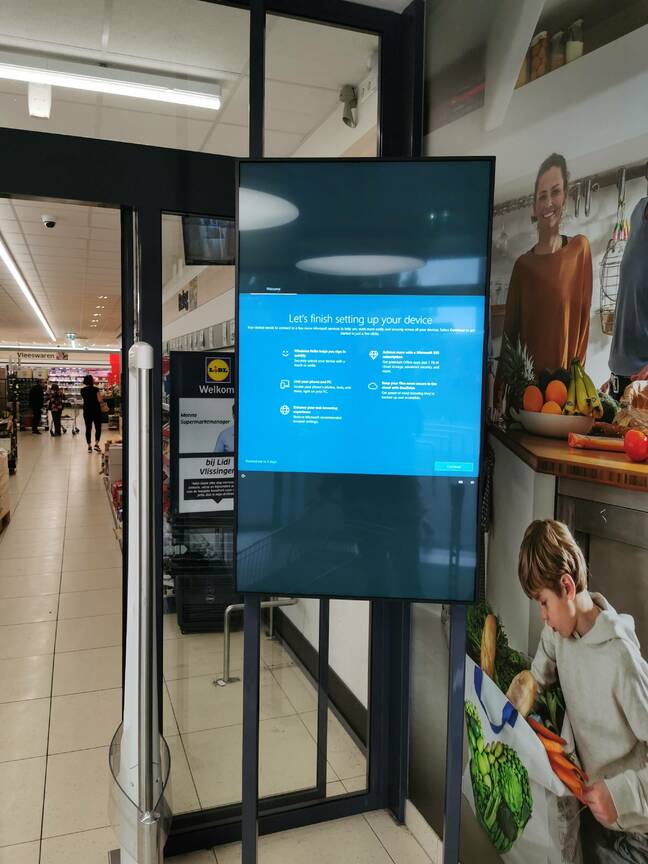 Click to enlarge
The screen is now very much in English but, according to Register reader Alex, it once served a useful purpose for the locals before Windows did its thing - the classic out of box experience (OOBE).
"At the Dutch Lidl branches," Alex explained, "a system was placed last winter to count the number of shoppers for COVID restriction purposes."
The screen also previously featured Dutch comedian Thomas van Luyn exhorting customers to shop responsibly and maintain their distance while perusing the discounted goods on offer.
Sadly, we're unfamiliar with the oeuvre of Van Luyn. A Dutch friend was consulted, and replied: "Who?"
Those keen to catch up on the latest work of the cabaret performer should look no further than Wie is de Mol? ("Who is the Mole?") - the 22nd season due to air next year. The show features a number of candidates assigned tasks to earn money. One, however, is the "mole" who must secretly sabotage the assignments.
It all sounds a little like the The Apprentice, except without an angry little bear at the centre, pointing fingers at hapless, incompetent "businesspeople".
As well as his involvement with Lidl, Van Luyn has been quite the prolific fellow and appeared on the Dutch version of the BBC programme QI. A wander through a certain popular video streaming service also turned up a vaguely disturbing comedic tribute to Steve Jobs.
Ironic then that Van Luyn's visage should have been replaced by a Windows setup screen. Microsoft, it seems, always wins in the end. Especially in borkage. ®