This article is more than 1 year old
Browser-based video editor Clipchamp disappears into the bowels of Microsoft 365
Like Windows Movie Maker on the web
Microsoft has purchased Clipchamp, maker of browser-based video editing tools, and claimed it is "a natural fit to extend the cloud-powered productivity experiences in Microsoft 365."
Based in Brisbane, Australia, Clipchamp was founded in 2013 (though not under that name) with the idea of building a distributed supercomputer. That idea was abandoned, but one of the projects used to test the concept was a video compression tool and the company switched in 2014 to become Clipchamp and provide browser-based video tools.
At the time, the nascent Chromebook market was an important target as it did not support local applications but was gaining ground in education. It remains a popular Chrome extension, with over 400,000 users and high user ratings.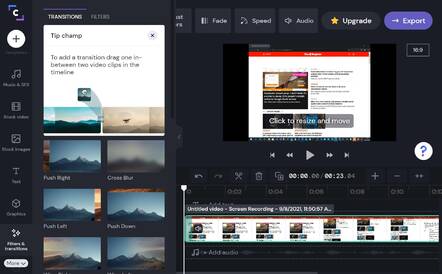 Clipchamp aims to make it easy to create and edit videos in the browser (click to enlarge)
CEO and co-founder Alexander Dreiling said little of substance about what would happen following the acquisition.
He was quoted as saying that "with video we're only at the beginning of democratizing its creation," that the target user is non-professionals and non-creatives, and that "becoming part of Microsoft allows us to become part of a future legacy."
The company does already have integration with LinkedIn, which may be a factor in Microsoft's interest. There is also a Clipchamp app in the Microsoft Store – a thin wrapper around the web version – which boasts all of two user reviews.
Chris Pratley, Microsoft CVP of Office Media Group, said "Clipchamp is a natural fit to extend the cloud-powered productivity experiences in Microsoft 365 for individuals, families, schools, and businesses," as well as for Windows.
That said, Microsoft has long made it easy to create and edit videos. Windows Movie Maker was introduced with Windows Me in 2000 and went through several iterations, becoming part of the Windows Live Essentials suite and then detached from it in 2012, with Windows Movie Maker 2012 being the last major version. Features came and went as the product was shunted around, but some versions were effective for easy to use video editing.
More recently, video editing has become part of the Windows Photos app (check the Video Editor tab), with storyboard, trimming, splitting, on-screen text, filters, motion and 3D effects. There is also an option in PowerPoint to convert slide presentations into videos, with screen recording and picture-in-picture options.
Such tools are no use, of course, if all the user has is a Chromebook. The acquisition of Clipchamp is another sign of Microsoft's shift towards web-based productivity tools and the new technology will no doubt turn up in products like Teams and Office 365 in due course. ®