This article is more than 1 year old
Microsoft adds hybrid meeting features to Teams, including interruption-detecting AI
Companion mode? We've got that too says Google
Microsoft is adding features to Teams meetings to support hybrid office/remote meetings, including an AI-powered "speaker coach" that will notify users who interrupt others.
New features in Teams, Office and LinkedIn reflect what the company sees as a permanent shift in work patterns, from being predominantly office-based to a mix of office and remote working. Here are the key features:
Video enhancements: Physical meeting rooms equipped with the latest Teams-compatible gadgetry will include "intelligent cameras" (complete with the inevitable AI) that support features such as speaker tracking, zooming in on the active speaker, multiple video streams that enable participants to be in their own video pane even when in a physically shared meeting space, and people recognition – we noticed Microsoft avoiding the tainted phrase facial recognition in its press blurb – that will identify the name and profile of enrolled users.
Microsoft said it is working with Jabra, Poly (formerly Plantronics), Neat and Yealink on camera hardware. Lighting correction in Teams will help appearances in low-light conditions "in the coming months", according to today's post.

A new "intelligent camera" from Jabra, designed for Teams
PowerPoint picture-in-picture: An enhancement to PowerPoint called Cameo, that includes a Teams camera feed within a presentation. The support includes the ability to choose the size and position of the feed, and theme support means that predesigned templates include the feed in their layout. This was designed for a live presentation, though we presume it could also be used to record a video as that feature has been built into PowerPoint. Cameo will "start to roll out in early 2022".
Cameo: a new PowerPoint mode which combines live camera and slide
Wait your turn: Speaker Coach in Microsoft Teams uses AI which will prompt the speaker (privately) if it considers the pace too fast or slow, or that someone is being interrupted. We could not help being reminded of Clippy, the Office assistant of yore famous for popping up to say "it looks like you're writing a letter" when we saw Microsoft's promotional video for Speaker Coach with the pop-up "it looks like someone is also trying to speak". Will an interrupter take note of the new Clippy? Might such prompts be extended to include being dull, off-topic or wrong? The answer is no, we suspect.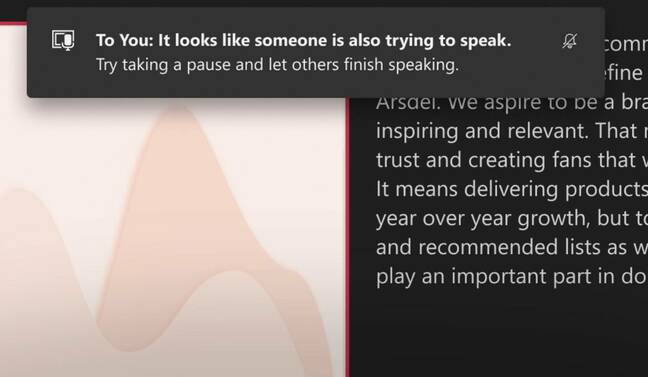 Is that you, Clippy? AI aims to deter interrupting
I'll be there in spirit: Outlook calendar will have a new feature that lets users specify in-person or remote in an RSVP for a meeting, and to specify whether remote or in the office in a work schedule.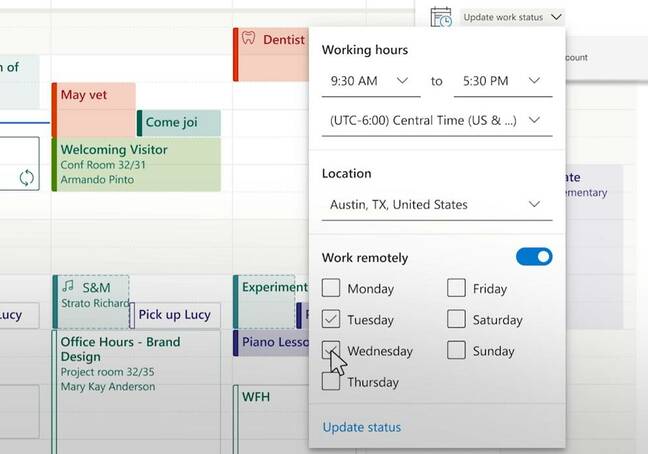 I'm working remotely: a new feature in Outlook work schedules
An impressive display: Microsoft Teams displays, small touchscreens designed for Teams meetings (think video phones) were launched last year. They will now get the ability to book physical workspaces, a feature Microsoft called a "new hotdesking experience". This was promised for the Lenovo ThinkSmart View "by the end of 2021".
Trusted Companion: An updated Companion mode in the Teams mobile app was designed for use by participants who are physically present in the meeting room, for a hybrid meeting. Companion mode gives them the ability to chat, add those dreaded "live reactions" that bubble over the screen, use Microsoft Whiteboard, mute the room, show a PowerPoint presentation, turn room cameras on or off, and more.
Here in my car, I feel safest of all: Teams is coming to Apple CarPlay this month, we are told, with the ability to join Teams meetings and make hands-free Teams calls with the Siri voice assistant.
Filter feeder: LinkedIn will have ("coming soon") filters for remote, hybrid and on-site work, as well as specific support to show vaccination requirements.
By uncanny coincidence, Google made its own announcement about enhanced support for hybrid meetings yesterday. The company announced general availability of its Spaces collaboration workspace, as well as describing forthcoming features including improved navigation and search, in-line topic threading, and new tools for content moderation. Google Calendar has gained the ability to specify virtual or physical presence when accepting meeting invites. Google Meet calling, for unstructured meetings, will be integrated in more places.
"Our intention is to bring Meet calling to all the natural endpoints in Workspace where you'd initiate an ad-hoc call including chats, people cards, and Spaces, but this will come first to one-to-one chats within the Gmail mobile app," said the post.
The company also has its own Companion mode feature, coming in November, which lets users in conference rooms host or join a meeting, share content, access meeting chat and whiteboard, initiate and vote on polls, and more. Google also introduced some new dedicated hardware for Google Meet, and interoperability with devices from Cisco's Webex.
It seems that both Google and Microsoft are embracing the hybrid meeting concept – which is no surprise, given that has extended the reach of their cloud technology into spaces that they did not previously occupy: namely business meetings. ®