Tennessee agrees to pay Oracle $65m for Nashville location plan
There's room for you and your cowboy boots, we'll even get you a rhinestone suit
The State of Tennessee has agreed to pay Oracle $65m in incentives in order to build an expensive southeast hub in the state capital of Nashville.
Big Red's move to the South hit the headlines earlier this year when the omnipresent software biz agreed to invest, according to the Nashville mayor's office, $1.2bn in a new campus set to include 1.2 million square feet (111,484 square metres) of office space along the East Bank of the Cumberland River.
But never one known to do something for nothing, Oracle has secured a $65m economic grant from the State Funding Board. It agreed for the grant to be offered via its FastTrack Economic Development Fund on Tuesday, in a move designed to "offset costs companies incur when expanding or locating a business", according to local news outlets.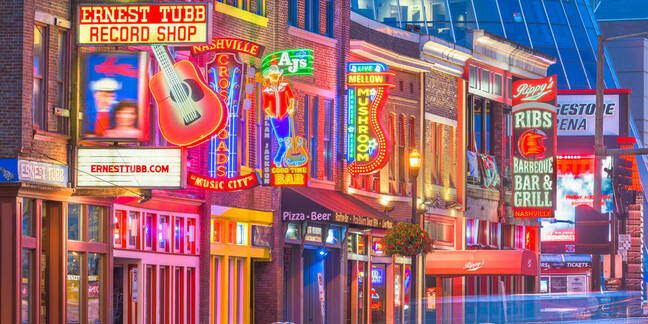 The famous honky tonks of Guitar Town are a short walk across the Cumberland river from Oracle's prospective new digs on its east bank
The grant is "only used in exceptional cases where the impact of the company on a given community is significant," according to a state economic development statement.
Nashville Metropolitan Council has also agreed to give Oracle economic incentives for infrastructure improvements to the area surrounding a 65-acre site where Oracle plans to locate its considerable footprint.
Oracle will reportedly shoulder the upfront costs of constructing a bridge, green space, parks and environmental remediation of a landfill. It will claw back up to $175m via future property tax revenue.
Coincidentally, the Council also has to fork over cash to Oracle as part of $23m in capital spending project to upgrade its ERP system to Oracle E-Business Suite R12.2 [PDF].
It might be assumed that a global corporation boasting about $40bn in revenue for fy2021 might be able to pay its own way in a state with a debt mountain of about $6.98bn for fiscal 2020 [PDF], but, hey, this is America.
The 44-year-old database and application company has at least committed to creating 5,989 new local jobs with an average annual wage of nearly $55,000 and making a $1.35bn capital investment within five years. Oracle was based in Redwood Shores, California until December 2020. ®