This article is more than 1 year old
Vaccine dreams: A trip to Oxford to see a biscuit tin, some bed pans and ChAdOx1 nCov-19
No, not the title of an undiscovered Douglas Adams book, it's medical history in the UK
Geek's Guide to Britain It looks like a bejewelled crown, spinning and sparkling as its surfaces catch the light. But what this glass sculpture in the entrance hall of Oxford's History of Science museum portrays is much more valuable. It is a model of the ChAdOx1 nCov-19 coronavirus vaccine, developed by Oxford University researchers in 2020, one million times its actual size.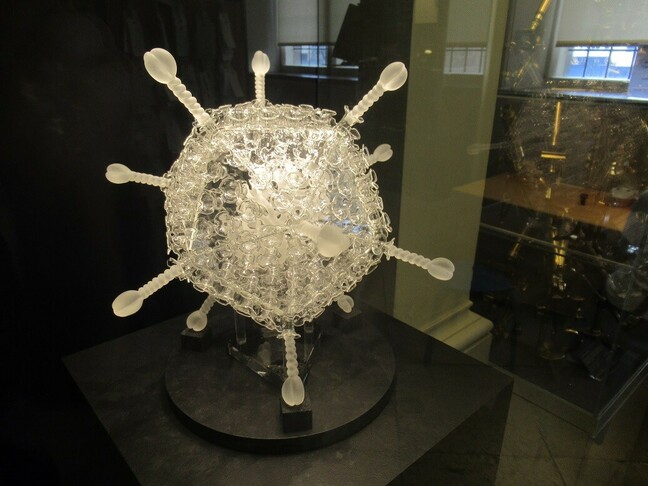 Covid-19 vaccine sculpture at History of Science Museum, Oxford (click to enlarge)
Pic (c) SA Mathieson
Artist Luke Jerram made it from borosilicate glass, the kind used for medical scientific kit including test tubes.
Organisation-wide emails are rarely justifiable, but the one sent by vice-chancellor Louise Richardson to staff and students on 23 November 2020 announcing that the university's vaccine worked safely and would be made available cheaply across the world is an exception.
In July 2021, the university announced that one billion doses of the vaccine, developed with drug-maker AstraZeneca, have been released so far.
Oxford has educated 28 of the country's prime ministers, including the current one and four of the previous half-dozen, giving it some responsibility for Britain's outstanding reputation for strategic brilliance, moral leadership and journalistic sarcasm.
Fortunately, it also has a long history of pioneering medical science. On 25 July 1621 the university opened its Physic Garden for plants used by medical students on the banks of the Cherwell, with founder Sir Henry Danvers providing seed funding of £5,250 which was spent on its walls and "mucke" to improve the soil. Exactly four centuries later, what is now the Oxford Botanic Garden, the first of its kind in Britain, is still there and is open for visitors.
Back in 1621, a scientific approach to medicine that used plants rather than ancient texts was overdue. Many believed in myths such as that mandrake – which has a vaguely-human looking root – screamed when harvested and would kill those picking it unless they had dogs that would die on their behalf. The first item in the Roots to Seeds exhibition about the garden, which is taking place at the Bodleian's Weston library until 24 October, is an illustration of a man-mandrake from a monastery's 11th-century herbal guide.
Said mandrake is naked except for a flamboyant leafy headdress, although he does have his own dog. Mandrake can cause hallucinations and death but has medicinal applications including the treatment of irritable bowel syndrome. It has been grown in Oxford Botanic Garden since 1648 and is easy to spot – just look for the worn patch of earth by a big sign there for those who have read that "the cry of the mandrake is fatal to anyone who hears it," in JK Rowling's modern mythologies of Harry Potter.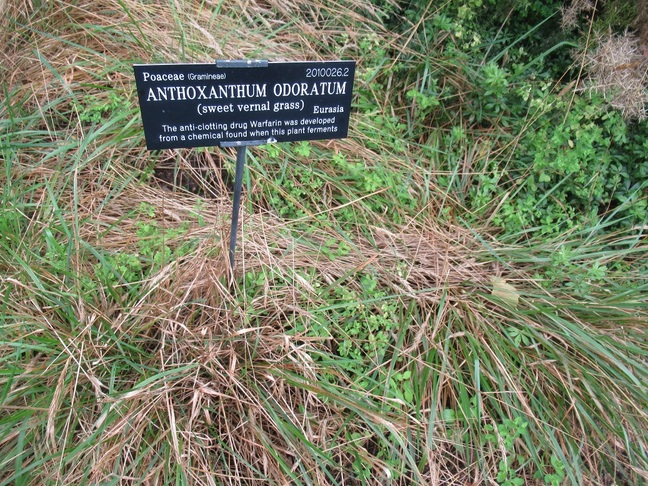 Grass from which anticoagulant warfarin was developed at Oxford Botanic Garden (click to enlarge) Pic (c) SA Mathieson
The garden's medical beds are organised in neat rows based on condition, with signs that reveal plants' medical benefits. Atropine from deadly nightshade – aka Atropa belladonna – is an antidote to nerve agents including sarin.
Anti blood-clotting drug (and rat poison) warfarin was developed from a chemical found in fermented sweet vernal grass. Chamomile is used in creams for sore skin and as a calming herbal infusion. And a nearby hothouse holds Camellia sinensis, a British folk remedy widely used to this day to treat shock, anxiety and visitors.
In 1834, the university's botany professor Charles Daubeny renamed the site as the Botanic Garden and reconfigured it largely at his own expense to broaden its focus to disciplines including applied botany, forestry and agriculture.
As well as the scientifically organised sections, visitors can see Monegasque giant lilies, environmentally sustainable and drought tolerant flowers and grasses and the Gin Border, the product of which is available for purchase.
The garden also features an outdoor gallery of plants that changed the world, including tobacco, which according to its label "has probably killed more people than any other plant."
Oxford epidemiologist Sir Richard Doll played a key role in demonstrating this, through his work after the Second World War linking smoking to lung cancer.
The top floor of what is now the History of Science museum opened as the world's first university museum in 1683, housing the collection of Elias Ashmole, after whom the Ashmolean art and archaeology gallery is named. Today, it features measuring and calculating instruments, from astrolabes and armillary spheres to slide rules and Sinclair electronic calculators.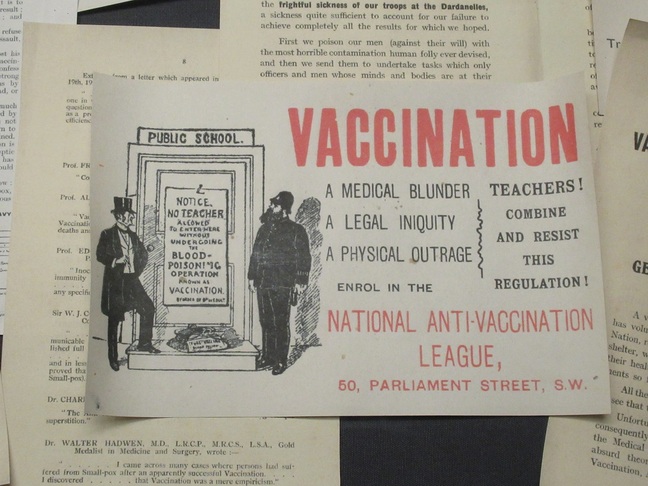 There is nothing new under the Sun: Early 20th century anti-vaccine publicity at History of Science Museum, Oxford (click to enlarge) Pic (c) SA Mathieson
The basement was a chemical laboratory and anatomical theatre, where the public could pay to join students in watching human dissections until the late 1700s, despite complaints about the smell from nearby Bodleian library readers. The museum's entrance hall includes a damaged human skull found in nearby ditch in 1999, part of what was once a skeleton used for teaching. This basement now houses the museum's medical exhibits (as well as some Marconi memorabilia with links to another Geek's Guide).
These include a packet of Dr James's Fever Powder from around 1770, which became notorious after having been said to be responsible for killing a poet.
As well as some gruesome amputation knives, stomach pumps and dried 18th century body parts, there is a set of lancets, tiny knives, in what looks like a cigarette lighter. These were used by botanic garden supremo Daubeny when he was a medical student and were designed for vaccination.
A temporary exhibition on the battle against typhoid, most of which was set up before COVID-19 hit, provides some fascinating historical context to the current pandemic (and is available online).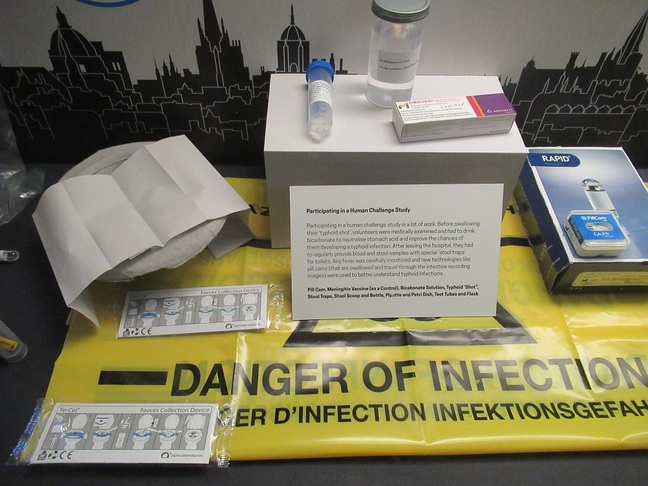 Faeces collection units for a typhoid vaccine trial at History of Science Museum, Oxford (click to enlarge) Pic (c) SA Mathieson
Some of the first effective typhoid vaccines were developed in 1896 by immunologist (and graduate of Trinity College, Dublin) Sir Almroth Wright, who used his vaccine on himself and presented its use as a patriotic duty.
But as Oxford researchers found in 2020, public trust can easily be damaged. For Wright, problems with dosage and record-keeping failures led to him being called "Sir Almost Right", while young journalist Winston Churchill, covering the Boer war in 1900, wrote [PDF] cynically about the process of Boer War troops being vaccinated and described himself as "unconvinced."
And as the exhibition shows, the era had its own crop of outright anti-vaxxers: "Vaccination, a diseasing operation – insanitary, unscientific, unrighteous. Do your own thinking," reads one early 20th century leaflet from the National Anti-Vaccination League, which unaccountably omits the word "sheeple." Despite this, the widespread use of vaccinations by both sides meant that typhoid was not a major killer of troops in the First and Second World Wars.
Penicillin for your thoughts?
While penicillin is an antibiotic rather than a vaccine, its development also has parallels with ChAdOx1 nCov-19 (the Oxford/AstraZeneca vaccine), as both were developed in Oxford in a tearing hurry.
The museum has a bed pan and a set of three biscuit tins used to grow penicillin culture on the cheap during the Second World War, as well as stackable porcelain containers that were introduced to make the process more efficient. The work took place at the city's old Radcliffe Infirmary on Woodstock Road, now a university building with a blue plaque to record its historical significance.
Oxford researcher Dorothy Hodgkin, who in 1941 described penicillin to her husband as "the stuff that almost brings people back from the dead," successfully led a group that used X-ray crystallography to map its molecular structure, recognised by a Nobel Prize in chemistry in 1964. The museum has a set of perspex sheets she marked up in around 1945, allowing the structure to be viewed in three dimensions in a way that anticipates computer modelling.
Returning to typhoid, the museum also demonstrates the fallacy that anyone is entirely safe from a disease before everyone is with a 1964 newspaper screaming that "A third wave is feared" after imported corned beef caused an outbreak of the disease in Aberdeen.
Even now tens of thousands of people die of the disease each year in parts of the world without good access to safe water and healthcare. But a new type of typhoid conjugate vaccine (TCV) first tested in the 1990s provided new hope, with a single dose providing strong protection and being suitable for very young children.
Enter the university's Oxford Vaccine Group and a bunch of volunteers willing to contract typhoid, and then collect their own stools. In 2017, university researchers supervised 112 people who were randomly immunised with either the new TCV or a control vaccine and then swallowed live typhoid bacteria.
The exhibition includes some of the kit used by these "human challenge" volunteers, including toilet instructions. In November and December 2019, 10 million children in Pakistan received the successful TCV vaccine to help control an outbreak of antibiotic resistant typhoid.
Which bits are where?
The History of Science Museum itself lies in the middle of classic tourism-tolerant Oxford, and the Botanic Garden is on its edge, just before Magdalen Bridge, which serves as one of the city's reality checkpoints to relative normality. Today, the university's vaccine research takes place a mile and a half to the east, over the bridge then uphill past a park to a hospital site named after a one-time vaccine cynic.
In 1942, the US Army took over that briefly established hospital for local air-raid casualties and named it after by-then prime minister Winston Churchill. After the war, it was taken over by the local health authority and the Churchill Hospital is now a centre for cancer and other specialist services, part of Oxford University Hospitals NHS Foundation Trust (which collaborates with the university but is not part of it).
The hospital's American roots are commemorated near its main entrance through a garden where the Stars and Stripes flies next to the Union Jack, with an armillary sphere sundial marked with both Greenwich Mean Time and Eastern Standard Time.
On the north side of the site's Roosevelt Drive is the university's Old Road campus, a collection of angular glass-fronted buildings that looks more like a high-end science park than old-school Oxford, not least because it includes a multi-storey staff car park. It includes the Jenner Institute for vaccine development, whose head Professor Sarah Gilbert, now both a Dame of the British Empire and a Barbie doll, led the team that designed the Oxford COVID-19 vaccine in early 2020.
The Institute is based in the Campus Research Building, a long three-storey block jazzed up with panels in various shades of green which opened in 2008. It previously opened to visitors during the Oxford Open Doors weekend held each September, but understandably does not appear to be doing so in 2021.
The little 'pizzeria' that could
After its design, a vaccine needs to be manufactured in small batches for testing. This is Oxford; of course it has its own vaccine manufacturing facility. It is a few hundred yards south on Churchill Drive, a road that leads away from the university's shiny new campus to - on its west side - the hospital's original 1940s entrance, where paint flakes and windows rust. East of Churchill Drive is even shabbier, with abandoned buildings, grass-covered wasteland and – usually indicating a low-status part of an NHS site – the hospital radio station.
But one side of the road has a much newer building which looks and hisses like a municipal swimming pool. Staff at Oxford University's Clinical BioManufacturing Facility had already made vaccines based on the Jenner's modified chimp adenoviral ChAdOx1 vector vaccine, and on 18 February 2020 they inserted spike DNA encoding the spike protein of Sars-CoV-2, which causes COVID-19 (the lung disease caused by the coronavirus).
Working flat out, they started production on 6 March, completed the first doses on 2 April and released them for use on 22 April. The next day these were injected into volunteers' arms in another modern building across the road, the Centre for Clinical Vaccinology and Tropical Medicine, which houses the Oxford Vaccines Group. Oxford University had started clinical trials of what turned out to be a successful COVID-19 vaccine within four months of the disease's discovery.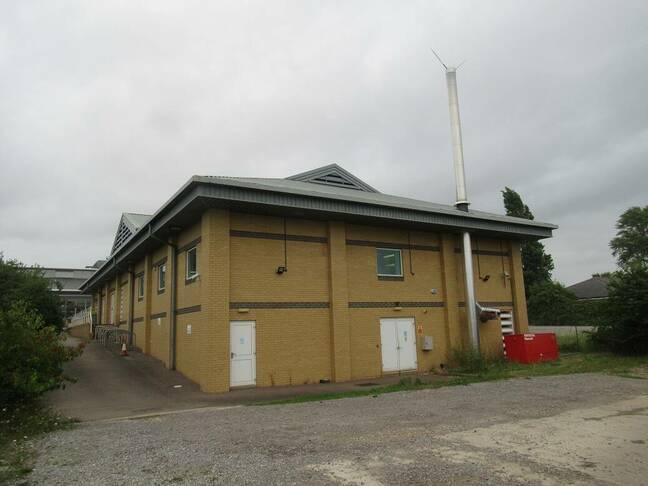 Clinical BioManufacturing Facility, Churchill Hospital site, Oxford (click to enlarge) Pic (c) SA Mathieson
The facility's head, Dr Catherine Green, has described the operation as like a "family run pizzeria where we do everything ourselves," pioneering the vaccine's recipe on a small scale before AstraZeneca took on mass production. But if the Clinical BioManufacturing Facility is a pizzeria, it is the dark kitchen type that relies on deliveries rather than passing trade. Nearby there are groups of white trailers and tents surrounded by metal security fences where trials took place, but in August 2021 it was pretty quiet. It certainly feels a long way from central Oxford and apart from a few temporary signs directing volunteers to vaccine trials, there is almost nothing to see.
However, there is what appears to be a blue plaque in the Clinical BioManufacturing Facility's front window. It is headed "Jenner Institute Heritage" and records the 22-year career of a member of staff described as a "CBF Legend… Master Virologist…Coke Addict, Queen of Quilting". For now, this is the nearest thing to commemorating the place that first made Oxford's new crown jewel. ®
History of Science Museum
GPS: 51.7542, -1.2554
Postcode: OX1 3AZ
Getting there
Car: there are some very busy spaces on Broad Street just outside the museum, but the maximum stay is two hours at a cost of £8.90. It is much cheaper to park at one of the five cheap park and rides that surround Oxford and catch a bus.
Public transport: the museum is about 20 minutes walk from Oxford's rail station and about 10 minutes from the main Gloucester Green coach station.

Entry: Free
Opening times: Tuesday to Sunday, midday to 5pm. As of August 2021 tickets should be booked online in advance, although it may be possible to get in by turning up. Masks should be worn and there are no toilets available.
Website: https://www.hsm.ox.ac.uk/
Bodleian Weston Library
GPS: 51.7548, -1.255
Postcode: OX1 3BG
Getting there
Same as above – public access to the Weston is just across Broad Street from the museum.
Entry:
Free
Opening hours:
Every day 10am (11am Sundays) to 4.30pm. No advance booking required but masks should be worn.
As well as exhibitions, the Weston's Blackwell Hall includes a nice café. It also has some of the very few publicly accessible toilets in central Oxford, but don't take the pee.
Website:
https://visit.bodleian.ox.ac.uk/
Oxford Botanic Garden
GPS: 51.7513, -1.2472
Postcode: OX1 4AZ

Getting there
Car: none allowed on site. The nearest parking is the city council's car park near the western end of St Clement's Street, postcode OX4 1AB, which costs from £2 for the first hour.

Public transport: The garden is a bit further away from the rail and coach stations. The Queens Lane stops on the High Street, served by local buses, are within a few hundred yards of the entrance. Entry: Open every day 10am to 6pm with last entry at 5pm.

As of August 2021 tickets should be booked online in advance, costing £5.45 for adults or £4 for students, senior citizens and University of Oxford alumni. It is free for staff and students of Oxford and Oxford Brookes universities, as well as children. Masks should be worn for indoor sections.
Website: https://www.obga.ox.ac.uk/