This article is more than 1 year old
EU open source study highlights economic benefits but says Union is 'on the back foot' with industrial policy
'There is already too much time gone' researcher tells The Reg
Interview A new EU study of the economic impact of open source has mixed news. The economic benefits are huge, it said, but the EU is "on the back foot" when it comes to implementation.
The study comes from the European Commission's Directorate-General for Communications Networks, Content and Technology (DG Connect), and was written by a team from Fraunhofer ISI and think-tank OpenForum Europe. Its focus is on the impact of open source software and hardware on technological independence, competitiveness, and innovation.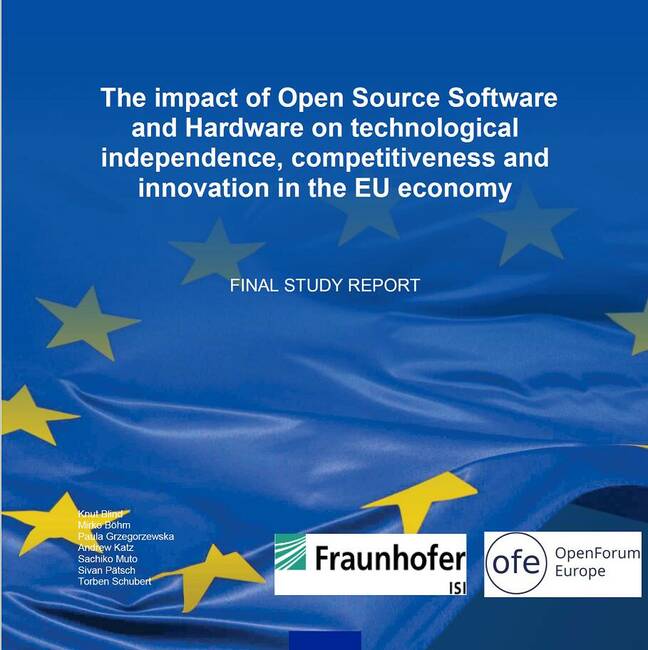 Nearly 400 pages long, the EU study on open source said it has strong economic benefits
This is a detailed study based on a stakeholder survey of over 900 companies and developers, interviews, analysis of existing research and literature, analysis of open source repositories on GitHub, and technical study of economic impact.
The UK is included in some of the figures and excluded from others, thanks to its move out of the EU, but a pie chart notes that the UK provided 26 per cent of "EU" companies making contributions to GitHub, more than twice that of the next-placed Germany (13 per cent).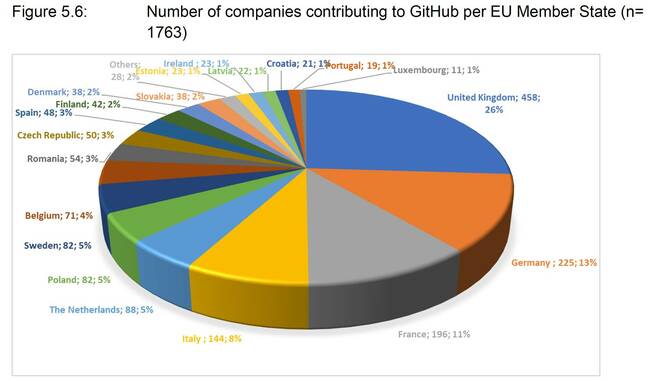 UK companies contribute more to open source than other European countries, according to GitHub contributions
Investment in open source is highly beneficial, according to the study. "According to a cost-benefit ratio of 1:4 the costs needed for the investment in OSS will generate benefit, which are four times higher, according to our macroeconomic approach, but also based on the assessment of the stakeholders," it said.
An increase of 10 per cent in OSS contributors "would annually generate an additional 0.4 per cent to 0.6 per cent GDP as well as more than 600 additional ICT startups in the EU," the report claimed.
Not enough investment
It is not all good news, though. The scale of investment in OSS by European institutions is "disproportionately smaller than the scale of the value created by OSS," the report said. Further, it found that "the smaller the company, the greater the relative investment in OSS."
In addition, it added that: "Public sector OSS policies were often not successful, even in the case of public procurement. The only truly convincing implementations occurred where Open Source has become a core component of a digital shift.
"Laws regarding the development and reuse of OSS within the public sector were also generally not successful, often due to the absence of concrete implementation guidance… today, the EU is on the back foot when it comes to capabilities in this area."
The report's recommendations are ambitious. "It is recommended to promote digital autonomy and technological sovereignty via Open Source," the authors said.
People in public sector have to be educated in order to reduce this risk perception regarding open source … it's really complex because you have to involve different players, different organisations, and they are also quite conservative in opening the door for open source solutions
There is a specific recommendation to create "a Commission-funded network of up to 20 OSPOs (Open Source Project Offices)," to support and promote open source. Open source should be integrated into a wide range of EU initiatives and strategies, the report said, including the European Green Deal, Horizon Europe (a research funding programme), and Higher Education in entrepreneurship as well as IT.
Other recommendations? The EU should clarify the legal liability of open source developers, fund security audits, and include OSS in public procurement.
The EU should promote open hardware, and develop a European standard for a bitstream format for FPGAs (Field Programmable Gate Arrays). The study also recommended establishing "right to repair, including the right to software changes once the manufacturer ends device support."
The Register spoke to Professor Dr. Knut Blind from the Fraunhofer Institute for Systems and Innovation Research and also Chair of Innovation Economics at the Technische Universität Berlin, as well as Sachiko Muto, CEO of OpenForum Europe, both of whom were closely involved in the study. "These are not the recommendations of the European Commission, these are ours… we think that if they are well implemented then there will be a big step forward, but now the implementation is up to the Commission," said Blind.
What are the most important recommendations? "The package of recommendations regarding establishing the OSPOs is a key requirement," said Blind, adding that a strong lead and coordination from the Commission centrally would also be needed.
Is that enough though to shift away from things like the proprietary Microsoft Office or Google Docs in favour of open source? "Public procurement in theory is a very strong influence," said Blind, "but in practice there is so much risk consideration and other hindering factors and barriers that this instrument is not appropriately implemented.
"People in public sector have to be educated in order to reduce this risk perception regarding open source… it's really complex because you have to involve different players, different organisations, and they are also quite conservative in opening the door for open source solutions."
Muto said the study was important in providing solid data for the economic benefits of open source. The benefits in terms of technological independence exist yet are hard to quantify, but "this economic impact is something that has come out of the study now," she told us.
What about the business model problems faced by many open source projects? Blind said this is a matter of training. "What we recommend is to educate people on how to set up a business that's really sustainable, like Red Hat and others… you can create a very valuable business model based on open source but you have to do it in a very smart way."
Open source coders should also be educated in management and business skills, he said.
Get what you give
This is not adequate though to address an inherent problem: that many of us are only too happy to take free stuff, and the low cost of open source is a key part of the economic benefit; but if too many take without contributing back it cannot be sustained. Blind said that public money may be part of the answer. "There a big return if you continue the investment in open source and it is justified to take public money in order to push this," he told us.
Muto said: "There are companies that do see the value of contributing back, and some less so… those companies that contribute a lot and are very active in communities see that as an advantage, because when you contribute to it, you can also steer it, know how to fix it… if you have standing in that community, you are more likely to have the community respond to your need."
When might we see some tangible progress, if the report's recommendations are adopted? "There is already too much time gone," said Blind. "We have a demographic problem in Europe and we see more open source contributions from China and the US… we shouldn't wait too long, we have to push this engagement in order not to lose ground."
Depending on contributions from outside Europe is not enough, he said. The EU needs to be "heavily involved and brining our values regarding privacy and security."
The EU is quite diffuse, though, and bringing about change is challenging. "Even when we did this study, it's been difficult to understand, in different member states, even which department is responsible for what," said Muto. She thinks the OSPOs will help. "To have one office with the coordinating role, enabling international collaboration, I think it makes sense," she said.
The study is a starting point, said Muto. "We have looked and found that there's an opportunity both for economic growth and technological independence," she told us. Open source advocates have said this for years though; as Blind told us, it's now up to the Commission to make it happen - and that will not be easy. ®