This article is more than 1 year old
Running on empty, out of battery, power draining... three things the UK government definitely isn't. Oh no
Video connected – check. Plugged into the mains? Er...
Bork!Bork!Bork! Bork is apparently going live, as a segment in UK breakfast show Good Morning Britain neglects to consider Microsoft's thirst for power – of the electrical variety, of course.
Spotted by Register reader John O'Connell, the borkage was beamed live into the nation's homes following education secretary Gavin Williamson's gaffe in which he mixed up footballer Marcus Rashford with rugby union player Maro Itoje.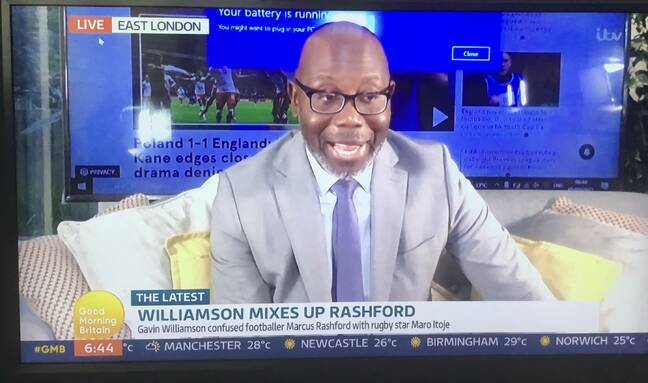 It's behind you
Clearly visible in the background, Windows 10 (by the looks of it) is bleating that the battery is running low and plugging in the power might be a good idea. Top marks for getting the video output correct. Minus several million for forgetting to plug the thing into the mains.
Far be it from us to speculate on how this might be metaphorically applied to anyone at the highest echelons of UK politics. Although we suspect some of those in charge have spent the last year or so running on empty – intellectually if not physically.
Awkward pop-ups have long been a source of joy for users, and companies such as Microsoft have taken steps to address the problem, which is a shame because the sudden appearance of Tiny Elvis would often end up being the highlight of a tedious marketing presentation. And it was always good fun when the annunciations of a forgotten messaging app revealed a side to a PowerPoint-presenting bean-counter that was hitherto unknown.
Naturally, Good Morning Britain took things in its stride. After all, it coped with presenter Piers Morgan storming off set in March. A bit of gentle nudging from Windows about the power cable seems positively tame in comparison. ®