This article is more than 1 year old
HPE finds second new CTO in 16 months with Fidelma Russo
In-demand exec poached from VMware after Virtzilla poached her from Iron Mountain
HPE has confirmed an executive remix, putting Fidelma Russo – formerly of VMware – into the role of chief technology officer, just 16 months after previous incumbent Kumar Sreekanti was appointed.
"We are excited for Fidelma to join the HPE team in this important role," said Antonio Neri, HPE's president and chief exec, in a prepared statement.
"Fidelma brings deep expertise in cloud services, software, and infrastructure built on an extensive career in technology. Her diverse experience makes her distinctively suited to drive innovation as we accelerate our transformation and bring differentiated solutions to the market."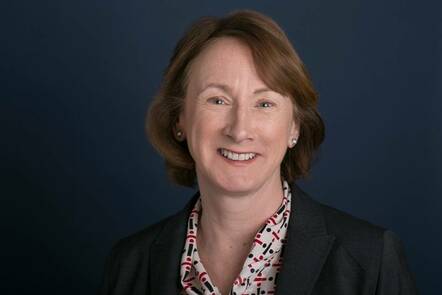 Fidelma Russo has been appointed CTO at HPE
Russo comes to HPE from VMware, where she served as senior vice president and general manager for the EMC-owned company's cloud services arm.
Before that she was chief technology officer at data management specialist Iron Mountain after resigning from Dell EMC following a reorganisation in 2016, prior to which she had been in charge of the company's VPLEX virtualized data storage product.
Going back further still, Russo could be found at backup and recovery specialist Sepaton as chief operating officer after leaving her role of senior vice president at Sun Microsystems. Other notable former employers include Data General and Digital Equipment Corp over a career spanning three decades.
Russo's experience in the cloud industry will likely come in handy at HPE, where she has been put in charge of the development and management of the company's GreenLake edge-to-cloud platform, launched in 2017 and soon to be the model under which anyone will be able to buy HPE gear.
The company faces increased pressure from off-premises rivals with as much as $6 in every $10 of cloud infrastructure spend being thrown at AWS, Google, and Microsoft, according to Canalys analysis in July.
With Neri claiming that companies emerging from the worst of the pandemic's difficulties will need to refresh on-premises IT for their digitisation efforts, the appointment of a cloudy type to the lofty CTO position hints at the shift in focus to better fight off the threat of cloud-native alternatives.
HPE's Q3 financials, meanwhile, painted a picture of health despite the domination of off-prem alternatives – thanks in no small part to what CFO Tarek Robbiati described as a "constrained supply environment" where some hardware prices were hiked to deliver a 4.2 per cent uplift in gross margin to a company-record 34.7 per cent.
"I am thrilled to be joining Hewlett Packard Enterprise, a company with a deep heritage of innovation that is now at another transformational moment in the industry," Russo said of her appointment. "I look forward to working with our leadership, engineers, developers, customers, and partners as we focus on delivering solutions that provide a unified as a service experience, from edge-to-cloud."
Russo will be the fourth CTO at HPE since 2016. It was in June that year Martin Fink retired, although the retiree had taken up a job as CTO at WD by January 2017. CTO Mark Potter, his replacement, handed in his notice in May last year. Now, just over a year later, Kumar Sreekanti is "retiring from HPE".
The outgoing CTO was appointed just 16 months ago. At the time of writing, both HPE's executive listings and Sreekanti's LinkedIn profile still list him as CTO. ®