The Register speaks to one of the designers behind the latest Lego Ideas marvel: A clockwork solar system
Who needs a 3,000-piece orrery? We do, of course
A clockwork model of the solar system has turned up in Lego Ideas*, combining some impressive Technic work with artistic whimsy.
The model, by Chris Orchard and Brent Waller, is the result of 15 months of effort and shows the eight planets (sorry Pluto) in a roughly relative size.
My latest LEGO Ideas project, a Clockwork Solar System, with 99.8% accurate relative orbital timings. A collaboration with Chris Orchard. #legoideas #LEGO

Every vote on LEGO Ideas helps it potentially being made into a real LEGO set. https://t.co/EVPYY9H0Nl pic.twitter.com/HspVy6LFLg

— Brent Waller (@BrentOnInternet) September 6, 2021
The orrery is over 99.8 per cent accurate, according to its designers, when it comes to each planet's orbital timing relative to those of the other planets. This is no mean feat when working with Technic, the brand under which Lego sells its more technically complex and mechanically useful brickage. The entire orrery set itself, should LEGO approve it, comes in at just under 3000 pieces.
We spoke to Brent Waller, whose credits include the Seinfeld set currently on the shelves in Lego stores as well as the Ghostbusters set, about creating this design.
Waller, an environmental artist for video games, explained that the idea had come from another Lego Ideas submission he'd made in 2019 for The Dark Crystal film. In that instance, he'd built a small, non-working orrery of the fantasy solar system and pondered, "Wouldn't it be great if Lego made a real working orrery of our own solar system?
"I soon discovered my Technic skills were lacking and not up to the highly technical task of figuring out the gearing involved," he told us. "I had all the math worked out in a spreadsheet for all the timings within a few per cent accuracy in most cases, but I couldn't quite figure out the logistics of turning a large arm from an internal structure while supporting the weight of the planets [and] also avoiding overlapping supports."
Waller had pretty much thrown in the towel by March 2020. However, Chris Orchard then got involved following a lockdown Zoom call at Waller's local Lego group, BrisBricks. Orchard brought with him the Technic skills needed to make the model work.
And work it does. As well as the impressive 3D render shown in the video, a working prototype was constructed. "We didn't want to just pretend it worked and submit it," explained Waller, "we wanted to ensure it was actually doable and functional before committing."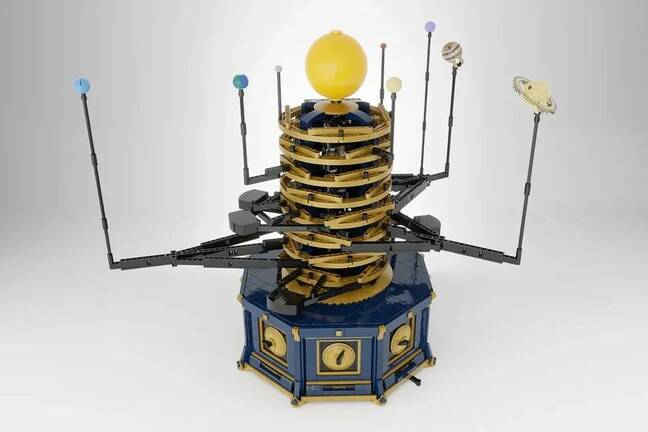 Photos used with permission. ©2021 The LEGO Group. Created by LEGO® Ideas members Chris Orchard and Brent Waller
"The planets do wobble a little in reality compared to the 3D render used in the video," he admitted.
It is an impressive feat nonetheless, and should approval be given one hopes that the Lego boffins will be able to iron out any structural niggles.
Orchard and Waller used Bricklink's Stud.io tool to design the set, with Orchard working on the gearing while Waller focused on the aesthetics. Waller, a Lego Ideas veteran, explained that the presentation for the programme needed to appear for all intents and purposes like a real Lego set. "You really only have one chance to impress," he said. One must ensure the presentation is good enough that viewers need to be told that it isn't really a set at all… but could be.
Waller has had two designs successfully go through the Lego Ideas programme with varying changes made between prototype and final set.
"Ghostbusters," he said, "was drastically different; it was more fully featured and structurally sound than mine."
The set recreating '90s sitcom Seinfeld, however, was more similar. "The core shape of the apartment is almost identical, and then they've gone above and beyond the level of detail and references included in the set compared to mine."
The instructions for Ecto-1 can be found on Waller's site as well as a store selling a variety of Minifigs. As for the orrery, Lego holds on to the rights for Ideas submissions for three years (even if approval is not granted) and any attempt to sell on the design (even if rejected) could well result in a visit from the company's lawyers.
Though Waller described Lego as "just a hobby really, it keeps my creative juices flowing," his work can also be seen in at least one of the big-screen Lego properties.
The Batcave scenes in the Lego Batman movie feature was his recreation of "canon" Batmobiles (such as the Tim Burton version) as well as "made-up vehicles" such as the BatSub, Bat Pirate Ship and BatBus. Sadly, his Bat Aircraft Carrier was a tad too huge to make the cut.
We're sad to report, however, that the Batman joke that had us passing cola through a nostril – "Wayne Car" – was not his. ®
* Lego Ideas is a project where users can submit new, original "Product Ideas" that others vote on. If Lego makes it an official product set, the creator gets one per cent of the total net sales.