Some of you Negative Noycies out there have spent the last five years claiming that Sun's SPARC processor made more sense in a museum than in a server. Sun's cancellation of the UltraSPARC V chip supported such views.
As it turns out, SPARC only suffered from a near death experience. Now there's a long list of fresh SPARC items to highlight.
Sun, for example, this week announced a speed boost to its "Niagara" UltraSPARC T1 processor line and confirmed the tapeout of the "Rock" chips due out in the second half of 2008.
You may not be all that moved by a minor speed bump and a tape out declaration, but it's hard to deny the notion that SPARC looks a whole lot healthier in January 2007 than it did in January 2004.
First off, there's the new 1.4GHz four-, six- and eight-core versions of Niagara that improve on older 1.2GHz versions of the chip. In addition, Niagara-based servers will now support up to 64GB of memory - up from 32GB. All told, the new UltraSPARC T1-based servers should show a 30 per cent performance improvement for which Sun will expect a premium.
Next, Sun has confirmed the tapeout of the 16-core Rock chip, which should ship in the latter half of 2008. Sun also confirmed the existence of the "Neptune" ASIC, which adds a 10 gigabit Ethernet boost to Sun's future mutlicore SPARC chips.
Of course, we wrote about this long, long ago, and we'll now add an exclusive sneak peek at Rock.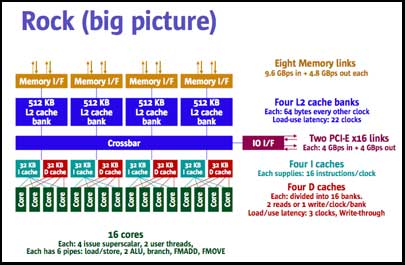 Our sources indicate that Sun has scrapped plans for a massive Rock-based system and is now centered on two- to eight-socket systems with even the eight-socket box still up for debate.
Come 2008, Sun's 16-core Rock boxes will go against four-core Itanium systems from Intel and dual-core Power systems from IBM. Some real diversity will be returned to the high-end server market at that time.
Intel's server chief Pat Gelsinger recently indicated to us that he sees Sun pitching Rock-based systems at niche multi-threaded software workloads where single thread performance hardly matters at all. Sun, however, claims that Rock servers will be for niche and mainstream SPARC customers alike. Need to run Oracle? Then Rock's your chip.
If that is indeed the case, Sun will have to pull a couple of tricks out of its hat to make up for the trade-offs that occur by picking more cores than its competitors. Otherwise, the conservative approaches from IBM and Intel would seem better suited to most business software loads.
If SPARC is dying, as so many have suggested, it's going out in style. The Rock chips, for the first time in about six years, should put some serious pressure on the likes of IBM and Intel. Now Sun just has to get from tapeout to shipment in an orderly fashion - a task which has proven tough for the asylum crew. ®